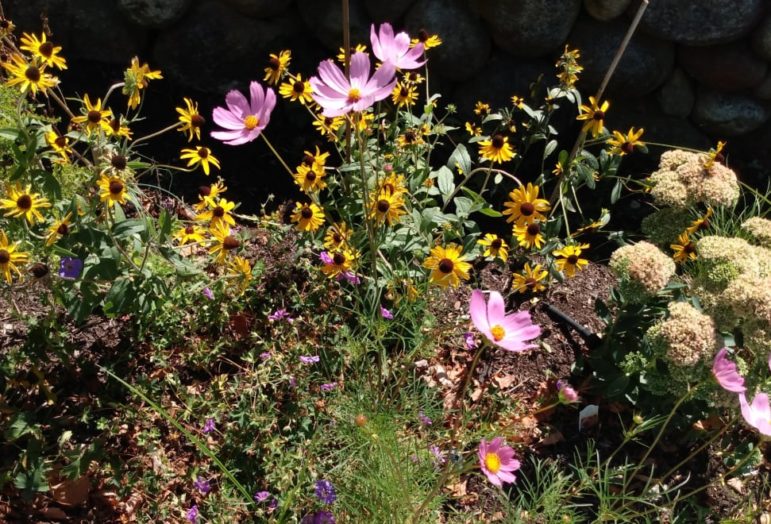 The following announcement was provided by the Life-Friendly Garden Tour organizers:
Hear the buzz, see the color, take the tour: Enjoy the free, self-guided Life-Friendly Garden Tour in Watertown on Sunday, September 11, from 1 to 5 p.m.
This year's tour has a special place on the street: in addition to several full gardens, it features planting strips, aka the "hellstrip" (the area between sidewalk and street). This challenging environment is not a good place for high-maintenance plants that need tender care. But it can be a showcase for tough, drought-resistant native plants that are adapted to our climate and can thrive with little attention.
"Native plants have endured in this region for thousands of years and have seen the worst," says Pam Phillips, founding member of Friends of Bees. "Some of them are still flowering in this difficult, dry time."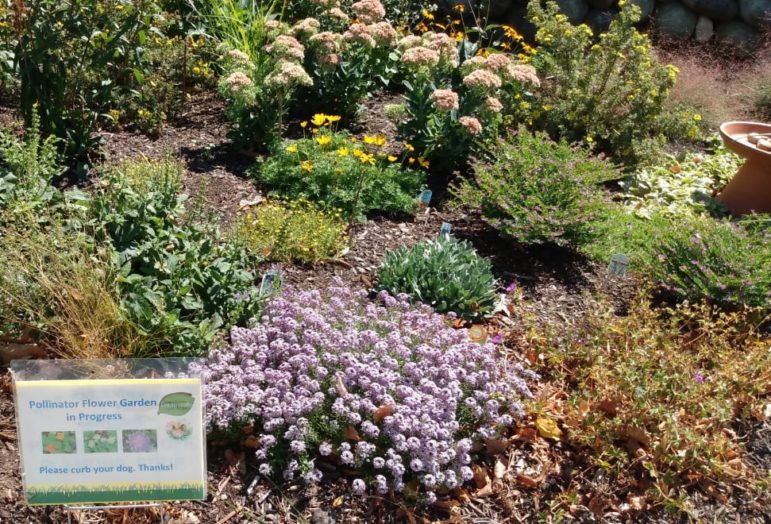 Best of all, native plants allow native pollinators to thrive. The smallest strip can be a haven for native bees, butterflies, and other pollinators. Not to mention a splash of color for the people walking by!
The Life-Friendly Garden Tour Map gives locations and brief descriptions of the gardens and planting strips. The gardeners have not used chemical fertilizers or pesticides for at least a year, to protect our pollinators and other native insects. The tour demonstrates that no chemicals are needed to grow a beautiful, healthy garden; and chemical-free gardens are needed to feed the birds and bees. That's why these are life-friendly gardens.
Find the addresses on the map, and look for the sidewalk flags on Sunday from 1pm to 5pm — many gardeners will be there to answer questions and share ideas. All the planting strips can be visited anytime. The Watertown DPW has an excellent Guide to the Planting Strip flyer to further inspire you.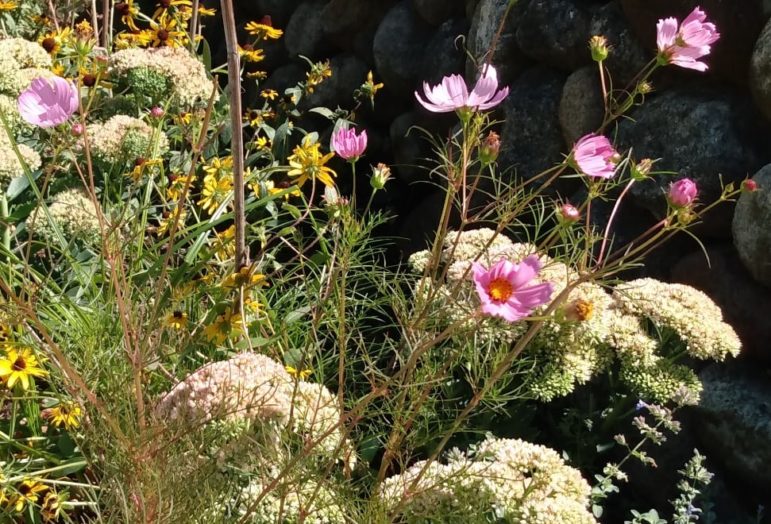 Watertown has "bump outs" as well as planting strips. Watertown resident and board member of Watertown Community Gardens (WCG), Melinda Dennis explains, "In March of this year, I prepared the 'bump-out' with help from friends at WCG: we laid down flattened, overlapping cardboard (free of labels, staples, and tape) and covered it with three inches of compost. A few months later, as a beginner gardener, I began planting and tending the neglected 200-square-foot area, and it became a thriving and inviting space for pollinators. It's part of WCG's mission this year to encourage Watertown residents to 'green' their own planting strips that line the road." The project was first reviewed by DIG-SAFE and the Department of Public Works which sets specific guidelines and offers multiple resources to help gardeners.
Melinda's bump-out, at the corner of Hosmer and Boylston, is a pilot project that is generating educational materials and ideas for future workshops for any city residents inspired to plant in their own strips. Look out for notices by early next spring (and possibly late this fall).
The Hosmer Street bump-out features several New England natives: wild geranium, Purple love grass, coneflowers, Carex appalachica, Swamp milkweed, Gray goldenrod, Narrowleaf mountain mint, Black-eyed Susan, and a variety of other perennials, most chosen for their hardy, drought-tolerant qualities. Melinda adds, "I couldn't resist a few annuals tucked in for their vivid color in the heat of summer. I've met so many neighbors as they walk by — it feels like community! — and I have the pollinators and their host plants to thank."