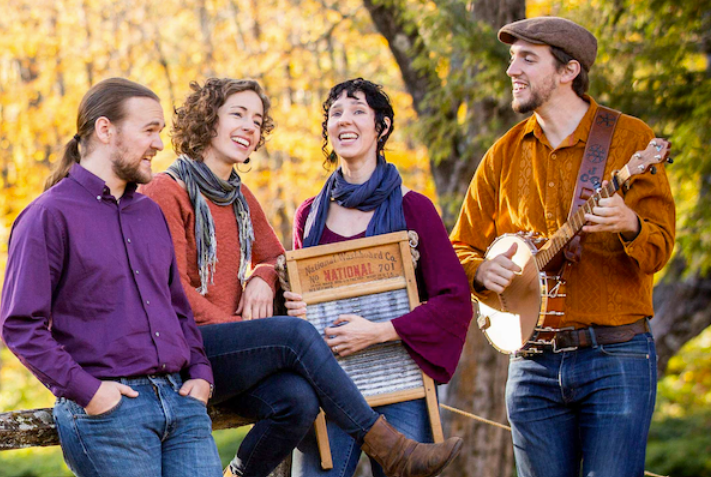 The following announcement was provided by the Folk Song Society of Greater Boston:
The Folk Song Society of Greater Boston is thrilled to present the highly-acclaimed vocal group, Windborne, in a live concert in Watertown on Saturday, Sept. 17 at 7 p.m.
The doors will open at 6:30 p.m. at the First Parish of Watertown, 35 Church Street, Watertown, MA. There will be a $20 cash general admission, and all children 17 and under are free. Tickets can only be purchased at the door. The venue is handicapped accessible.
Special COVID-19 rules:
All attendees must assert that they are fully vaccinated against COVID-19, including as many booster shots as you are eligible for. (We're using the honor system; no need to show vax card at the door.) This will be done at the door when you pay admission.
All attendees must wear masks through the entire event. There will be no refreshments served so there's no need to remove masks.
Windborne's captivating show draws on the singers' deep roots in traditions of vocal harmony, while the absolute uniqueness of their artistic approach brings old songs into the present. Known for the innovation of their arrangements, their harmonies are bold and anything but predictable.
With a 20-year background studying polyphonic music around the world, Lauren Breunig, Jeremy Carter-Gordon, Lynn Rowan, and Will Rowan share a vibrant energy onstage with a blending of voices that can only come from decades of friendship alongside dedicated practice. The ensemble shifts effortlessly between drastically different styles of music, drawing their audience along on a journey that spans continents and centuries, illuminating and expanding on the profound power and variation of the human voice. The singers educate as they entertain, sharing stories about their songs and explaining the context and characteristics of the styles in which they sing.
BBC Traveling Folk describes Windborne as "subverting expectations and redefining the genre… just absolutely phenomenal!" Audiences and critics lavish praise upon the singers not only for their technical mastery, but for the passion, engagement, and connection with each other and the audience that imbues each performance with a rare power.
But there's another, crucial dimension to Windborne that guides and roots their artistry. They are adherents to folk music's longtime alliance with social activism, labor and civil rights, and other movements that champion the oppressed, the poor, and the disenfranchised. Their latest project, Of Hard Times & Harmony, explores themes of social consciousness, singing in four languages and showcasing the depth of emotion their voices can evoke, as well as moments of true hilarity and wit
The group is committed to bringing vocal traditions to a younger audience and over the past year has found surprisingly viral success on TikTok for such unlikely genres as Corsican polyphony or early 20th century labor anthems.
For more information: 781-227-7500 or www.fssgb.org