To the Editor,
Boylston Properties is requesting a zoning change to allow it to place a large, illuminated sign at the top of the 130 ft. high Building G in Arsenal Yards. This is a very bad idea for the following reasons:
1.  It constitutes a "branding" of Watertown. Watertown prides itself on being a melting pot, representing diverse people. It is improper for a private developer to appropriate public skies and intrude on public lands with a high impact sign that shouts across the river.
2.  It would constitute a historic zoning change that would allow signs of any kind facing the Charles River over public lands. Never before has Watertown allowed any individual or organization been allowed to display a sign, illuminated or not, across the river. 
3.  Boylston Properties claims the sign will only be fully visible from the Mass Pike and hardly any other places. This is untrue. I took a walk around the area and took many photos of the building rooftop. I provided a link to the photos towards the end of this letter.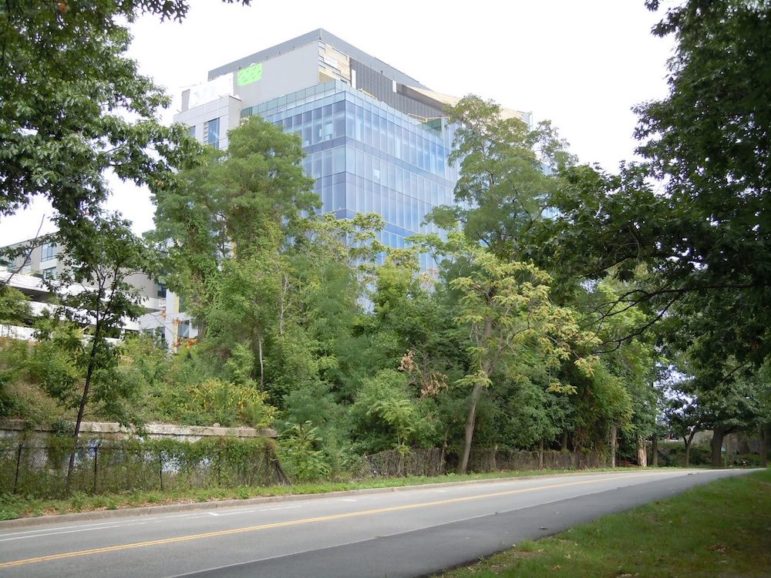 4.  Boylston Properties shows trees blocking the view from the Charles River. However, they neglected to show how visible the sign would be after the leaves fall and foliage is gone during fall, winter, and early spring. This is deceptive. 
 
5.  There was no reconciliation of this bright, imposing sign in light of Chapter 6 (Open Space & Recreation) of the Watertown Comprehensive plan. The Planning Department of the City of Watertown are expected to follow formal guidelines before they can recommend and forward such a proposal to the Planning Board and the City Council. This proposal appears to have been rushed to the Council for a quick vote during summertime while many residents were away on vacation and the leaves are still on the trees.
6.  The illuminated sign will add to the light pollution of our nighttime skies. Watertown has required businesses to remove illuminated signs and billboards over the past couple of decades.  Watertown has also tightened up on stray outside lighting for all properties. Shall we now allow one large and well financed organization to reverse this positive trend? 
7.  This could start a signage war with Boston. The new tall buildings across the river on the Brighton side are visibly "quiet," preserving the peace and tranquillity of our Charles River parklands. A Building G illuminated sign could open the door to signs from Brighton (and Cambridge) that would intrude upon the Charles River parklands becoming quite visible to us.
These photos I took were from various vantage points — some by park benches — on both sides of the river. The link for the photos can be found here on Microsoft One Drive:  https://1drv.ms/u/s!AthjDt3WGpARjHQZy_3R-Gy6mGeJ?e=tZwjBZ. No login required to view.
Please advise your City Councilors that you oppose this change in zoning.
Dave Martin
North Beacon Street Neighborhood