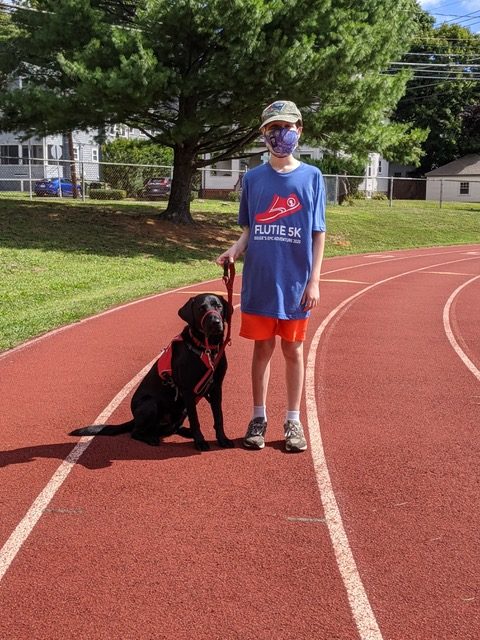 For the third year running Watertown teen Cameron Burke will be running the Doug Flutie Jr. Foundation for Autism 5K to raise money for NEADS World Class Service Dogs, an organization that breeds, raises, and trains service dogs for children with autism, adults and children with physical disabilities, adults with hearing loss, and for veterans.
Cameron first ran the race in 2020 as a way to get out during the pandemic lockdowns and to do something good. He chose NEADS as his mom, Naomi Ridge, uses a wheelchair and has a service dog from NEADS called Charlie. Charlie helps Naomi by e.g. opening and closing doors, pushing elevator buttons, retrieving items she has dropped, and can summon help by barking if she falls. In all he knows over 60 different commands and tasks.
In 2020 Cameron raised $800, and last year he raised over $1000. He hopes to match that this year. He is especially excited to be doing the 5K this year, as all funds raised will be supporting Watertown Middle School instructional aide Chris Cotreau who is currently waiting for a new
service dog from NEADS.
You can support Cameron here: https://secure.qgiv.com/event/2022flutie5k/account/1295456/
Learn more about NEADS: http://www.neads.org