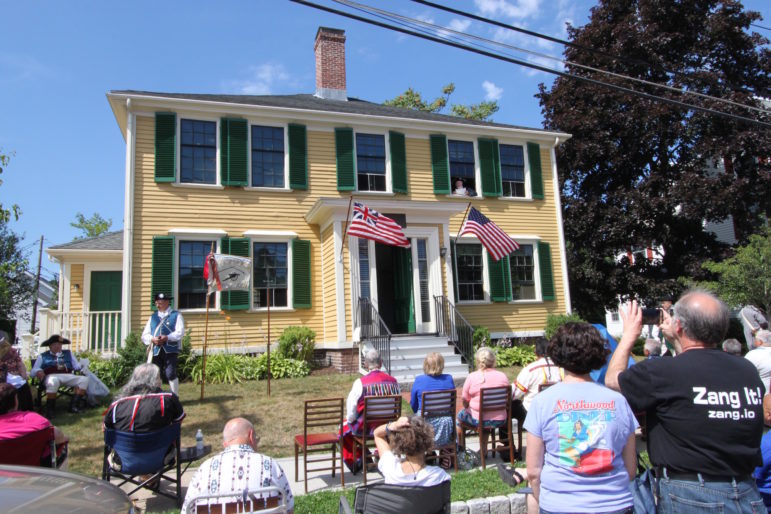 The Historical Society of Watertown has started a fundraiser to help pay for much-needed maintenance and improvements to one of the oldest and most historic homes in Watertown.
The Historical Society provided the following information:
Built in 1772, the Edmund Fowle House is the second oldest surviving house in Watertown and celebrates its 250th birthday this year. 
At the beginning of the American Revolution it served as headquarters for the executive branch of the Massachusetts government from July 1775 to September 1776. As part of this governance many historic people of note have stepped foot in the house, such as John Adams, Samuel Adams and John Hancock. On July 18th, 1776, Council Secretary, Perez Morton, proclaimed the newly approved Declaration of Independence to the whole town by reading it from a window of the second-floor Council Chamber at the Edmund Fowle House. Also, the Treaty of Watertown was signed on July 19, 1776, in the Council Chamber. This treaty was the first to be signed between the new United States (represented by Massachusetts) and a foreign power (the Mikmaq and St. John's Indian Nations).
Today, the Fowle House serves as the home of the Historical Society of Watertown and is run as a museum. Even though the Edmund Fowle house underwent a major restoration in 2005, revealing many fascinating details of the building's long and varied history, as any homeowner will know, upkeep is a must. Multiple projects are coming due, and your donation will help pay for period-specific replacement gutters as well as door, window and shutter maintenance. In addition, excess funds will be incorporated into interior projects such as climate control and emergency response projects. Any donation will help make an impact.
You can also support these projects by becoming a member of the Historical Society of Watertown. Please visit our website (http://historicalsocietyofwatertownma.org) for membership information.
The Historical Society has started a GoFundMe page to raise money for the projects. Click here to see the page and contribute.