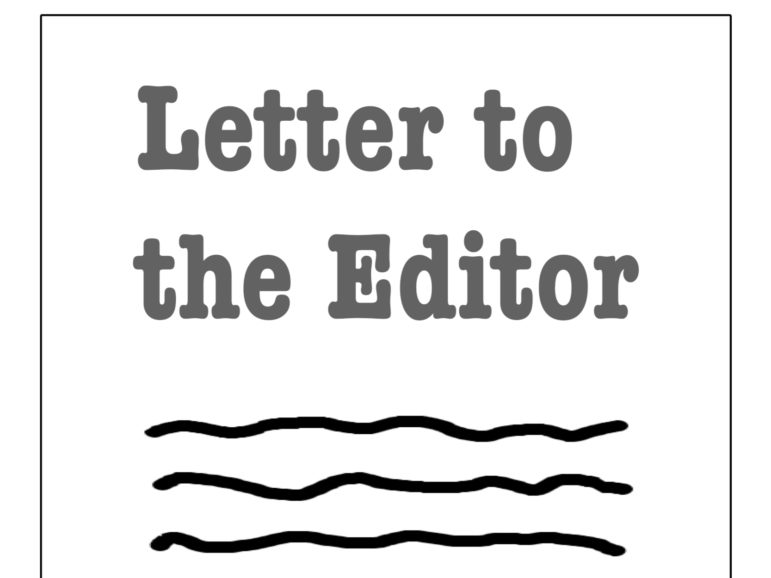 In the nearly 10 years since we purchased the Arsenal Mall to make it a better destination for all, we've accomplished much with you and the people of Watertown. Our goal was always to transform the Mall into an accessible space to enjoy with friends, family, and neighbors, to rejuvenate the untapped economic potential of the Arsenal Street corridor, and to be an integral, improved part of the community in many ways. It has not been a short, perfect, or straight line, but we believe it is a very good result at Arsenal Yards.
Throughout the years, we've had many a spirited debate with various stakeholders, councils, and boards in town, including, of course, the Planning Department. I've personally had "robust" dialogues with Steve Magoon and his colleagues in what we see as a productive back-and-forth in which we are constantly improving ideas with better ideas. We hope that shines through in our "placemaking," our events, and our contributions in town. Steve and I have a few scars to show for those robust debates, but they have healed, and I have to give him ample credit for what's happening in town. After all, he is the Planning Director … and improving Watertown seems to be happening in a first-class manner.
Last week, we decided to pull our application to the City Council regarding signage atop the 100 Forge building for an "Arsenal Yards" sign. We've seen the many online comments, and we've listened to our friends at City Hall, who have relayed their concerns. While we would love to respond to every comment immediately, we think we should step away from the process for now, gather all the information, and then answer reasonable concerns that will fully inform any future review.
There is, however, one comment that I'd like to address: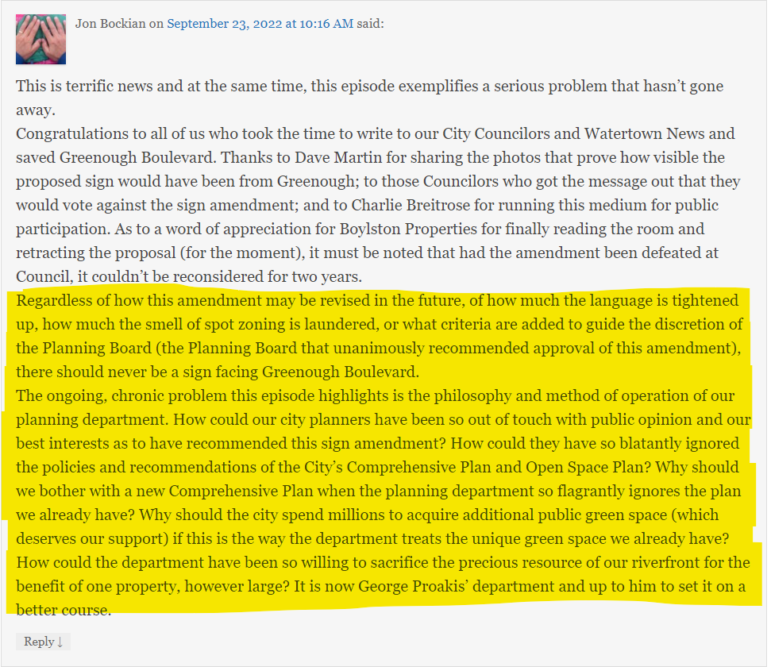 The Planning Department and Planning Board in Watertown have done for this City more than they are ever given credit for. Steve Magoon and his team deserve their fair share of credit for the vast improvement of the Arsenal Street corridor. The vision that went into the Comprehensive Plan in 2015 is a driving reason why we successfully replaced the declining Arsenal Mall with Arsenal Yards.
We think Arsenal Yards looks great and feels great. 100 Forge is a signature building in the City, and harbinger of a wondrous life science industry that has emerged spectacularly in Watertown. But our buildings are one of many examples of first class, contemporary architecture that complement the historic brick structures that dot Arsenal Street.
How about 99 Coolidge, or 250 Arsenal Place, or the two great new lab buildings on the Alexandria Real Estate/Arsenal on the Charles campus? Or the stunning example at 66 Galen St.? If the Planning Staff and Planning Board, or the process these projects go through, is so bad, Mr. Bockian, why are the buildings so attractive?
Whether it's noticeable to the untrained eye, we're constantly improving Arsenal Yards – improving it after seeing it operate in real life and keeping it fresh as time goes on. And while we would love to stay cocooned in the comfort of the community of Watertown, the truth is that the retail landscape is challenging and requires us to think beyond. Retailers are closing and shuttering daily for various reasons – online shopping, COVID, staffing issues, supply chain woes, increased business costs, and dwindling consumer loyalty and attention spans. Despite all these factors, we've had a strong launch of Arsenal Yards, and we're happy to report that most of our retailers are pretty satisfied with their position at AY. But, if there's anything these past 3-10 years have taught us, anything can and will change in the blink of an eye. And we have to be ready and proactive in the case of these situations – both daily challenges and once-in-a-lifetime disasters. Now more than ever, our retailers need us to attract customers and patrons beyond the borders of 02472.
In retail, every little bit of effort helps, and the success of our retailers & restaurants have always been monumentally critical to the success of Arsenal Yards and, therefore, the Arsenal Street corridor in the East End of Watertown. If our retail fails, our life science businesses move elsewhere, our residents move out, and Arsenal Yards begins to look like the Arsenal Mall 2.0. If Arsenal Yards fails, which we hate to even to say, the City of Watertown loses millions of dollars in tax revenue in any year.
We refuse to let that happen because the repercussions are massive, and it impacts the City of Watertown in equal parts. Thus, why we have continually innovated in how we bring new people and communities to our property, including innovative events, programming and marketing. An investment in growing our social media audience, online advertising, and, yes, signage that differentiates us and helps AY stand apart and above the rest – reaching new audiences and driving ongoing awareness. Everything that helps our retailers helps all Watertown retailers. Everything that doesn't help … DOESN'T HELP.
Creating a project of this magnitude, as well as the decisions of Planning Departments of any dense urban/suburban City, requires risk-taking, the ability to react, adapt or change plans, a dash of humility, and a little more than just thick skin. We can't and won't speak for the Planning Department and Planning Board in Watertown, but we will defend their successful efforts to partner with the many property owners that have taken risks along the Arsenal Street corridor.
We don't do anything in a vacuum or accomplish the progress by our efforts alone. If "it takes a village," which it clearly does, the Planning Board and the Planning Department deserve a big dollop of credit for any and all of it.
Bill McQuillan
Boylston Properties