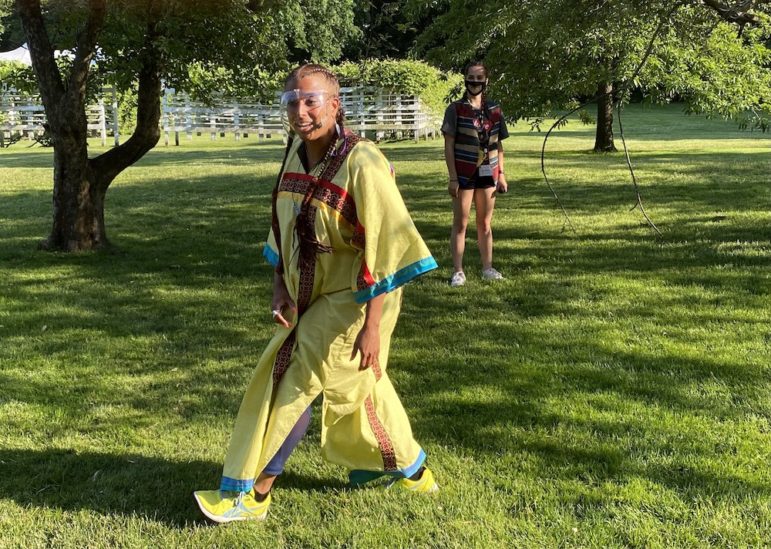 The following announcement was provided by the organizers of Watertown's Indigenous Peoples Day Celebration:
Watertown's first celebration of Indigenous Peoples Day will be held on Monday, Oct. 10, 2022, from 2:00 to 5:00 p.m. at First Parish Watertown, 35 Church St., Watertown. The free event will feature Indigenous speakers, a presentation of the New Repertory Theatre play Listen to Sipu, and Indigenous musicians, artists and vendors.  
Geri Barney, member of Navajo nation, will welcome participants with flute music followed by keynote speaker Elizabeth Solomon, representative of the Massachusett tribe. There will be a reading of a Proclamation recognizing Indigenous Peoples Day from the Watertown City Council.  Also speaking will be Mitchel Ray, Chairman of the Eastern Pequot Tribal Nation. The Pequot have a meaningful connection to First Parish Watertown, as it was the death of Watertown leader John Oldham that ultimately triggered the 1637 colonial-era massacre of the Pequot in Mystic, CT.
A performance of New Repertory Theatre's Listen to Sipu, a Watertown historical moving play by Mwalim*7, Morgan J. Peters, Mashpee Wampanoag, directed by Tara Moses, Seminole Nation of Oklahoma, Mvskoke, and featuring Maria Hendricks, Assonet & Mashpee Wampanoag, will be featured and will be followed by a facilitated discussion about the interactions between the Indigenous people of the area and the colonial settlers who arrived in the 1630's.
Indigenous vendors will include Julie Marden, Aquinnah Wampanoag, offering Eastern Woodland art (twined basketry, painted gourds, corn wreaths, and jewelry); handmade crafts from Otavalo, Ecuador (friendship bracelets, bags, blouses, sweaters, and dreamcatchers); artworks from Geri Barney, Navajo and Leslie Tuplin, First Nation Mi' kmaq from Lennox Island, PEI, Canada, Native Solutions ("Native Strong" Casual clothing, sweat shirts, sweatpants, T-shirts, hats, jewelry). Belmont Books will be selling books by and about Indigenous people for all ages.
This event is funded by a generous grant from the Watertown Community Foundation and donations from individuals. Members of the community-based Pigsgusset Initiative, a working group of Watertown Citizens for Peace, Justice and the Environment, are organizing the event in partnership with the New Repertory Theatre. Supporters and sponsors include: First Parish Watertown, Watertown Boys and Girls Club, Watertown Community for Black Lives, WHERE ARE ALL THE BLACK PEOPLE AT.
Also, in recognition of Indigenous Peoples Day, acclaimed Wampanoag chef, Sherry Pocknett, will consult with Chef Ivan Conill at Branch Line restaurant to offer some Indigenous food as part of Indigenous Food Week in Watertown from Sept. 30 to Oct. 10, 2022.
The Pigsgusset Initiative seeks to increase communication and promote collaboration among Watertown residents to undo the erasure of Indigenous Peoples and to promote inclusive historical narratives. "Pigsgusset" represents the colonial settlers' interpretation of the native name for the area that we now call Watertown. "Pigsgusset" means the meadows at the widening of the river and was the homeland of the Pequossette band of the Massachusetts Tribe for thousands of years before colonization.
For further information, please contact: Jennifer Wolfrum, jenniferwolfrum13@gmail.com