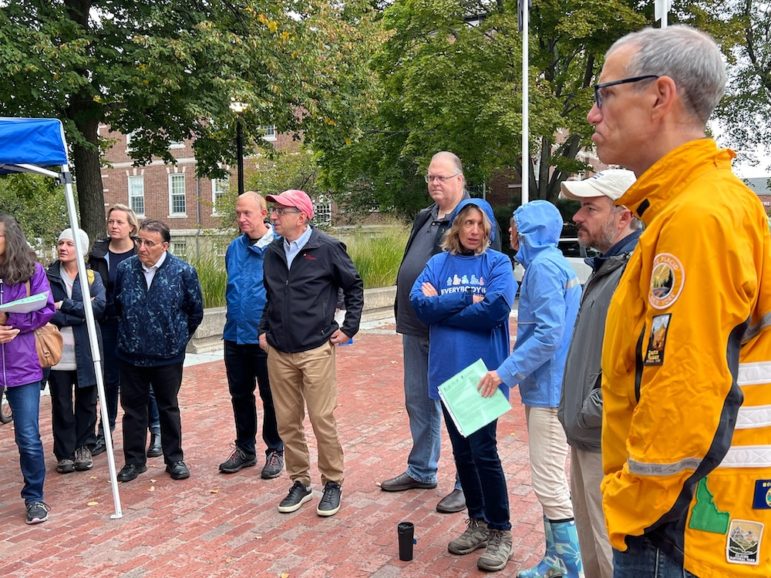 Elected Officials and Local Activists gathered under raindrops on Saturday Morning for a city-wide canvass for the Question 1 Fair Share Amendment. 
Sen. Will Brownsberger and Steve Owens spoke to the history, extensive support and promise of the Fair Share Amendment to bring a stable new funding source for education and transportation. City Councilors Caroline Bays, Nicole Gardner, Vinnie Piccirilli John Gannon,  Tony Palomba, and Lisa Feltner along with School Committee Member David Stokes, and Library Trustees Maja Young and Sara Keary took part in the canvass. Over 30 residents set out to knock on doors and pass along the Vote Yes on Question 1 message. 
Question 1 is an amendment to the State Constitution that will allow the state to levy an additional tax of 4 percent on any personal income over $1 million dedicated to schools and transportation. Learn more about it at  Why The Fair Share Amendment | Fair Share Amendment for Massachusetts (fairsharema.com). 
In addition to attending elected officials, the canvass was supported by State Senator John Lawn; City Council President Mark Sideris; City Councilors John Airasian and Emily Izzo; School Committee Members Kendra Foley, Lindsay Mosca, Amy Donohue, Jessica Middlebrook, and Lily Layman Reed; and Library Trustees Leanne Hammond, Teddy Kokoros, and Rose Mary Su.
The canvass was organized by Watertown4Fair Share, a group with members from Watertown Faces Climate Change, Progressive Watertown, and school advocates.
Ann Munson
Caroline Bays
Deborah Peterson
Lani Gerson
Rachel Kay
Rita Colafella