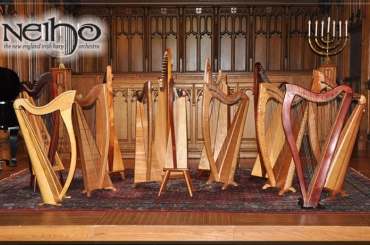 The following information was provided by Gore Place:
On Wednesday, October 26 at 7:30 pm, Gore Place, the historic estate in Waltham and Watertown, will present a concert by the New England Irish Harp Orchestra.
The Irish harp is the original instrument of Irish traditional music and has a beautiful, etheric quality. Led by Regina Delaney, this wonderful group of harpers, fiddlers, flutists, and singers will present a program of traditional Irish tunes and songs. This concert will take place in the spacious event tent at Gore Place. Tickets are $21. To order, visit goreplace.org.
The concert will take place under the spacious Century Tent at Gore Place, so dress for the weather. Current Covid restrictions apply. If the weather is uncooperative, we'll move into the Coach House, in which case, masks will be required.
Gore Place is accredited by the American Association of Museums and receives funding from the Massachusetts Cultural Council.
Concert: Martin, Prendergast, Roberts, and Jordan
Wednesday, October 19
Enjoy a concert of wonderful Irish music with fiddler Laurel Martin, guitarist Jim Prendergast, multi-instrumentalist Mark Roberts, and Sean nos dancer Keiran Jordan. Laurel's lyrical fiddle playing paired with Jim and Mark's sensitive accompaniment creates a sound that is nuanced, sweet, and true to tradition. Kieran Jordan has toured as a featured solo dancer for over two decades, collaborating with some of today's finest traditional musicians.

Join them for an evening filled with the joyful spirit of traditional music! Click here for tickets. 
Frightful Fridays – October 14, 21, and 28
Enjoy spooky stories, but nothing too scary! Our popular annual Halloween program features five stories, told outdoors in our Century Tent. The 45-minute program occurs twice per evening at 6:30 p.m. and again at 7:45 p.m. This program is for adults and children, ages 6 and up. Please, no younger children.

Click here for tickets. 
Booking Now: Holiday Photo Sessions at Gore Place
Sundays, October 16 and 23
Don't miss this opportunity to have your holiday photos taken at Gore Place this October! Our professional photographer will photograph your family in an exclusive photo session at our beautiful estate. This event is a fundraiser for Gore Place, providing critical support for the museum and farm's day-to-day operations. 

Click here for more information.