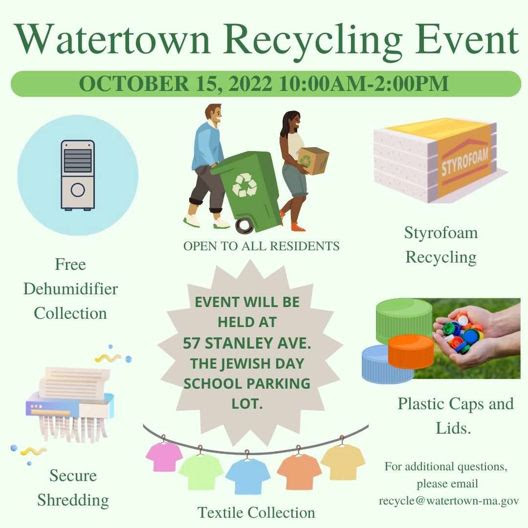 The following information was provided by the City of Watertown:
There will be a Watertown Recycling Event on Saturday, October 15, 2022 from 10 AM-2 PM at 57 Stanley St, in the parking lot of the Jewish Day School. Please bring a Watertown ID or proof of residency. 
Dehumidifiers
Watertown is partnering with Mass Save to recycle old and energy inefficient dehumidifiers.
Residents can bring dehumidifiers for FREE drop off and will receive a $30 rebate in the mail.
Textiles
Watertown is partnering with Helpsy to recycle and repurpose old textiles and clothes. Clean out your closet before the winter and donate clothing and textiles. Helpsy also offers free curbside collection.
Paper Shredding
Watertown is partnering with Shred-it, to securely shred confidential papers. All shredded paper will be recycled with Stericycle. Please only bring documents that are confidential—other paper materials should be placed in your curbside recycle bin. If materials are already pre-shredded, please place in a paper bag.
• Shred-it can accept papers with staples in them.
• Materials should be placed in paper bags or brought in boxes. The boxes will be returned.
• Materials will be shredded on site.
Plastic Caps and Lids
Watertown has a new recycling partnership with the organization Plastic Recycled. They locally shred plastic bottle caps and other plastic caps and lids and turn that recycled plastic into park benches and other items. The Recycle Center has a collection bin.
Once Watertown has collected 500 pounds of plastic, we will receive a bench for the Library. Examples of caps include:
o Plastic drink bottle caps
o Milk carton caps
o Container lids (yogurt, detergent, dishwashing liquid…etc.)
o Must be plastic—no metal/aluminum
o No plastic films
Styrofoam Recycling
Watertown is partnering with Save That Stuff to recycle Styrofoam. Please collect and save any Styrofoam you have for this event. Styrofoam CANNOT go into curbside recycling totes.
• They only accept rigid white Styrofoam
• If it SNAPS when you break it, it is the correct type
• NO packing peanuts or take out containers