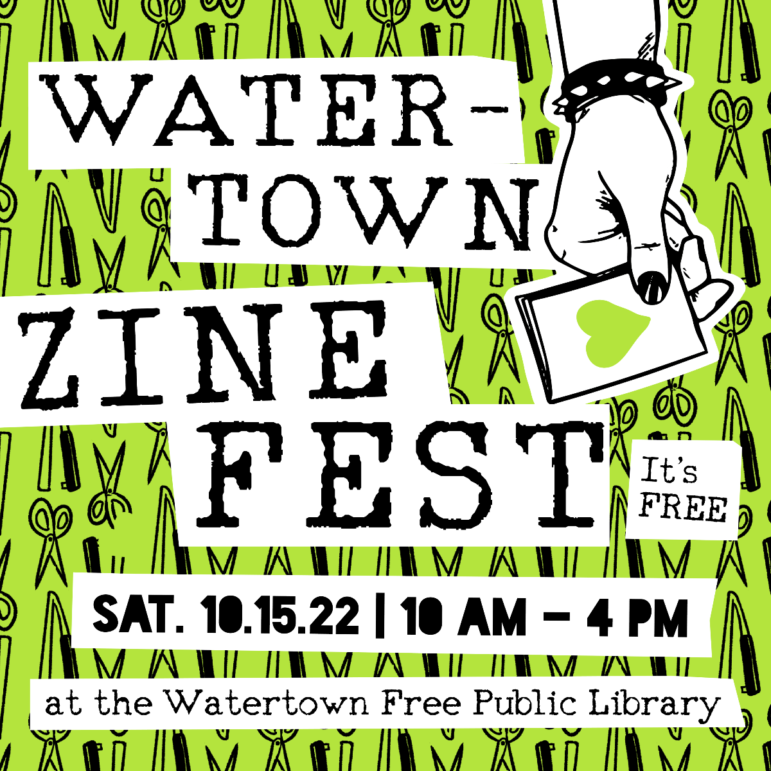 The following information was provided by the Watertown Library:
Why would a public library host a Zine Fest? "Because zines amplify voices that need to be heard" says Watertown librarian and Zine Fest founder Carey Conkey-Finn. "I really believe these little handmade magazines can change the way people think about libraries, publishing, and information. Plus…they are just cool!"
On October 15, 2022, The Watertown Free Public Library (WFPL) will host the 2nd annual Watertown Zine Fest. Zines are small-batch, hand-made publications that come in a variety of shapes, sizes and formats. Often, they provide powerful platform of expression for underrepresented perspectives and voices excluded from the mainstream publishing industry. Embracing the medium, WFPL debuted its first zine collection and accompanying Zine Fest the fall of 2021.
This year, Watertown Zine Fest returns as an award-winning community event. At the 2022 American Library Association Conference in Washington, D.C., the Watertown Free Public Library was awarded the prestigious John Cotton Dana Award for Outstanding Public Relations, in recognition of their creative promotion—and impressive turnout—for the inaugural zine fest.
"I think the John Cotton Dana award committee really loved that we stayed true to the DIY, zinester spirit in our promotional campaign" says WFPL Print and Digital Promotion Specialist Jamie Kallestad. "We copied hand-drawn flyers and zines in the Library, biked them all over the Boston area, and got a lot of word-of-mouth hype going. It's one of the most rewarding team efforts that I have been a part of."
Programming Librarian Allie Fry joined the WFPL staff in May of 2022, and jumped "enthusiastically" into Zine Fest planning. This year, she has curated a Zine Talks speaker lineup that explores how zine-making can intersect with classroom learning, mutual aid, public art, and identity.
"Each of these Zine Talks brings in a different perspective on how zines cultivate connection" says Fry. "We wanted to celebrate how zines bring people together."
On October 15, the centerpiece of Watertown Zine Fest with be the Zine Marketplace, where 33 zinester-vendors from across the region will set up tables to trade and sell their work. If you are coming to Zine fest to learn what zines are all about, this is a great room to start exploring. Walking the aisles of tables, you'll discover zines about food, sexual empowerment, the Cantonese diaspora, monsters, mental health, and more.
Also at Zine Fest, the Library will host a Zine Hive stocked with craft supplies, paper, and prompts so that anyone can make a zine. Of course, the Zine Team will also showcase WFPL's growing zine collection, with over 800 zines available for borrowing.
"Whether this is the first time you've encountered the vast and diverse world of zines or you've been making them for years, there's something for you," says Fry.
Feeling inspired? The Watertown Zine Fest takes place from 10 AM – 4 PM on Saturday, 10/15, at the Watertown Free Public Library, 123 Main Street in Watertown. The Library is accessible via MBTA Bus routes 52, 57, 59, 70, 70A, 71, Express 502, and Express 504.
Watertown Zine Fest is Free and Open to All! Saturday, Oct. 15 10 a.m. – 4 p.m.
How do zines intersect with identity, activism, and community building? Unpack this and more with experienced zinesters! Space is limited in each session. Sign up now!
Zines in the Classroom with Randall Trang
Saturday, 10/15 | 10:30 AM | High school art educator and professional comics artist Randall Trang discusses how he uses zines to teach students about self-expression and Doing It Yourself.
How Can I Help? The Intersection of Zines & Mutual Aid with Evan Bright and Megan Ramette
Saturday, 10/15 | 11:45 AM | What is mutual aid and how can zinesters plug in to community care? The Take-a-Zine, Leave-a-Zine Project plants community-run book stands to foster the trade of zines, art books, and printed matter.
Making Stories Visible: A Closer Look Into Public Art and Storytelling with Crystal Bi Wegner
Saturday, 10/15 | 2 PM | Interested in public art and storytelling? Join Crystal Bi Wegner, a multimedia and public artist, for a conversation about the ways stories appear in public space.
We're Out Here: Marginalized Identities, Religion/Spirituality, and Zines with Ezra Rose
Saturday, 10/15 | 3 PM | at WFPL & via Zoom | Join a discussion on finding & making alternative religious and/or spiritual community through zines, through lens of a queer, trans, disabled & non-traditional Jewish zinester
See more at the WFPL Zine Fest page: https://www.watertownlib.org/615/Zine-Fest
Like the Library, Watertown Zine Fest is always free and open to all. To learn more and sign up for Zine Talks, head to watertownlib.org/zines
About WFPL
The Watertown Free Public Library provides access to a wide variety of popular materials, resources, services, and programs that fulfill the informational, cultural, and recreational needs of Watertown and surrounding communities. Our Library works to create an environment that attracts and welcomes users of all ages and abilities. For more, visit watertownlib.org.