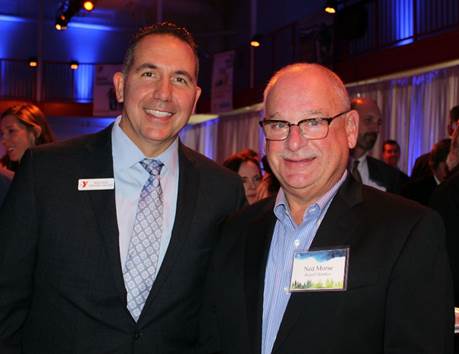 The following announcement was provided by the West Suburban YMCA:
The West Suburban YMCA will host its Annual Gala on the evening of Saturday, Nov. 5, 2022, a special event that will recognize retiring board chair Ned Morse's six decades of involvement with the Y while raising vital funds that support the nonprofit organization's many programs and services.
Morse, the gala's Special Guest of Honor, started as a camper and staffer at the Y's Camp Frank A. Day in East Brookfield, built long-lasting relationships while working out in the Y's gym, and served for many years on the Board of Directors. Morse, a retired attorney who worked in health care, leading the state's nursing home trade association, will soon complete his second term as board chair this fall. His first term was in the 1990s when the Y embarked on a major capital campaign to add a gymnasium and pool.
"Not many people go from camp counselor to board chair, but that arc exemplifies Ned's lifelong dedication and service to our Y community," said Jack Fucci, President and CEO of the West Suburban YMCA. "We are excited to show our appreciation for Ned at the Annual Gala as we celebrate our achievements and come together for our largest fundraising event of the year to support our mission."
The Y has set a $100,000 fundraising goal for the 2022 gala. Guests are encouraged to wear flapper dresses, jazz suits and other festive period attire to match the "Roaring Twenties" theme. The Y is celebrating its first full-scale, in-person gala since the pandemic started. The event was modified and held outdoors in 2020, followed by a scaled-down, indoor affair in 2021.
Boston sports personality Nick "Fitzy" Stevens, a longtime friend of the Y, will emcee the evening with his trademark comedy and passion. The evening includes a cocktail hour, seated dinner catered by Bakers' Best, live music by East Coast Soul, an auction and prizes.
The event was organized by a Gala Committee composed of Karen Bogard, Kristina Carroll, Emily Flynn, Andy Gluck, Aaron Goldman (incoming board chair), Ellen Grody, Martha Hanlon, Pam Haslam, Cindy Laughrea, Andrea Newman, Sara Pollock DeMedeiros, Nick Stevens and Heather Sundram.
Sponsors include Commodore Builders, Karen DiGiovanni, Boston College, Dedham Savings, Deloitte, Newton-Wellesley Hospital, M&T Bank, The Village Bank, The Gluck Family, Honda Village, Boston Beer Company, Dion's Fine Wine, and Triple Eight Distillery/Nantucket Vineyard.
For ticket and sponsorship details, visit https://www.wsymca.org/support-the-y/annual-gala.
About the West Suburban YMCA
The West Suburban YMCA is a charitable nonprofit organization that has been a fixture in the Newton community for over 145 years. The Y is committed to strengthening the foundations of the community by supporting youth development, healthy living and social responsibility for all.  Learn more at WSYMCA.org.