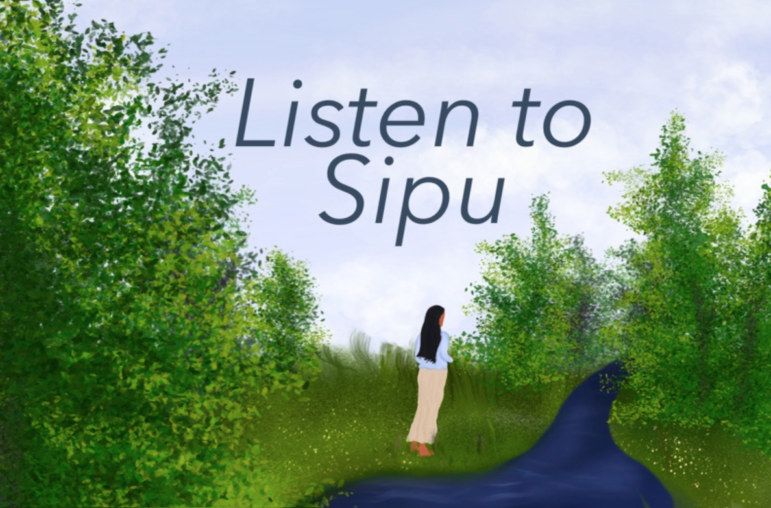 The following information was provided by New Repertory Theatre:
A presentation of New Repertory Theatre's play Listen to Sipu will be featured as part of Watertown's first celebration of Indigenous Peoples Day, at 3:00 p.m. on Monday, October 10, 2022 at First Parish Watertown, 35 Church Street, Watertown, MA.  The free event, which runs from 2:00 to 5:00 PM, will also feature Indigenous speakers, Indigenous musicians, artists and vendors.   
Listen to Sipu isa Watertown historical moving play by Mwalim*7, (Morgan J. Peters, Mashpee Wampanoag), directed by Tara Moses (Seminole Nation of Oklahoma, Mvskoke), and featuring Maria Hendricks (Assonet & Mashpee Wampanoag), who is also one of New Rep's Resident Artists. The presentation will be followed by a facilitated discussion about the interactions between the Indigenous people of the area and the colonial settlers who arrived in the 1630s. The play was first presented in Watertown in the summer of 2021 as a socially-distanced walking tour, in partnership with The Watertown Free Public Library, The Historical Society of Watertown and The Pigsgusset Initiative.
This event is funded by a generous grant from the Watertown Community Foundation and donations from individuals. Members of the community-based Pigsgusset Initiative, a working group of Watertown Citizens for Peace, Justice and the Environment, are organizing the event in partnership with the New Repertory Theatre.  Supporters and sponsors include: First Parish Watertown, Watertown Boys and Girls Club, Watertown Community for Black Lives, WHERE ARE ALL THE BLACK PEOPLE AT.  
Also, in recognition of Indigenous Peoples Day, acclaimed Wampanoag chef, Sherry Pocknett, has consulted with Chef Ivan Conill at Branch Line restaurant to offer some Indigenous food as part of Indigenous Food Week in Watertown from 9/30 to 10/10/22.
The Pigsgusset Initiative seeks to increase communication and promote collaboration among Watertown residents to undo the erasure of Indigenous Peoples and to promote inclusive historical narratives. "Pigsgusset" represents the colonial settlers' interpretation of the native name for the area that we now call Watertown. "Pigsgusset" means the meadows at the widening of the river and was the homeland of the Pequossette band of the Massachusetts Tribe for thousands of years before colonization. 
New Repertory Theatre (New Rep) has been an award-winning professional theatre company for 38 years, staging productions and events that speak to the vital ideas of our time. New Rep is emerging from the pandemic with a renewed commitment to inclusion, diversity, equity, accessibility, and accountability (IDEAA) infusing every aspect of the company's work as it seeks to build community collaborations and give voice to the diverse interests of those communities.