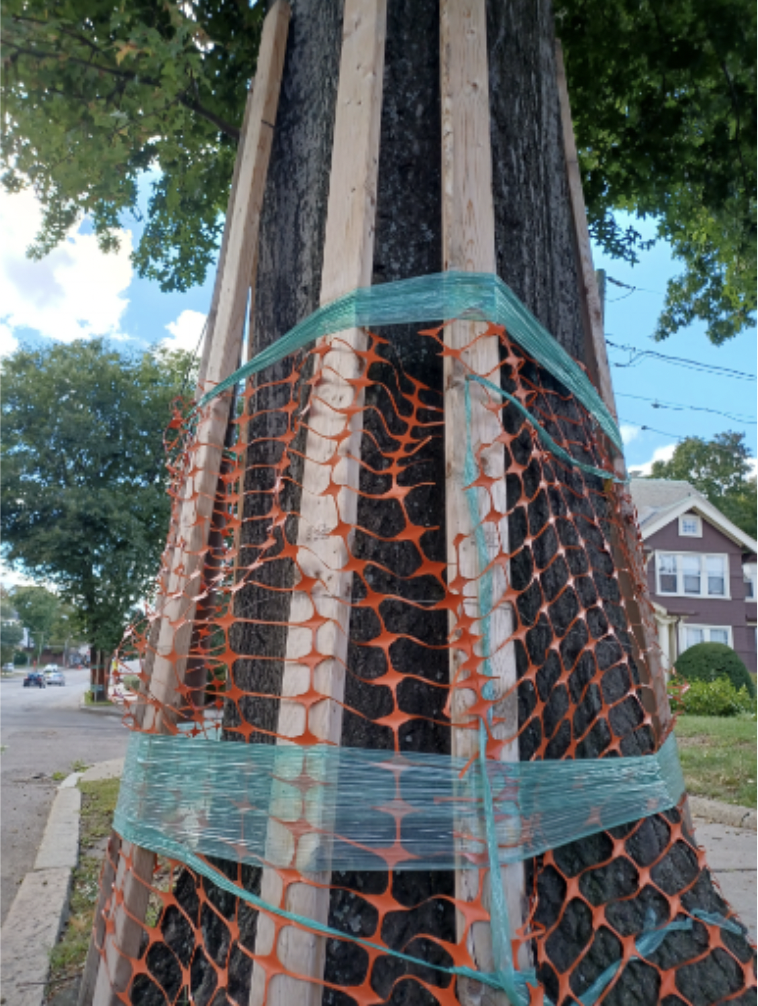 By James Briand, Trees for Watertown
Watertown is a city under construction. From major public works such as the Mount Auburn Street renewal to numerous private developments, streets and lots are being disrupted for improvements. While the projects may deliver important benefits, the heavy equipment and excavation work required sometimes presents difficulties for mature trees in the zone adjacent to construction. Protecting such large, mature trees is vital, because even if new trees are planted post-project, it will be years before they can deliver the same cooling impact as lost mature trees.
Watertown residents may have noticed the vertical 2×4 lumber barriers on many trees along the Mount Auburn Street construction area. Such barriers have been put in place by project managers to address one potential threat to trees during construction — damage from mechanical equipment. Collisions with trees can shear off limbs or peel off bark, leaving the tree vulnerable to disease. Yet, such barriers are only a first step in protecting valued shade trees.
The number one threat to trees during construction is root damage. Contrary to frequent public perception, most of a tree's roots spread out near the surface of the soil, not deep underneath. Most are, in fact, within 6-18 inches of the surface. This positioning leaves trees vulnerable to damage during construction.
Roots play an essential role in a tree's nutrition engine, collecting oxygen from the soil as well as moisture needed for survival. When soil is compacted, either by heavy equipment or by frequent foot traffic in a constricted construction zone, it loses pores that allow oxygen to reach roots and becomes less able to retain water. Cutting off roots when digging utility trenches may also leave trees unstable, and vulnerable to wind damage.
So what can be done? Arborists and university extension experts recommend a few steps. First, consider the types of trees adjacent to the construction. Species such as white pines and beeches are more vulnerable to construction conditions than others such as Honey Locusts or sycamores. Extra efforts may be required to protect some more vulnerable trees.
Second, experts suggest installing protective fencing not just around the trunk, but where possible, out to the dripline, the furthest extent of branches from the trunk. This will help prevent soil compaction. Another positive step is to design projects to avoid major changes to the grade of the land around the tree during and after construction, as excess soil can smother the roots. Finally, water the trees generously during and after soil disruption, and keep an eye out for any dieback on the trees that may signal root damage.
Watertown Tree Warden Mike Micieli, emphasizes the need to act early to preserve trees, even before construction begins. "Tree protection is essential to ensuring the survival of our shade trees. Ensuring adequate tree protection doesn't just mean 2x4s on the trees. It also means mitigating canopy conflicts, reducing soil compaction, and ensuring the appropriate equipment is used when excavating under the dripline. However, a great way to protect trees during the construction process may happen before construction even begins. Transparency and communication through the design process often allows for adjustments to be made that may bring construction away from the tree entirely."
If you have concern about the impact of construction on a tree near your home, reach out to the Watertown Forestry Department.