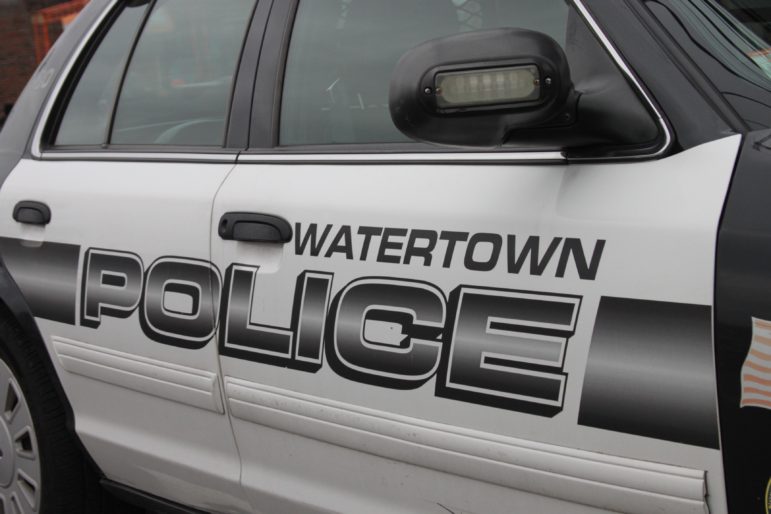 The following information was provided by the Watertown Police Department.
Arrests
Oct. 10, 2:46 a.m.: A white truck was spotted driving on Arsenal Street with a flat tire. The officer got into his cruiser and when he caught up to the vehicle had stopped at Beechwood Avenue and the driver was asleep at the wheel with his foot on the brake and the engine running. Police woke the man and noticed signs of intoxication. The man said he just picked up the vehicle at the shop, and was unaware of the flat. He admitted to consuming alcohol before driving. The man did not pass five field sobriety tests. Toni Deoliveira, 51, of Boston, was arrested on a charge of driving under the influence of alcohol.
Oct. 10, 6:57 p.m.: Target reported seeing four people shoplifting, and they left in a white sedan. Police located the vehicle on Arsenal Street near the Residence Inn by Marriott. They had taken six Texas Instruments calculators, worth a total of $811, and placed them in a plastic bin. Officers spoke with the people in the vehicle, who had some of the items reported stolen. Two people were over 18, and two were juveniles. Security saw one of the adults, Tummerick Brown, with one of the juveniles taking the anti-theft devices off the calculators. The other juvenile pushed a cart with the plastic bin inside, and they placed the calculators in the bin and left without paying. One of the juveniles told officers that they had taken the items from Target. Police contacted the parents of the two juveniles and released them to the parents. The adults were placed under arrest. Tumerrick Brown, 22, of Boston, was charged with unlawful deactivation of a theft detection device and a warrant out of Haverhill District Court for larceny over $1,200. The second adult, Pandora Vasquez, 19, of Brookline, was not seen taking part in the shoplifting, but had a warrant from Haverhill District Court for two counts larceny over $1,200. Both of the of the juveniles, a 16-year-old girl from Brockton and a 15-year-old female from Boston, were summoned to Waltham District Court for shoplifting.
Oct. 16, 11:58 a.m.: The Probation Department from Waltham District Court alerted Watertown Police that a man was in violation of the terms of his probation. Officers responded to his home and placed Eric Nielsen, 35, of Watertown, under arrest on the probation warrant.
Also this week:
Incidents
Oct. 10, 12:19 p.m.: A resident of Arsenal Street received an email saying she had been chosen to purchase various high-end items, including a camera. She was looking to buy a camera for her son, so she responded to the email. The woman got another email saying she had to pay shipping fees, and was asked to send $200 through CashApp. She did so, and afterward all communication stopped. The email which she was communicating with appears to be a spoof address.
Oct. 12, 5:31 p.m.: A resident got an email from Bank of America saying that a Royal Caribbean Visa had been opened in her name. She contacted the bank to tell them that she had not applied for the card, and they froze the card. Nothing had been charged on the card.
Oct. 13, 10:51 a.m.: A Wilson Avenue resident said that he received an email from Wells Fargo Bank saying a checking account had been opened using his name, but he had not authorized it. Earlier that day he had been notified of another account opened in his name at Bank of America. No money had been lost, and he is working with the banks to resolve the situation.
Oct. 13, 5:31 p.m.: A resident of an apartment building on Pleasant Street reported a stolen bicycle. The black Trek 800 bike with red lettering was valued at $500, and had been left on the rack in the parking garage and was taken sometime between Oct. 9 and 11. There is a sticker on the bike that says Franklin Bike Shop.
Oct. 14, 10:37 a.m.: A bike was taken from the driveway of a home on Molloy Street. The purple Ross Chimera had a blue and grey Burley children's trailer attached, valued at a combined $500. It was taken between Oct. 12 at 7 p.m. and Oct. 14 at 8 a.m.
Oct. 14, 12:20 p.m.: An 81-year-old woman went shopping at Roche Bros. in Arsenal Yards, and when she got home she realized she didn't have her wallet. She recalled leaving it at the store so she returned, and the wallet had been turned in but $100 in cash was missing. Police looked at the surveillance video and it showed the woman checking out at about 10:30 a.m., putting the wallet on the counter and leaving. About 20 seconds later a man checked out and picked up the wallet, looked through it, removed the money, and put the wallet back on the counter. The suspect is described as a light-skinned or Hispanic male, 50 to 60 years old, wearing a grey New England Patriots hat, a grey short-sleeved button up shirt, dark pants, and brown work boots. Police are trying to identify the suspect.
Oct. 14, 6:38 p.m.: A woman reported being contacted by a person on Facebook messenger who said the resident had been selected to receive a government retirement grant for $80,000. In order to get the grant, the resident was supposed to send a picture of her license and a payment of $550 using an American Express gift card. The woman did so, but later realized it was a scam.
Oct. 16, 6:37 p.m.: A Prescott Street resident had her items taken while she was at Central Rock Gym on Acton Street. She left a bag in a cubby at about 3:15 p.m. while she worked out and when she returned she couldn't find the bag. It contained a cell phone, a wallet, a set of car keys, a debit card, and $40 cash. While police were at Central Rock, an employee reported a second missing bag, which contained a Polartec jacket, car keys, and a credit card. Police viewed the security footage, which showed a man come in, walk into the bathroom, come back out and then took the bags. Officers identified the man and they got a warrant for the 47-year-old homeless man from Watertown.