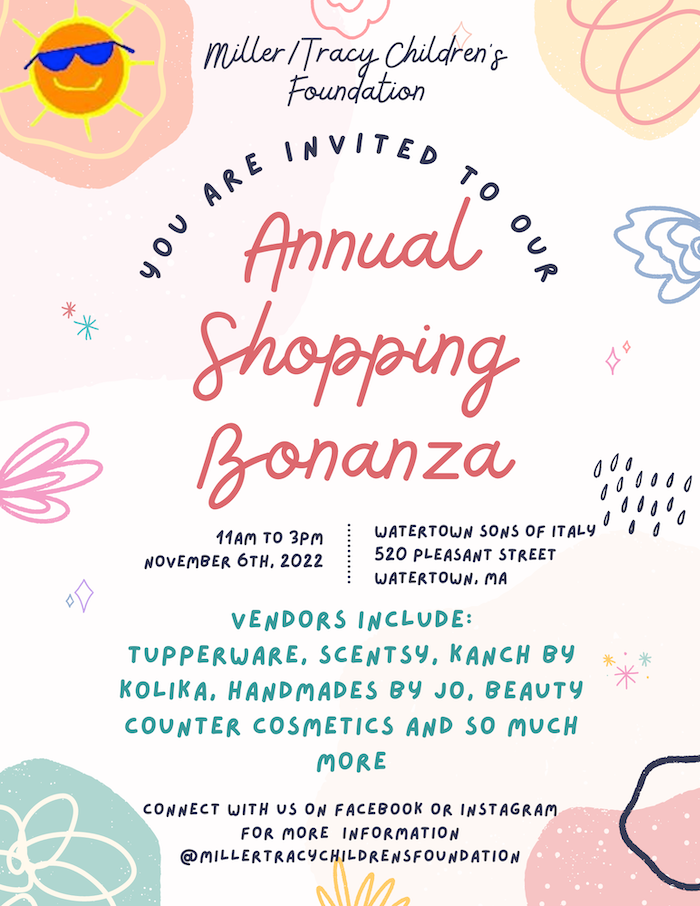 The Miller/Tracy Children's Foundation will host the 2022 Annual Shopping Bonanza on Sunday, Nov. 6 from 11 a.m.-3 p.m. at Watertown Sons of Italy hall, 520 Pleasant St., in Watertown.
The Foundation provided the following information:
This is our 17th time running the fundraiser, and this year will be our first time hosting the event since COVID to it is bigger and better than ever!
We have so many new vendors (full list will be below), a bake sale, and wonderful raffle items.
Money raised from the event goes towards our outreach programs, including our Back to School program which supplies personalized requests for school supplies, clothes, shoes and backpacks to 200+ children each year in the Greater Boston area.
More information about the Miller/Tracy Children's Foundation can be found on our website: MTCF2001.org and on our Instagram @MillerTracyChildrensFoundation
Vendors: 
Charlotte Paints
Kanch by Kolika
Scentsy
Beauty Counter Cosmetics
Tupperware
Handmades by Jo
Color Street
Angus art
Avon
Cho and Moi
Rare Succulent
Making a Mockery
Brookie's Cookies
Looks by Lopez Boutique
Pink Flamingo Beads
Vibes Candles
Mettle and Verve
AND MORE!