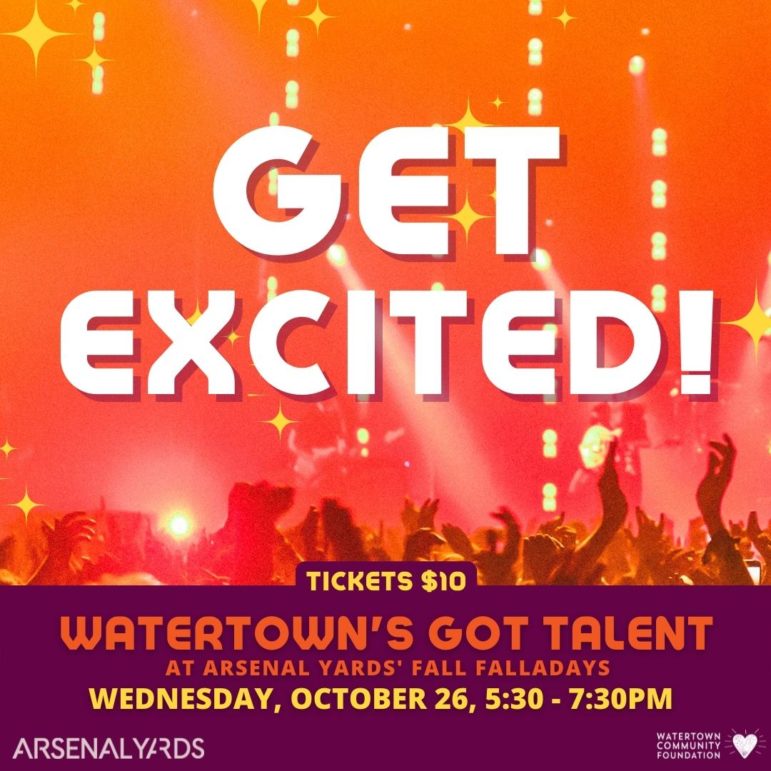 The following announcement was provided by the Watertown Community Foundation:
It's time to see who is crowned Watertown's Top Talent!
Announcing a BRAND NEW Talent Show this October during Arsenal Yards' Fall Falladays in partnership with the Watertown Community Foundation: Watertown's Got Talent!
Join us for a fun-filled evening of talent, entertainment & more! Featuring guest MC, Dan McCarthy, plus a panel of Watertown local judges.
Guests are encouraged to bring takeout from any Arsenal Yards restaurant and enjoy it during the event, plus beer & wine will be available for purchase for those who are 21+. So, kick back, relax & enjoy the show!
DATE: Wednesday, October 26
TIME: 5:30 – 7:30 p.m.
WHERE: The River Green at Arsenal Yards
ADMISSION: $10 with all proceeds benefiting the Watertown Community Foundation. Children 5 and under are free
We are SO excited to announce the lineup of talent including:
Abby Murphy: Vocalist with John Tyson as accompanist
Amber Martin: Vocalist & Guitarist
Amethyst Scolnick: Vocalist
Jean Gauthier: Singer, Songwriter, Guitarist
Jintana Wongsamart Britland: Instrumentalist, performing a Thai Instrument
Matthew Britland: Instrumentalist, performing the Kim
Ryan Lally: Magician & Mentalist
Swati Biswas: Indian Classical Dancer & Choreographer
Vivian Slaven: Rhythmic Gymnast
Meet The Judges!
Dr. Dede Galdston, Superintendent of Schools WPS
Dr. Kimberlee Henry, Director of Diversity, Equity, Inclusion, and Belonging for WPS
Mark Sideris, City Council President
Darren Farrington, Executive Director Mosesian Center for the Arts
Ryan Nicholson, Provisional Chief Watertown Fire Department
About Watertown Community Foundation
Established in 2003, Watertown Community Foundation (WCF) is a 501 (c)(3) public foundation that works to develop and strengthen community in Watertown, Massachusetts in the short and long term. WCF raises funds from individuals, families, foundations, and businesses, awards grants to non-profit organizations and community projects serving Watertown, and builds networks of donors, grantees, program participants, and volunteers to best serve the community.
WCF and its grantees work to advance education and health initiatives, support the most vulnerable, project the environment, encourage creativity and the arts, and foster community engagement and leadership.WCF serves Watertown by focusing on the broad needs of the community. We focus on services and programs that provide support for infants, preschoolers, and their families, and for community members of all ages. We support programs that focus on arts, culture, and the environment. We also work on an ongoing basis to respond to immediate needs as they arise throughout the year.