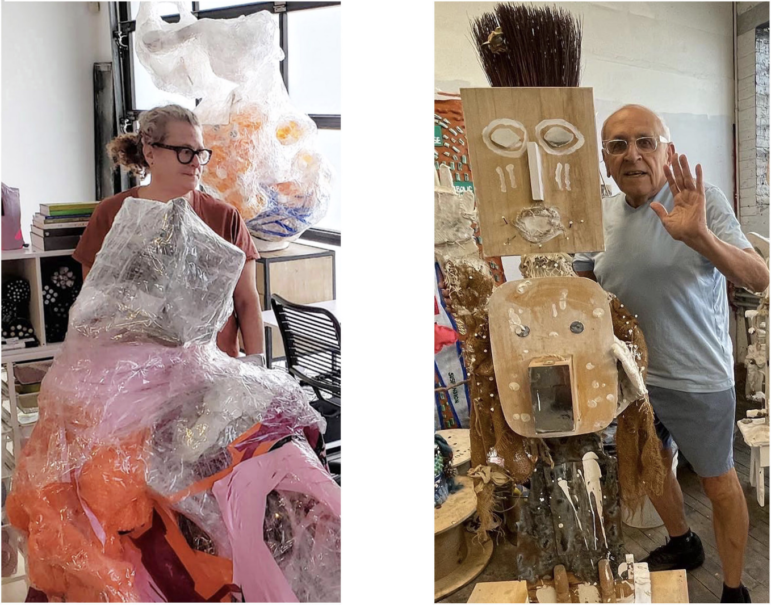 Storefront Art Projects provided the following information about its upcoming show, called "Found Meaning":
Dining room chairs, a discarded faucet, a metal dish rack, cd holders, old pants, old sandals, plastic shopping bags, white paper, blue tape, gray and black electrical tape, pantyhose, styrofoam, suction cups, leather, gauze, ping pong balls, wire, tin cans, yarn, acrylic paint, glue, thread, and cotton balls.
These are but a few ingredients of the artwork in FOUND MEANING with Martha Chason-Sokol and Joe Caruso at Storefront Art Projects.
Come visit and see how their dark but defiantly bright and surprising art is more than the sum of its parts! 
Through Halloween and the dark days of fall, Martha Chason-Sokol and Joe Caruso, present an array of colorful, monstrous, and humorous paintings and sculpture at Storefront Art Projects. Martha and Joe are kindred spirits who have never shown together before. Martha works with household items, tape, and packing materials in a wry commentary on our current values and priorities. Joe makes sculpture with clay and found materials and raucously bright paintings. His work is inspired by his stays in Mexico and Italy. Both artists' works address current events, cultural myths, symbols and archetypes.
Martha says her characters "mimic human experience. They are shaped by the objects from which they are built; pill bottles, dishwasher parts, old lamps that work and don't work … tape performs as skin or bandage transforming cast-off domestic items into abstracted figures. Tape's essential purpose is in holding things together or repairing something that is broken. As an art material it becomes a metaphor for repairing discarded values, broken promises and a disposable culture …"
Joe Caruso says of his sculptures and paintings, "I draw inspiration from ancient cultures, myths and folklore as well as from contemporary life. I am especially interested in the symbols that man uses to connect with nature and with the spiritual world. These are often embedded in an array of art forms ranging from sculpture and masks to movement and ceremony. I create my own versions of these forms to address present-day issues."
Both these artists make us stop and take stock of how we live today.
FOUND MEANING with Martha Chason-Sokol and Joe Caruso, October 29 – December 15, 2022
Reception: Saturday, October 29, 1 – 4
83 Spring St., Watertown, MA 
Gallery Hours Thursdays and Saturdays 1 – 4 
Find out more at www.storefrontartprojects.com