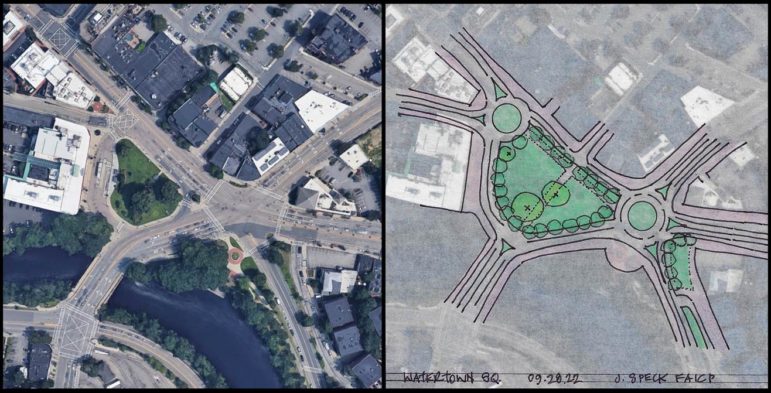 How to make Watertown Square a calmer, more efficient, and inviting place to be is a complex puzzle, which City Manager George Proakis plans to take on in his first year on the job. A well-known city planner took a stab at the problem and drew up a redesign with roundabouts on two ends of the main intersection in town.
The drawing was the product of a quick analysis by Jeff Speck, in a talk about making cities more walkable, as well as places where businesses thrive. He presented it during his presentation at the Charles River Chamber of Commerce Fall Business Breakfast in Newton on Oct. 28 along with ideas for areas in other communities in the Chamber's region: Newton, Needham and Wellesley,
"I took one hour, off the clock, to investigate the worst part of Watertown — which is also the heart of Watertown — which is Watertown Square," Speck said.
He described the intersection as "this giant tarmac," with pre-21st Century traffic design including a light over every lane, a lane for every turning motion.
"And once you have signals everywhere you have stacking everywhere and the roads need to get wider and wider and wider, and that's what happened to Watertown center," Speck said.
As an alternative, he came up with a concept that replaced the giant intersection with a roundabout where Mt. Auburn, Galen, Main, and Arsenal streets, plus Charles River Road meet. A second roundabout sits where Main and Pleasant streets come together with what is the bus and taxi drive around the Delta.
Roundabouts differ from rotaries in some ways including that vehicles stay in the same lane in roundabouts and do not change lanes, while rotaries are more like highway entrances where vehicles crisscross to circulate around the circle. Roundabouts are being used more and more across the country, Speck said, and they move traffic more swiftly not by increasing speed, but by increasing efficiency. The drawing also shows double the amount of open space, which could be used for green space, but also could be a location for more shops or businesses, he added.
Speck said he enjoyed looking at Watertown for many reasons, including because Proakis is a friend and, at times, colleague. He called Watertown's City Manager "one of the best planners in America."
"George is such a good planner that I have him co-teach my Harvard class every summer," Speck said.
While Proakis said the Speck's idea was interesting, he said there is much work to do before the design of the intersection is discussed.
"It will be interesting to see where that all goes, but I look forward to working with the community on strategies and as I told my staff in my very first staff meeting, I'd like us to be abnormal, think of new ideas, be creative, and bring new ideas to the table," Proakis said. "So, Jeff's idea comes to the table as part of that conversation. I really appreciate that."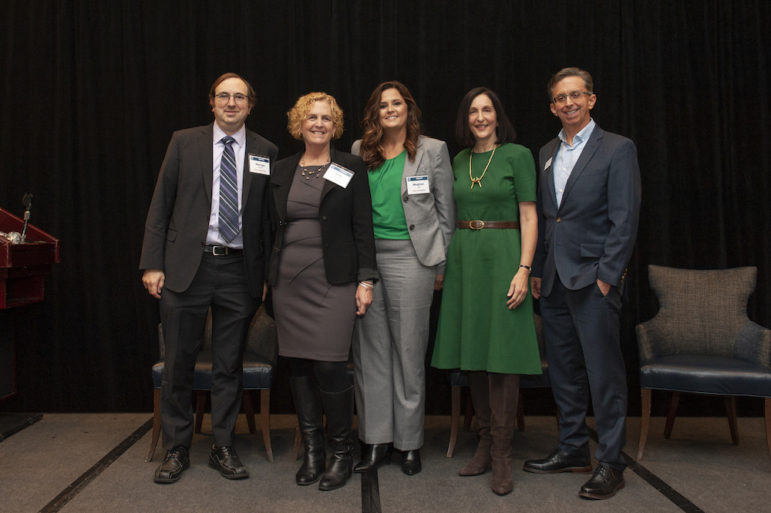 After the program, Proakis said he had seen Speck's drawing a few days before the Chamber Breakfast, but had not examined it closely.
"I haven't really had time to think about that sort of an idea. But, as you probably know, there was a traffic circle, an old-style rotary, in the middle of that intersection many years ago, and those didn't tend to work," Proakis said. "We switched to the traffic light system at the time when they were getting rid of a lot of those. The modern roundabout is an interesting concept in the way that it moves traffic."
He noted that when Speck is hired to work on a project he takes a much closer look, and uses traffic engineers, does traffic studies, and really examines things like how many lanes are needed, and how buses would operate, among other things.
Watertown officials have examined what to do with the Square from a number of points of view, including traffic, zoning, housing, parking, and what to do with the old Police Station, Proakis said, but he wants to look at all of those issues at once.
The conversation is a very complex one, Proakis said, and he said he wants to complete the ongoing updating of the Comprehensive Plan before figuring out what to do at the neighborhood level, including Watertown Square. He expects that to happen in the winter of 2023.
"I don't know where we will end up in a conversation like that but I just want to make sure we have the space to have it, that we can bring stakeholders together to figure out what might be possible," Proakis said. 
He recently walked around Coolidge Square with local business owners to see what makes the area special, and to find out about the challenges they face. He may do a similar thing in Watertown Square.
When shaping the future of the Square, an important area for people to consider is how to adjust zoning.
"It is worth considering how you set zoning decides what you get for businesses and also what buildings remain and what sites get redeveloped," Proakis said. "What do we want to stay and what we might want to change."
While he has not decided which strategy would work best in Watertown Square, Proakis has identified some aspects of the Square that need to be improved.
"What bothers me is when you have six lanes of moving traffic on a business street it is very difficult to keep attention on the small businesses and keep the walkable side of things working," Praokis said. "I want to see what's out there, see what options we have."
See the video of the Charles River Chamber of Commerce Fall Breakfast here: