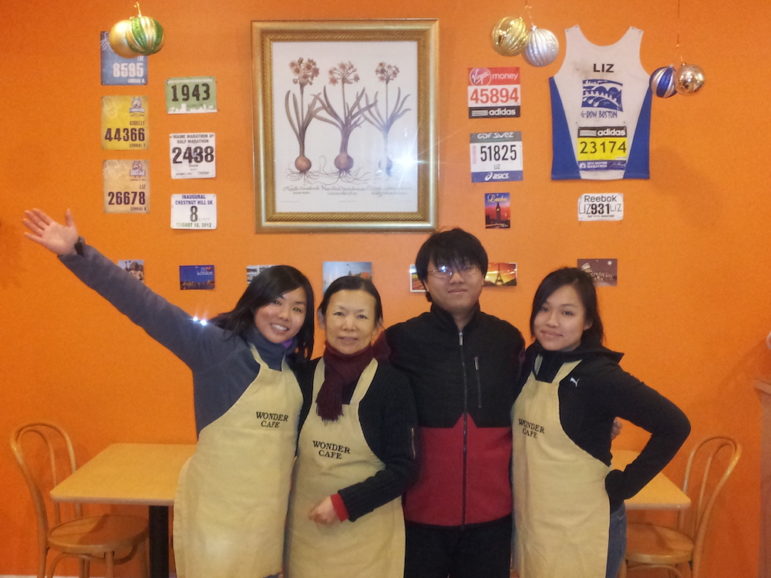 Dear family, friends, and businesses of Watertown,
It is with great sadness that we announce the death of Sue Chen on October 29, 2022.  Sue was the owner of Wonder Cafe on Mt. Auburn Street, Watertown from 2009 to 2015. 
One of her greatest joys was meeting and feeding people in the family restaurant she started. She carefully planned the renovation, decorations and furnishings to create a happy and welcoming environment for all ages. Guests would also complement the signature orange walls. By December 2009 Wonder Cafe was officially opened with her children by her side. 
Throughout the years, customers of Wonder Cafe would also become friends. Parents would come by with their doting children for a meal. Watertown High School students would bond over dumplings, noodles, and bubble tea. Friendly city employees would pick up lunches to go. Late night eaters ordering chicken wings and fried rice. Sue would manage the back of the kitchen, while her three children would take incoming calls, wait on guests, and make deliveries.
Towards the end of 2015, Sue was diagnosed with Parkinson's Disease. The family decided to end their restaurant journey, and her children focused on their mother's new chapter. Unfortunately, stage four lung cancer took her life. She was not a smoker.
All are welcome to join the Wonder Cafe Family in remembering and honoring Sue Chen. A wake will be held at Wing Fook Funeral Home in Boston, MA, on Wednesday, November 9, from 5 p.m. – 8 p.m. Funeral day will follow on Thursday, November 10, with services starting 9 a.m. – 10:30 a.m. The funeral procession will leave from Wing Fook Funeral Home at 11 a.m., and arrive at Forest Hills Cemetery.
In lieu of flowers, donations to Sue Chen's funeral fund are greatly appreciated. Please visit the family's GoFundMe website at: https://bit.ly/3T4tyed