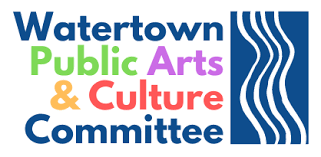 The following announcement was provided by the Watertown Public Arts and Culture Committee:
The Watertown Public Arts and Culture Committee (PACC) is excited to Watertown's first Community Sculpture Walk. The Community Sculpture Walk will exhibit public sculptures to enhance use of green space in Watertown, encourage public interaction with contemporary art, and create an annual exhibition opportunity for artists at all career stages working in a variety of mediums. 
The Sculpture Walk follows the Community Path from the Watertown Free Public Library Parking lot to Waverley Avenue. There are eight planned sites along the path for sculptures. In 2023, four sculptures will be selected, with four more selected in 2024, to fill all eight sites along the walk. Sculptures will be on loan from selected artists for two years.
The Watertown PACC is excited to partner with The New England Sculptors Association (NESA) on this project. NESA is a nonprofit arts organization established in 1948, that "supports established and emerging sculptors in achieving their highest potential and in connecting with fellow artists, curators, and collectors."
The call for sculptures is open until January 8, 2023. All artists working or living anywhere in the world are welcome to apply. Selected artists will be awarded $2,000 for the two-year loan of their sculpture. Sculptures must be suitable for long-term, outdoor exposure and fabricated and installed in a viewer-safe manner. Sculptures must also address the theme of "the river," in whichever way the artist chooses.
Interested artists may learn more and apply online at: https://www.watertown-ma.gov/816/5211/Community-Sculpture-Walk or email Public Arts & Culture Planner, Liz Helfer, at ehelfer@watertown-ma.gov.