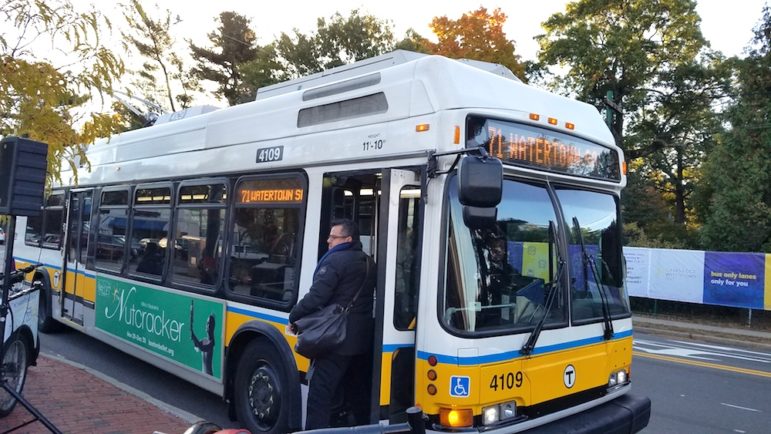 The following information was provided by the MBTA:
Due to overwhelming interest in the November 2 Bus Network Redesign meeting, we will be holding a subsequent meeting to accommodate those who were not able to attend. The additional public meeting will be Monday, November 14 at 6:00 PM. 
We encourage attendees to view the November 2 recordings in advance of the meeting as the breakout room presentations will be shortened to allow for more time for questions. You can view the main presentation here. Breakout room recordings are also available for the following regions:
The meeting will be held online, via Zoom. To pre-register, please click this link:
https://us02web.zoom.us/meeting/register/tZ0ld-yppz4rH9VgI1tfFpJdjWx-KDx66gkV
After registering, you will receive a confirmation email containing information about joining the meeting. Upon joining you will be prompted to share your first name, last name, and email address. Meeting attendees will be entered into the project's email database to receive updates. The meeting will be recorded and posted on the event page of the project website, for those who cannot attend.
If you have a comment you would like to share about the revised map in the meantime, please leave your feedback at mbta.com/bnrdfeedback.
Reminder: Materials Available
This is also a reminder that you can view the Revised Network on the project website, including
Regional Map – This static map shows the proposed redesigned bus network at a regional level.
Interactive Remix map, which allows you to zoom in and out, pan around, and click on specific routes to get detailed information about schedules and runtime.
Table of changes, by route number, from the proposed map (released in May 2022) and the updated map. The table of changes is also available to download in English, Español, Português, 汉语, 漢語, Kreyòl Ayisyen, Tiếng Việt, العربية, and Français.
Updates to the May 2022 Proposed Bus Network
Changes were made to 85 of the 133 proposed routes in the May 2022 Draft Bus Network. These changes include new routing, restoration of existing routes, addition or subtraction of proposed routes, extensions of routes, and modifications to route schedules.
Changes were made for five primary reasons:
To respond to public feedback received on the draft bus network proposal.
To improve access to hospitals, senior centers, and other destinations.
To reduce walk distances for seniors and other riders and in locations with challenging topography.
To preserve existing one-seat rides to many destinations.
To balance resources and stay within the limit of buses available during peak times, and within the overall service limit of 25% more service above the existing network.
For a complete list and description of changes, please view the Table of Changes.
Stay Connected
If you would like to share comments about the revised network with the Implementation Team, please complete this Comment Form.
You can find more details about Bus Network Redesign and other Better Bus Project initiatives on the project website. We will continue to provide updates to you on these efforts and inform you of opportunities to provide your feedback.
Feel free to reach out to the Better Bus Project team at BetterBusProject@mbta.com with any questions and visit mbta.com/BetterBus to learn more about our ongoing efforts to improve the bus system.
If you have been forwarded this message and would like to receive email updates about the Better Bus Project, please sign up here.