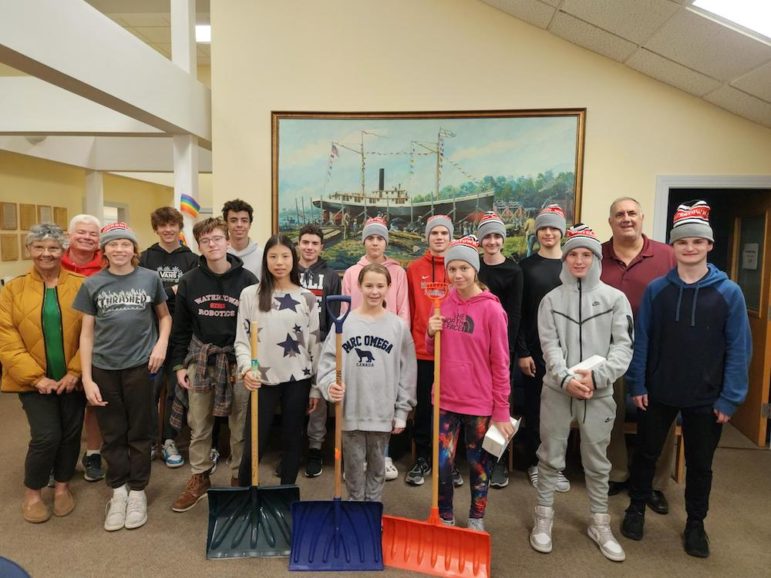 The following information came from the Watertown Recreation Department:
On Thursday, Nov. 10, the Department of Recreation and Senior Center hosted our Snow Shoveling Pizza Party at the Senior Center to thank those middle and high school students who participated in our snow shoveling program last year. 
Each participant enjoyed pizza and refreshments while receiving a specially designed water bottle, a $25 target gift card, a warm and cozy recreation stocking hat and community service.  Four of the students who were in attendance, also won a raffle for Bruins tickets for Sunday night's Bruin's game. 
We were delighted to have in attendance our special guest Carol Katz, of the Marshall Home Fund. The Marshall Home Fund has made this all possible by providing a grant to support this program. Special thanks to her and the Marshall Home Fund for supporting this great program and Patrick George and the Senior Center Staff for assisting with this program.  Yes, our favorite "Face of the Recreation Department, Ernie Thebado was there and helpful as usual.
We will again be offering this Snow Shoveling Program this year and are hopeful more middle school and high school students will participate.
This year, thanks to generous support from the Marshall Home Fund, students will have an opportunity to earn a stipend, along with Community Service and a gift by assisting with snow shoveling in their neighborhood.
If interested, please select the link below, fill out the application and return it to the Recreation Department at 149 Main Street or email the PDF (below) to recreation@watertown-ma.gov
Snow Shoveling Application – Seniors