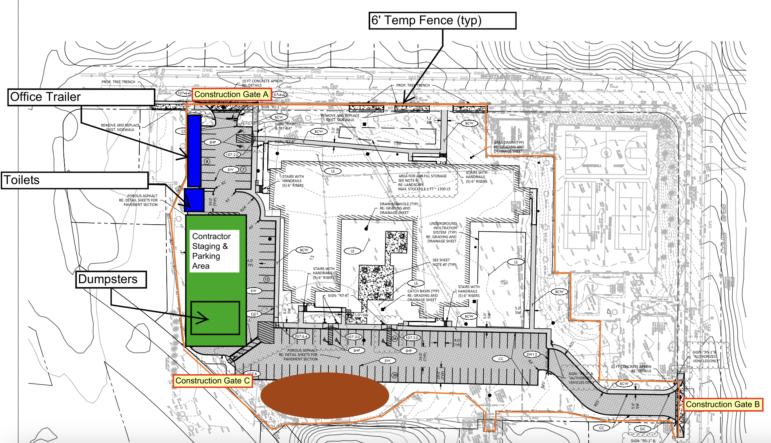 Watertown will be building a new high school building that will be located on the same property as the current school. While the new building is constructed, the school will move to a temporary campus to be located next to Watertown Middle School on the grassy area of Moxley Field.
The following information was provided by the Compass Project Management, the consultant hired by the School Building Committee for the Watertown High School project:
We have a very exciting progress update for the Moxley Modular High School Project which is on schedule to start in earnest next week.
All are welcome to join our upcoming Community Forum this Coming Monday at 6:30 p.m. at which we will be discussing and review much of the below project information.  
Please click the link below to join the Community Forum webinar:
https://us02web.zoom.us/j/86932730605
Webinar ID: 869 3273 0605
The presentation for the forum will be posted to the Watertown Building for the Future site prior to the meeting to allow the Community to review it in advance or use it to follow along.
Here is the link to all agendas and presentations organized by date: https://www.watertown.k12.ma.us/cms/one.aspx?portalid=190103&pageid=24094474
Beginning Monday, November 21st, 2022 please expect to see increased activity at Moxley Field by our general contractor as they begin work on site of the Watertown Modular High School.
Construction related activities you should expect to see in the coming days and weeks ahead as the project begins, include:
General Contractor Management Personnel supervising the site activity
A survey crew on and around the property determining limits of work and performing site layout
Site staking and marking activity for layout
Establishing the limit of work perimeter around the site, including temp construction fence set up
Set up of temporary erosion control materials
Removal of existing materials to be demolished
Initial sitework activity including grading activity and soil removal (expect trucks and earth moving equipment)
Below, for reference, is a diagrammatic logistics plan showing how the site will be set up during construction as well as a construction traffic flow plan showing where construction activity will access the site during construction.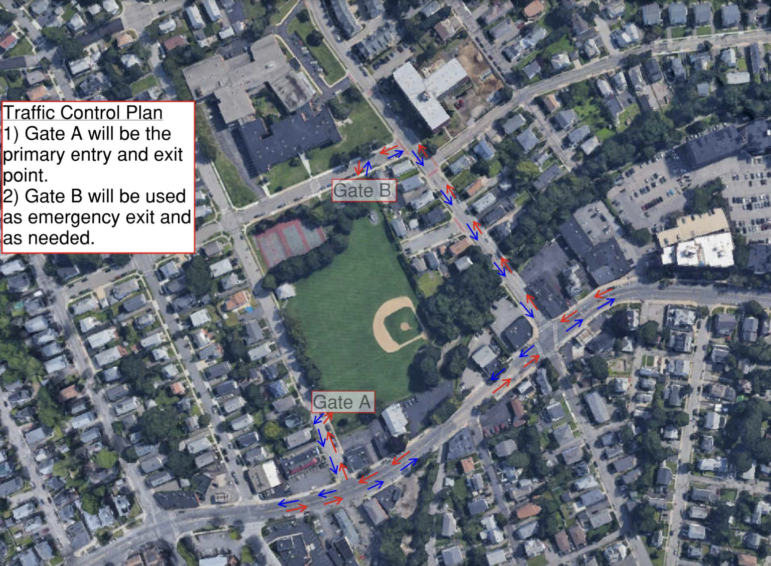 Please note that these construction logistics plans are being implemented only after having been reviewed with members of the school district, public safety personnel, emergency response personnel, school building committee all alongside the General Contractor responsible for implementing and maintaining this plan.
Some important policies and procedures associated with this plan that are crucial to a successful project include:
Anticipated Construction Site Work Hours:

Work hours to be 7A-5P with respect to noise which may impact abutters.
Any work anticipated to take place outside of the 7A-5P Mon-Fri work window must be coordinated with Building department in advance.

Construction Vehicle / Delivery Coordination

Major Deliveries are to be restricted during the Morning Drop off window of 8:00A-8:30A to allow maximum student access with minimum disruption.
Major Deliveries are to be restricted during the Afternoon Pick window of 2:30P – 3:20P to allow maximum student access with minimum disruption.
Gate A is the primary point of site access / egress.
Generally, Gate B will be closed. It will only be used for emergencies or on a limited "when required" basis.
Gate C will be closed at all times and is only provided for use by emergency personnel.

Pedestrian access / travel path review

The limit of work temporary construction fencing is within the lot line and WILL NOT impede day to day sideway access.
There is some street work required for the project and any sidewalk impacts for that work will be coordinated in advance to allow detour routing.
Public access WILL NOT be allowed on to the project site.

Management during construction: Who to contact if an issue arises, site security, etc.