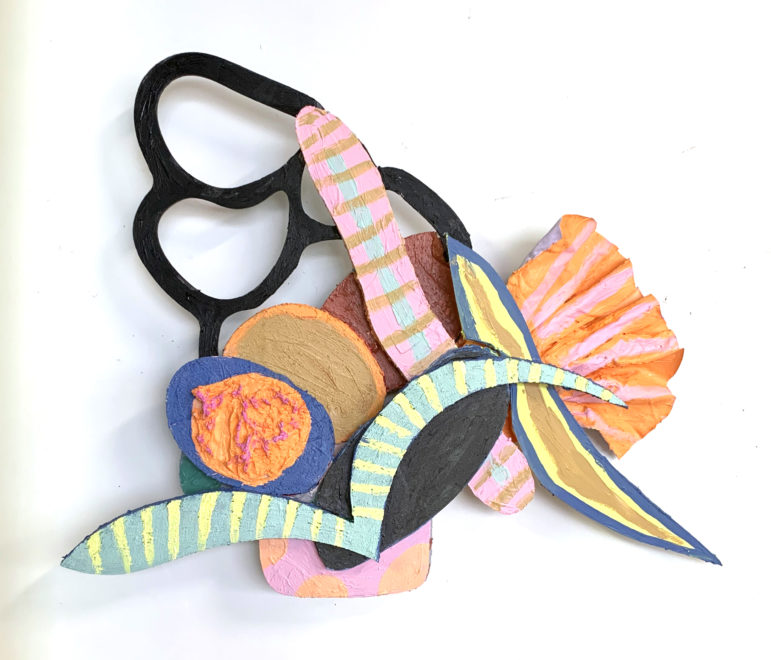 The following information was provided by the Mosesian Center for the Arts:
Abstract Art: Contemporary Approaches, the upcoming exhibition at Mosesian Arts, showcases the myriad of distinct ways artists take to create abstract and non-objective work today. Rich textures, organic and geometric shapes, brilliant colors, and emphasis on process are the common threads that unite these works, from paintings to prints, collages, and drawings to exquisite fiber pieces and sculptural forms. However, the concepts behind the art are very different.
Adria Arch's wall sculptures are a delightful mixture of two-dimensional and three-dimensional forms. The painterly surfaces are rich and inviting and the colors are fresh and contemporary. The biomorphic and geometric shapes playfully interact. In Wall Sculpture #4, a yellow and blue striped shape, a large orange dot, and a delicate black cut out mingle with other forms to create a piece that is whimsical and lively. Adria's abstract shapes are made from foam board. They go beyond traditional rectangular painting, and recall mid twentieth century neon signage, large insects, or imaginary avians.
Nancy Scacchi Evans' acrylic painting 2021.4 explores environmental and landscape abstraction. The narrow painting is reminiscent of a landscape. The intense, flat blue in the upper portion of the painting is juxtaposed with energetic brushstrokes that describe a forest and maybe a mountain in the distance. The painting's bright greens and blues recall a perfect summer day. The artist acknowledges that growing up in New England has greatly influenced her selection of color and form. The light, seashore, mountains, and extreme seasonal shifts all notably contribute to her work.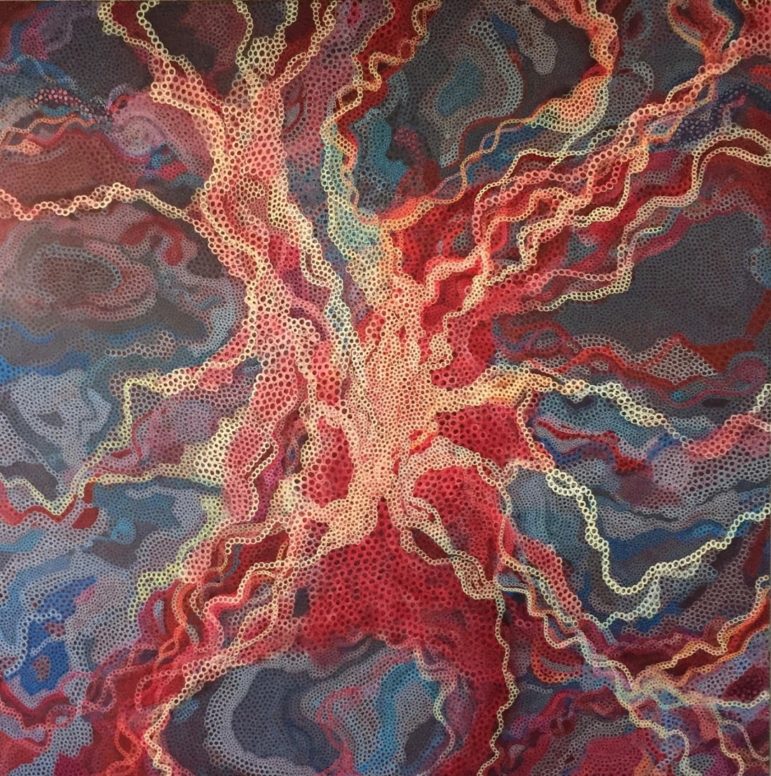 Claudia Ravaschiere's large square piece titled Never Let Me Go is a complex web of delicate oval marks creating intricate patterns. Each mark is hand painted. The many coats of translucent oil paint compliment her delicate marks. The colors are almost glowing, overlapping, and vibrating. The repetition of the oval shape has an obsessive and yet meditative quality. Repetition, for the artist, functions as a prayer, math, mediation, and music. She writes that in this painting she is seeking to chart the musing of thoughts, relationships, situations, experiences that cannot be clearly expressed or defined in concreate images or words. Repetition also becomes a way of discovery.
Rachel Freudenburg creates pieces from found materials. What drives her creative process is salvaging. On her bike rides through Greater Boston, she finds metal objects that have been discarded and separated from their purpose. She makes something new out of them. She writes: "I combine traditional fiber arts, such as weaving and crochet, with repurposed metal to make something joyous from lost, deformed, damaged scraps. In other words, I take something that has been ruined or thrown away, cherish it, and invest it with meaning. This process recognizes, in a general way, the value of a life, a world, a family, a city, a place, anything that has been damaged, destroyed, or discarded and generates hope through artistic activity."
Abstract Art: Contemporary Approaches is on display at the Mosesian Center for the Arts from Dec. 1, 2022 – Jan. 13, 2023. The opening reception will be held on Dec. 8, 5:30 – 7:30 p.m. The mission of The Mosesian Center for the Arts is to enrich the lives of diverse audiences and participants by providing exceptional experiences in theater, visual, and literary art.
For more information go to: www.mosesianarts.org