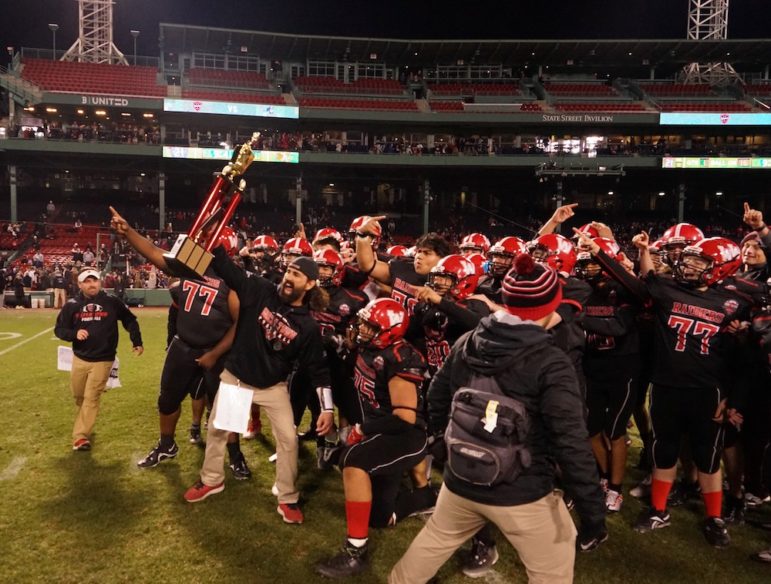 BOSTON — After letting their rivals from Belmont tie the score on the stroke of halftime, Watertown High School's football team took control of in the second half to win an extra-special Thanksgiving eve game played under the lights at Fenway Park, 21-7.
Watertown Head Coach John Cacace said he had a simple message to inspire the team at halftime.
"It feels great man, we work all year to finish it up just like this and I'm so happy for our kids, the way we played the second half," Cacace said. "I challenged them at halftime to come out tougher and we did, man."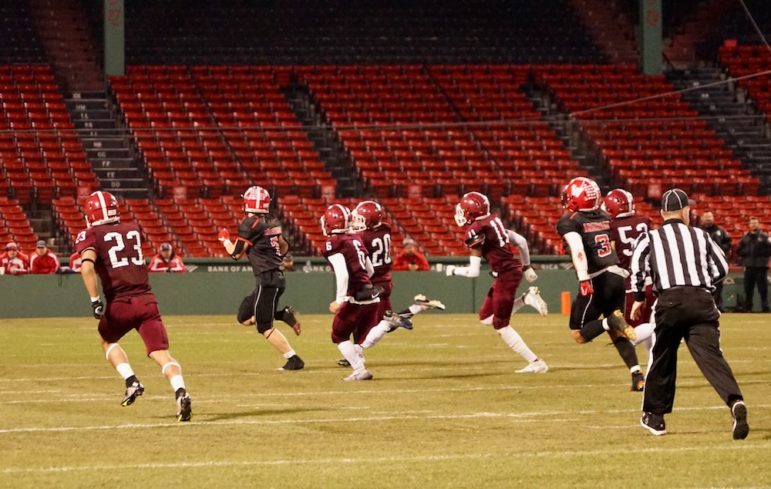 The Raiders were guided by Cacace's son Johnny, who played quarterback and linebacker. The win was especially satisfying under the circumstances, winning the 100th game at "one of the biggest stages in Massachusetts," he said.
"It's incredible. For rest of our lives we can say our senior year we played our very last game at Fenway Park and we beat Belmont," Johnny said.
Both of the Raiders second half scores came via the feet of senior running back Billy McHugh, who said playing at this historic ballpark was amazing.
"It means everything," he said. "It's a once in a liftetime opportunity. I was just happy to come out to play."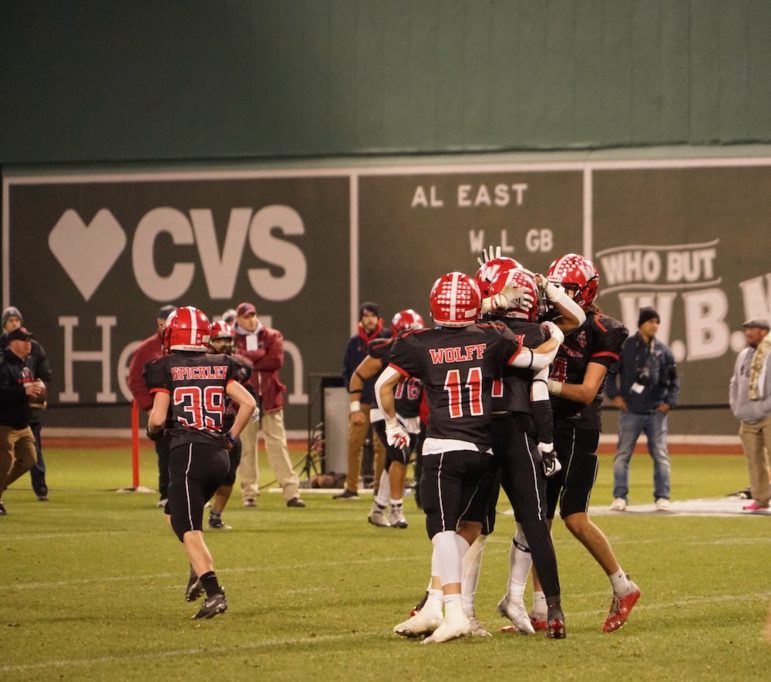 McHugh's first touchdown came from just a yard out, after Watertown drove 55 yards at the end of the third quarter, and early fourth. A key play came on fourth and 3 from the Belmont 10, which the Raiders converted and got the ball down to the two yard line.
On the next drive, the Raiders stopped a Belmont's attempt to go for it on fourth down at the Raiders' 39. Just a few plays later, McHugh took the ball on third and 3, and burst downfield for a 55-yard touchdown romp, putting Watertown up 21-7 with 1:41 left in the fourth quarter.
Watertown struck first in the second quarter, when senior quarterback Johnny Cacace finished a 58-yard drive by running around the end for nine yards, dragging Belmont defenders over the goal line for the score with 6:41 left in the second.
The Raiders almost stopped a long Marauder's drive at the end of the first half when Belmont's quarterback Jayden Arno ran out of bounds as time expired, but Watertown was called for a late hit out of bounds. Belmont's Asa Rosenmeier pounded the ball in from a yard out to tie the score, 7-7 at the half.
After the game, the Raiders celebrated on the field and were awarded a new trophy created by both schools, and which will go to the winner of annual Thanksgiving game.
The game will be rebroadcast on Watertown Cable's Education Channel on Thursday, Nov. 24 at 10 a.m. and 7:30 p.m. View it on Comcast 8, RCN 15, or click here to watch online.
See how the game unfolded by clicking below: