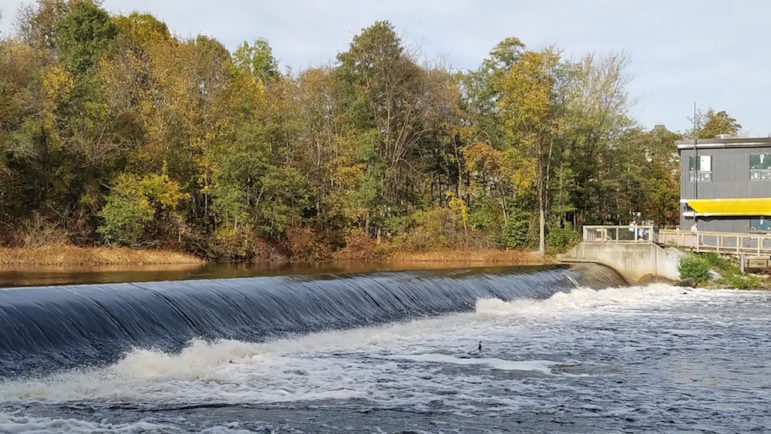 The City Council sent a letter to State officials in support of removing the "Watertown DCR Dam" from the Charles River, near Watertown Square.
The Council cited climate resilience, rebuilding the population of fish species in the Charles, and the opposition of the dam by indigenous people in the letter.
While the dam is located on a stretch of the river in Watertown's city limits, the Charles and its shores are controlled by the Massachusetts Department of Conservation and Recreation (DCR). The Council voted Tuesday to send the letter to Bethany Card, secretary of the Executive Office of Energy, and Environmental Affairs, and DCR Commissioner Douglas Rice.
The process for removing the dam is a long one. It typically takes about five years from the time that the DCR approves the removal to the completion of the removal.
The letter referred to some of the findings of the Charles River Watershed Association, including a feasibility study on removing the dam. Members of the group came before the Council in October to advocate for the removal of the dam in Watertown, and others along the Charles.
"We encourage you to support the removal of the Watertown Dam and restoration of the Charles River. We were impressed by the 2021 feasibility study's findings and are excited about the prospects of further restoring Alewife, American Eel, Blueback Herring and Rainbow Smelt to the Charles River."
The Council also said that when the dam was built it was opposed by local indigenous people, and it took that into consideration.
"At a time of reckoning in the Commonwealth and our country we have learned that the construction of the Watertown Dam was opposed by the local Indigenous peoples. Today we write to start to mend these wrongs and join with those indigenous voices who have been calling for years to remove the Watertown Dam and restore the river," the letter reads.
Concerns about the soundness of the 56-year-old dam and the impact of stronger storms that have hit the City in recent years were also cited by the Council.
"Aging infrastructure like Watertown Dam pose a risk as we are seeing stronger and more intense storms of which this dam was not designed for," the letter reads.
The area would not be more prone to flooding if the dam is taken out, according to the letter. Removing the dam would lower the level of the river above the dam by 6 feet, according to the letter. It would also improve conditions for fish and wildlife.
The letter reads: "Freeing the Charles River in Watertown will lead to lower temperatures and higher dissolved oxygen levels as the water would flow more freely. Colder waterways with higher levels of dissolved oxygen are better for fish like the wild trout that the City of Watertown supports."