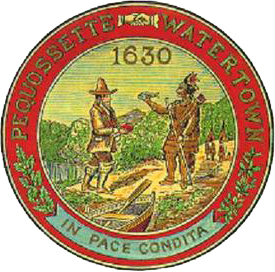 The City of Watertown sent out the Winter Newsletter with information about a variety of City programs and departments, including the Library, the City Census, and FlashVote.
FlashVote
Do you have one minute a month to help make Watertown better? Join your friends and neighbors and make your voice heard on important local issues. Its free, fast and fun — you'll get a short 1-minute survey every few months and you'll get to see full survey results within 48 hours! Plus, FlashVote makes sure your feedback is always anonymous.
Your input will help our city government make better decisions for everyone in the community. So, what are you waiting for? Don't miss the first survey, coming soon, sign up now:
www.flashvote.com/watertownma Thanks for participating. We appreciate your help!
Census forms coming in January
The Annual Street Listing (aka Annual Census)will be arriving in your mailbox in mid-January. Be on the lookout!! Be sure to review, update and sign your Census form and return it to the City Clerk without delay. Please note that we cannot process a Census form without a SIGNATURE so be sure to sign your form. Returning your Census form every year keeps your voting status current and active. Stay active and return your form as soon as it's received!
Motor Vehicle Excise Tax Bills — Don't Ignore Them!
In February, Motor Vehicle Excise Tax Bills will be sent. Payment is due in thirty days. Do not ignore these bills, even if you have traded or sold your car. With documentation, the Assessors Office can reduce these bills to the time your car was registered/owned. If these bills are not paid, they will continue to collect fees and interest which cannot be reduced. The Registry of Motor Vehicles marks the license and registration of unpaid bills preventing renewal. Do not ignore these bills.
One Book, One Watertown 2023: Big Girl by Mecca Jamilah Sullivan
Join your community in reading this extraordinary debut novel "alive with the delicious prose and cacophony of '90s Harlem." [—Janet Mock]
Extra copies are available at the Library beginning January 2. In March WFPL will host free themed programs including a virtual talk with the author, Mecca Jamilah Sullivan!
A New and Improved Library of Things
We've added new items! You can now borrow a tortilla press, a waffle iron, a 360-degree camera, a slumberpod, and more with your library card. If the thing you want is checked out, Watertown residents can now place a hold for the item, just like a book. Browse at watertownlib.org/things
Share Your Photos with the Library
The Watertown Collective Memory Project needs personal photos to document Watertown in YOUR lifetime. Bring three photos to WFPL or upload online at watertownlib.org/memory
Snow/Ice Removal Ordinance
Every person in charge or control of any building or lot of land within a business district and used for business purposes in the City, fronting on or abutting a paved sidewalk, shall remove and clear away, snow and ice from a patch of at least 36-inches in width from that portion of the sidewalk, which abuts any side of the building or lot of land. Such snow and/or ice shall be removed within 2-hours after the cessation of any fall of snow, sleet, or freezing rain
during business hours or by the beginning of business hours of the next business day following such fall.
Although residential properties are not subject to the ordinance, we encourage Watertown residents to clear their sidewalks after a snowstorm, so that neighbors can continue to use the sidewalk to get to school bus stops, shopping, and dog walking. For those 55 and older who need help to clear the sidewalk, contact the Senior Center at 617 972-6490. If you want to volunteer to help someone clear their snow, call the Recreation Department at 617 972-6494.
Additionally, no person or entity shall place, throw, plow or in any way move, any snow or ice onto any portion of the City's streets and ways. Doing so makes the City's job of plowing the streets more difficult and creates hazards. Also, please remind your private driveway plow contractor of this requirement if you have one.
Finally, your assistance is appreciated in helping the City in making sure catch basins are cleared of snow to prevent flooding.
Winter 2022-2023 Parking Ban
Effective Monday November 28, 2022 and continuing to April 1, 2023 the Winter Parking Ban will be in effect and strictly enforced. The regulation reads in part; "No vehicle may remain on any public way for more than one hour between the hours of 1:00 AM and 6:00 AM all days of the week."
For residents who lack sufficient off-street parking, the City allows for temporary parking at any municipal parking lot and other locations noted:
• The police station at 552 Main Street (visitor's parking lot only)
• Any public school parking lot
• Victory Field parking lot
• O'Connell Park, 341 Mt. Auburn Street(lot at the corner of Boylston Street and Mt Auburn Street only)
• Filippello Park parking area, 191 Grove Street (No parking in the spaces along the driveway)
• 101 Morse Street – 14 spaces at the rear of the parking lot
There are two municipal lots in Watertown Square:
• Behind CVS at 27 Main Street — Use metered spaces only
• Behind the Public Library — 123 Main Street
There is one municipal lot in Coolidge Square:
• Behind CVS at 655 Mt. Auburn Street — Use metered spaces only. DO NOT PARK IN SPACES DESIGNATED FOR CVS, CITIZEN'S BANK OR OTHER PRIVATE BUSINESSES.
Please remember that parking your vehicle upon any sidewalk is prohibited. Your cooperation in keeping the streets clear of overnight parking and your sidewalks clear of snow and ice will make for safer driving and walking conditions and at the same time, allow the opportunity for the Public Works Department to perform necessary street cleaning and maintenance.
Please note that these locations may be used free of charge, however vehicles may only use available spaces after 7:00 P.M. and must be removed by 7:00 A.M. the following day. Vehicles must be removed from school property no later than 6:00 A.M. Violators may be towed.
For more parking information go to: https://watertown-ma.gov/755/Winter-Parking-Ban-Information