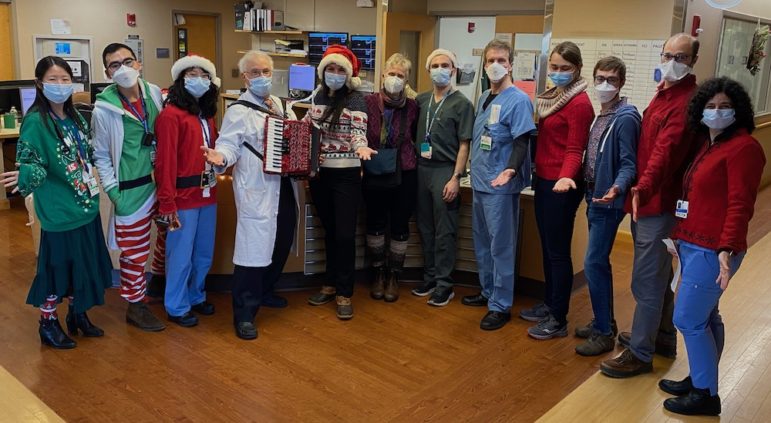 Patients at Brigham and Women's Hospital received some Christmas cheer this year when a group of carolers paid them a visit, including a doctor from Watertown.
Thomas Michel is a familiar face, and voice, to visitors of the Watertown Free Public Library in warmer months. He often gathers fellow musicians on his porch (which overlooks the parking lot) on weekends for a good song. They call themselves The Watertonics.
At the hospital, the group transforms into The Cardiotonics.
"For many years, I have led the interns and residents on call at Brigham and Women's Hospital in singing holidays songs to inpatients who are too sick to go home from the hospital where I work as a cardiologist," Michel said. "In addition to the young doctors, several of my singing friends join us from The Watertonics, including Watertown residents Fidan Kurtulus, Carol Tierney, Joshua Luckens, and myself."
The caroling medical professionals has become a holiday tradition. They kept it going through the COVID-19 Pandemic, but had to substitute humming instead of singing those years. The special holiday performance even caught the attention of the Boston Globe.
A medical resident told the Globe that singing to patients on Christmas was one of the most meaningful parts of her residency. The resident recalled a patient singing along with tears in his eyes.
Michel said The Watertonics will return to his porch this spring, they typically play on Sundays.