The Fall season had many highlights for Watertown High School teams — including a state championship and a rivalry victory at Fenway Park. For their role in the successful season, four Raiders received All-Scholastic honors from the Boston Globe. And every fall team had at least one Middlesex League All-Star.
Field Hockey
The Watertown High School has returned to its familiar position on top of the Massachusetts field hockey world, going 22-0 and winning the MIAA Div. 3 State Championship for the second straight year (the program's 20th overall). Three of the athletes key to the Raiders's success made the Globe's All-Scholastic team, including Div. 3 Player of the Year, Maggie Driscoll.
The senior co-captain scored 14 goals and added 17 assists. She was also co-Middlesex Freedom MVP along with teammate Lizzie Loftus. Next year, Driscoll will play for Boston University.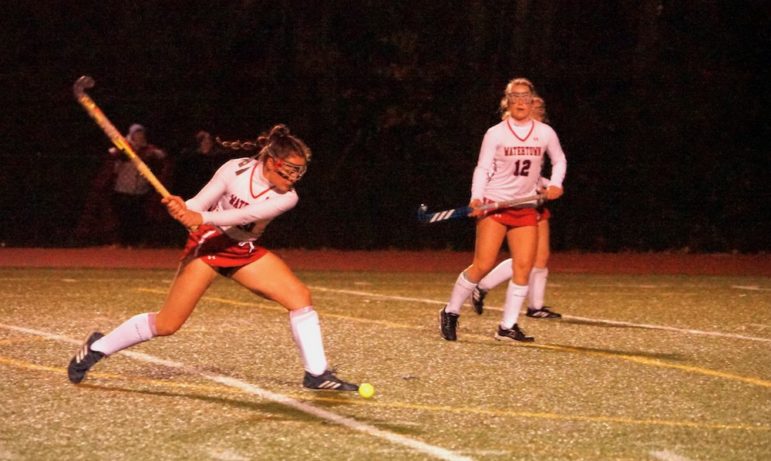 Loftus, who served as co-captain with Driscoll for three years, was also named to the All-Scholastic team. She was a key to Watertown's defense, which only allowed one goal all season. She finished with 57 goals and 59 assists. Loftus has committed to play at Brown University.
The third Raider to make the All-Scholastic team is junior Molly Driscoll (Maggie's sister). She scored 41 goals and added 12 assists in the championship season. Her scoring total through three years is 89 goals and 48 assists.
Five Raiders made the Middlesex All-Stars: Brianna Cooper, Maggie Driscoll (MVP), Molly Driscoll, Loftus (MVP), and Adrianna Williams.
Football
Watertown senior football player Johnny Cacace finished his career by quarterbacking the Raiders to a victory over Belmont at Fenway Park. The Globe took notice of his play on both sides of the ball, and named Cacace to its All-Scholastic team. Next fall he will enroll at the University of Michigan.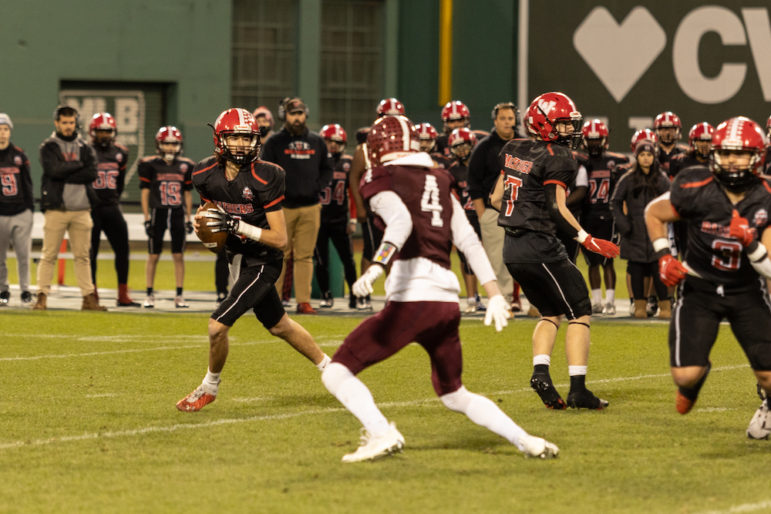 The co-captain threw for 1,200 yards, ran for another 600, and accounted for 18 total touchdowns. As a linebacker, Cacace had a team high 61 tackles, plus four interceptions.
Another Raider, Payton Andrade, received an honorable mention for All-Scholastic from the Globe.
Three players made the Middlesex All-Stars: Andrade, Cacace, and Elias Ortiz
Boys Soccer
Three Watertown players made the Middlesex League All-Stars: Bonsu Acheampong, Isaiah Etienne, and Robert Iannetta.
Girls Soccer
A trio of Watertown girls soccer player made the Middlesex All-Stars: Amanda Cosco, Sarah Morrissey, and Molly Sheehan.
Girls Volleyball
Watertown's Nina Paquette was named a Middlesex All-Stars.
Boys Cross Country
Watertown runner Max Bennett made the Middlesex League's boys cross country All-Stars.
Girls Cross Country
Runner Anna Lonergan of Watertown earned a spot on the girls cross country Middlesex All-Stars.
Golf
Three members of the Watertown High School golf team made the Middlesex All-Stars: Aidan Campbell, Jack Dickie, and James Erickson.
Girls Swimming
Ellie Barker, a member of the Arlington-Watertown co-op swim team, was named a Middlesex All-Star.