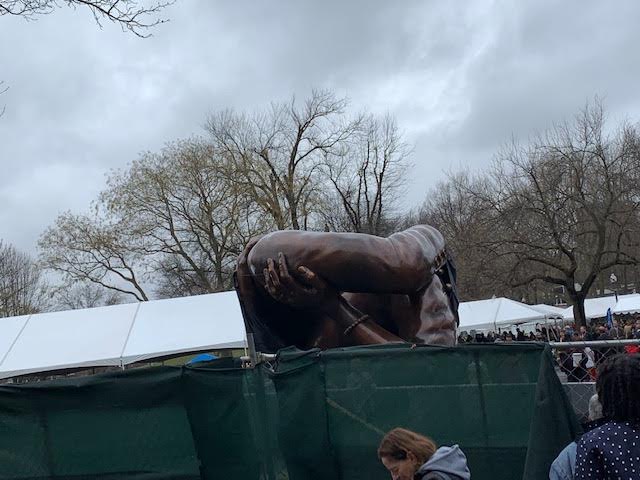 The following announcement was provided by Sue-Ellen Hershman-Tcherepnin:
On Friday, Jan. 13, 2023, a small Watertown contingent ventured to Boston Common in humid, drizzly weather to view the unveiling of Boston's newest monument: Artist Hank Willis Thomas' bronze sculpture, THE EMBRACE, which honors the legacy of Martin Luther King Jr and Coretta Scott King. Besides celebrating the Kings' early connections to Boston, the monument also memorializes 65 Boston civil rights heroes and heroines.
Unfortunately the event was never publicly announced as being privately ticketed, so the hundreds of enthusiastic attendees who gathered outside were surprised to discover that the sculpture remained invisible, hidden behind fencing and tents. We were unable to view the ceremony except on jumbotron screens.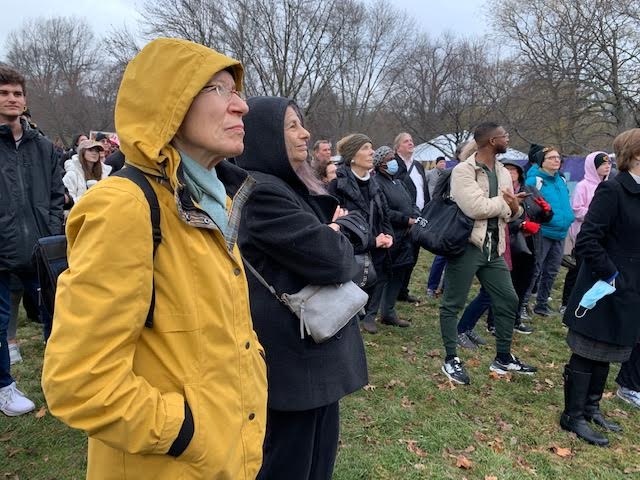 As we arrived, the jumbotrons were displaying multiple, live interviews by NBC10 of clergy and others as they walked to the event. But unfortunately there was no audio. However there were artworks surrounding the fenced in area, where we viewed beautiful photos and murals by local artists of color.
When the 1:00 ceremony began, it was unfortunate that the jumbotron video was not synchronized with the audio. So it was quite jarring to watch the many inspiring guest speakers and performers on the screen due to 3-5 second delays between their voices and their images.
However a "silver lining" to the "cloud" was serendipitously meeting beloved former Watertown Church of the Good Shepherd minister, Amy McCreath. The Very Rev. McCreath currently serves as Dean of St. Paul's Cathedral, and she was delighted to see Watertown friends at the celebration. 
For anyone interested in viewing the sculpture, a police officer recommended waiting 10 days, when the fencing will all be removed.