When the Syracuse University men's soccer team lifted the championship trophy in December, one of players celebrating was Watertown's own Julio Fulcar.
The Watertown High School graduate played for the Orange for five years, including this year as a graduate student. This season, Syracuse won the soccer National Championship for the first time in school history, finishing 19-2-4, and won the ACC regular season division, and the ACC tournament.
Watertown News caught up with Fulcar, who said that being able to achieve the team's ultimate goal was a very special experience.
"It is difficult to describe the feelings one feels when they know they are a part of a real team but it is an unforgettable feeling, one I have been fortunate enough to feel twice now; the high school basketball team from 2018 echoes many of the same sentiments I had this past fall at Syracuse," Fulcar said.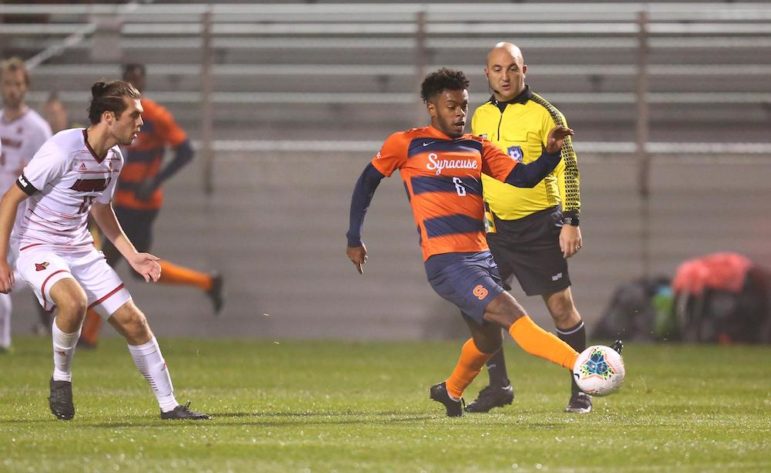 The Orange faced Indiana in the final in Cary, North Carolina. At the end of regulation time, the game was tied 1-1. Neither team found the back of the net in the three overtimes, and finally Syracuse prevailed 7-6 in a penalty shootout.
"That was my final game at Syracuse and it feels very good to be able to close out my career there with a national championship," said Fulcar, who said he experienced many ups and downs while at Syracuse, both personally and collectively. "There were difficult moments over those four-and-a-half years that proved to be filled with lessons that I truly believe ultimately gave our team the tools to win it all. It is difficult to top winning the national championship so I would say that that was the highlight of my time playing for the Orange."
During his career at Syracuse, Fulcar scored two goals and had two assists in 20 games. After college, Fulcar plans on attending physical therapy school beginning this summer.
"I have received a handful of acceptances so far so I will be making a decision in the next couple of weeks," he said.
While at WHS, he played point guard for the 2018 State Championship winning boys basketball team. He was named a Middlesex League All-Star that year. Fulcar did not play for the Raiders soccer team. Instead he played for a local club team called the Boston Bolts from the age of 12 until college.
Looking back at his high school career, Fulcar said he believes his experiences at Watertown High benefited him.
"I do believe that my experiences on the high school basketball helped me in college sports," Fulcar said. "The first and foremost reason is (Basketball) Coach (Steve) Harrington, I feel lucky to have been coached by him because he taught me, the same way he's taught countless others, how to be a winner and how consistently doing things the right way will take you to where you want to go. Through my time playing for Watertown High I also learned the value of composure, not getting too high or low in games is important, especially in high stress games."
For high schoolers with an eye on playing sports in college, Fulcar has some advice.
"I would say that of course working hard to be the best player you can be is important because coaches want good players to add to their teams, that much isn't a secret," he said. "But, working hard on being the best person and teammate you can be is arguably more important because they may not be the primary reason you make a college team, but they will certainly be the primary reason you stay on that team. Coaches want players that balance their own ambitions while still being more invested in the success of the team than their own successes."