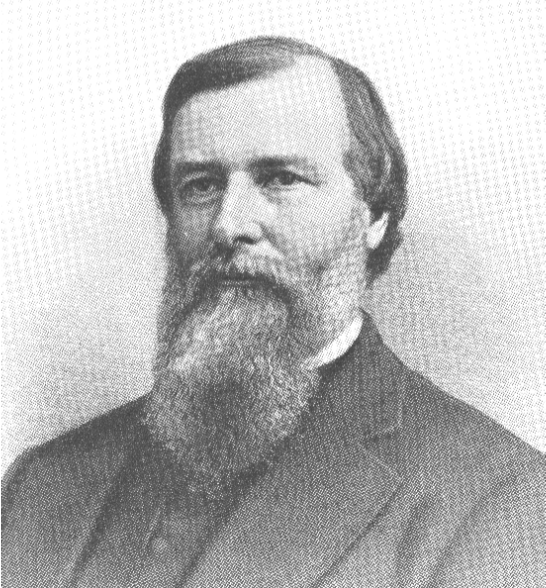 This is the latest in the series of articles provided by the Historical Society of Watertown. The story was written for the Historical Society's April 2003 newsletter "The Town Crier" by former Historical Society of Watertown board member Mary Spiers. Mary was our Recording and Corresponding Secretary. Mary retired from the Board in December 2022 but is still a volunteer.
MILES PRATT 1825-1882
Miles Pratt was a Watertown industrialist and philanthropist. He was born in 1825 during the administration of John Quincy Adams and the year the Erie Canal was opened. He is known to be a descendent of Joshua Pratt who arrived in Plymouth on the "Ann" in 1623.
Pratt's descendants lived in the area for many years and Miles' family is known to have settled in Carver. In 1825 our country was young and bustling with promise. Roads were developed and canals dredged. The Adams presidency had promoted a strong national bank. Huge tariffs were imposed on imported manufactured goods which protected the highly industrial New England economy.
By age 15, young Miles contributed to this economy by selling hollowware for his father. The term was used to refer to a household utility item with a concave interior such as pot, vase, cup or pitcher as distinguished from flat-surfaced items such as plates, platters and saucers.
A national economy was taking shape: cotton from the South became the textiles produced by the mills of the North while the West produced beef and grain. Southerners believed that a strong federal government meant less freedom for the individual states and jeopardized the right to own slaves. When Miles was only 6 years of age, William Lloyd Garrison had begun publishing The Liberator, the hardest hitting of the abolitionist newspapers. It opposed slavery as a transgression against God and humanity and pushed forward the northern antislavery movement. By the time he reached age 34, he would find himself pledged to this cause.
Miles Pratt's name along with other Watertown notables is found on a notice for a public meeting to be held December 2, 1859 at "7 and ½ o'clock [p.m.]" to discuss the "martyr and abolitionist John Brown" and the furnishing of "material aid" to his family. John Brown had led a group of raiders on the federal arsenal at Harpers Ferry, West Virginia on October 16. His purpose was to use the captured weapons to start a slave rebellion. His plans were destroyed when Colonel Robert E. Lee and his marines arrived two days later, captured Brown and hanged him for treason on December 2. Finding Pratt's name listed on this bulletin with Joseph Crafts, C. C. McLauthlin, Edward Rose, Samuel Noyes, Otis A. Train, George F. Pinkham and others tells of his interest in abolishing slavery.
In 1855, Miles Pratt established a foundry on Main Street, which later consolidated with the George Walker Co and became the Walker and Pratt Manufacturing Company. The foundry had a big warehouse on Galen Street as well as wharves on the Charles River. Pratt decided to put his plant next to the town gristmill. He hired Luke Perkins of the gristmill to become his superintendent. Oliver Shaw was hired as manager. He knew both men from his hometown of Carver. When Colonel Thomas J. Rodman, the Commanding Officer of the Watertown Arsenal, asked if they could mold cannonballs for the war they were of like a shot. The 20 men they started with grew quickly to 100 and before too long 130 men were converting 275 tons of iron per month into ammunition for the Union Army: cannon balls, canister shot and shells as well as gun carriages.
In January of 1861, before the Civil War broke out, a Massachusetts regiment was formed so that when the Confederates took Fort Sumter in April of that same year, a portion of the state was armed to fight. Watertown selectman, Luke Perkins, was asked by 20-year-old carpenter, Sam Stearns, "Why can't we raise a company?" and added, "I'm going to enlist!" A crowd decided to meet at the Town Hall and elected Miles Pratt moderator. William Ingraham, Town Clerk, recorded the proceedings. Sam Stearns became the first to enlist for three years. Each volunteer was provided with a uniform from town money and private donations and given $30. They composed Company K, the Flag Company of the 16th Massachusetts Infantry Regiment. They served under Colonel Powell Wyman of Boston.
It was during this Civil War period that Pratt built a house in the Italianate style at 106 Mt. Auburn Street. It stands today facing south on a corner lot with Palfrey as the side street. The property included a carriage house that still exists today. The exterior wall of the house is described as "flushboard and clapboard" with a height of two and one-half stories and three bays wide. It has full-length first floor windows and an entrance hood with arched pendants to suggest an Italian palazzo of the Renaissance. As proof of Pratt's good fellowship with his men, Luke Perkins built a house next to his at 112 M. Auburn and later Oliver Shaw built a third home at 120.
One of the key remembrances of Pratt today is his role in the founding of the Watertown Free Public Library. Solon Whitney, who became the first librarian, noted in his Historical Sketches of Watertown, Massachusetts that Miles Pratt contributed $100 to the library fund. Whitney described Pratt as one who "would not hold office himself, gave freely of his counsel, and helped gather the sinews of war." Once the library committee had secured $20,000, a building committee was appointed to obtain plans and estimates. Shaw and Hunnewell of Boston were chosen as architects with David Perkins as contractor. The French Renaissance style building was ready for occupancy by 1884.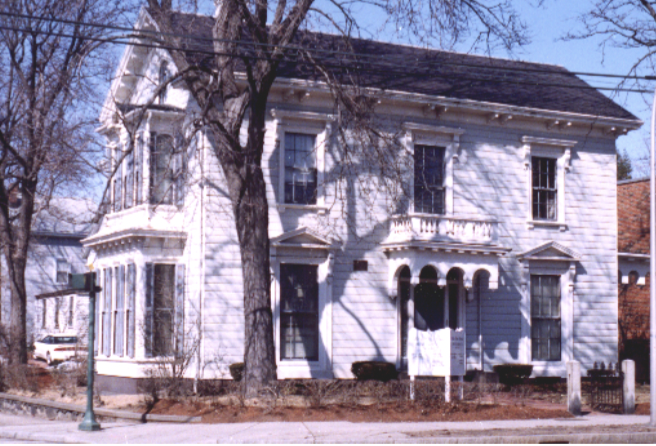 Miles Pratt filled out the remainder of his days in his clapboard Italianate palace, dying in 1882 before the completion of the library. We honor him today for his efforts in its fundraising, for the foundry that manufactured the Crawford stove, furnaces, ranges and heaters as well as material for the Union Army. We honor him also for sound corporate management based on fairness and friendship that won him the life-long devotion of his industrial colleagues, Luke Perkins and Oliver Shaw, and undoubtedly many of the others who worked in his plant. Finally, we thank him for his interest in the abolitionist cause and his desire to build a better world.
Editor's note: Miles Pratt married Ellen Coolidge in 1859. Their daughter, Grace (1861–1931) married G. Frederick Robinson (1860–1949) in 1887. G. Fred Robinson is well noted as the author of "Great Little Watertown" a tercentenary history of the town written in 1930 with his daughter Ruth Robinson Wheeler. He was also President of the Historical Society of Watertown from 1930 – 1949, the year of his death.
At the time of Miles Pratt's death in 1882, the house passed on to his wife, then his daughter Grace who lived there with her husband, G. Fred Robinson and their 6 children. It was finally left to Pratt's granddaughter Helen Robinson Wright. Helen left the house to the First Parish Church in 1979. Ms. Wright served as Treasurer of the parish for many years. The Church set up preservation restrictions for the exterior of the house and sold it to a consortium of dentists for use as offices. In the first floor waiting room of Doctors Barry Agranat and Martin Katz the magnificent walnut fireplace and floor-to-ceiling bookcase it still intact. Two marble fireplaces can be seen in the offices. The small closet holding patients' records in the Receptionist's area used to be a built-in china cabinet.
In May of 1985 the building was put on the National Register of Historic Places. In 1991 the Church turned over administration of the restrictions to SPNEA's Stewardship Program.
In 1999, the second and third floors of the building were converted into three condominiums, preserving significant architectural features.