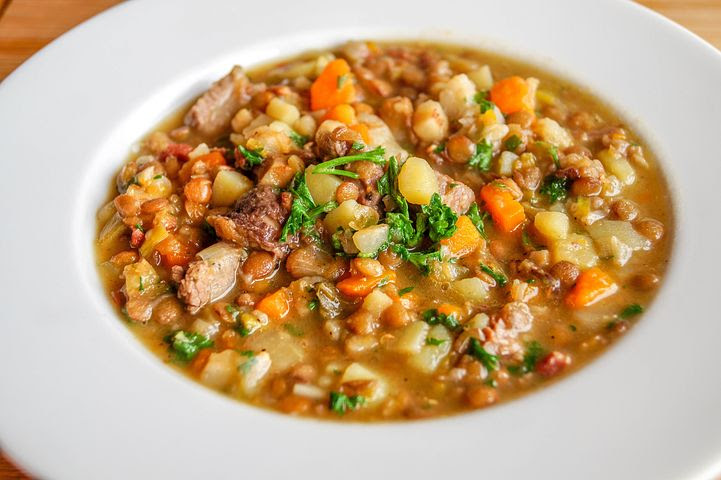 Live Well Watertown announced its upcoming events in February, including free yoga classes, soup fest, and ideas for keeping active.
Stress Well
Vitality Yoga
Practices to Open the Energy Pathways for Total Wellbeing
~with Shari Rose
Wednesdays, February 1 through March 8, 2023  
 12:00 PM – 1:00pm
Watertown Free Public Library, Savings Bank Room
There is NO REGISTRATION required. The first 15 people to arrive are guaranteed a spot at that date's class. 
Bring your mat, water bottle and curiosity! This class draws upon a wide variety of yoga, qigong, and tai chi practices, as well as meditation and breathwork. These practices help you awaken joyful vitality and enjoy a gentle yet invigorating practice to quiet the mind, open the heart center for emotional clarity, and build physical strength and balance. 
~In collaboration with the Watertown Free Public Library
Eat Well Watertown
Annual Soup Fest
Thursday | February 9th | 6:30 PM – 8:00 PM
Watertown Free Public Library, Savings Bank Room Registration is required (see below)
Join us for Eat Well's Annual Soup Fest event featuring a variety of healthy winter soups! Learn new recipes, hear a presentation on Food as Medicine, and join conversation about traditional food and customs
~ Co-facilitated by the Eat Well Team and guest community chefs
Register HERE Confirmation email will be sent.
~ In collaboration with the Watertown Free Public Library
Watertown Moves
Winter Activity Ideas
Don't let the cooler temps and shorter days prevent you from staying active. Find something you enjoy and reap the physical and mental health benefits of movement!

~ Winter Walks are refreshing and invigorating. Enjoy the seasonal beauty of the Charles River pathway, the city's local parks, Gore Place, or Mount Auburn Cemetery. Or explore the city's neighborhood routes and its many hills – great for getting your heart rate up (City map with neighborhoods HERE), Commit to getting outside every day for at least 10 minutes.

Watch for updates about our next Walk with a Doc/Just Walk series and spring YardArt walks!
~ Snowshoeing is a fun activity to try when there is snow on the ground! Find a trail or snow-covered green space to create a path and enjoy the fresh winter air! You can rent snowshoes at Gore Place (information HERE), borrow them from the Watertown Public Library's Library of Things (information HERE), or buy them at a local sporting goods store or on-line (check out local sites for reused items).
~ Indoor Activities: Check out programs offered through Watertown's Recreation Department
HERE. You can find a wide variety of FREE workouts on YouTube. For those without internet service, try one or more of the 25 at-home activities below (not just for kids!) a few times a day! Link to the infographic/website page is HERE.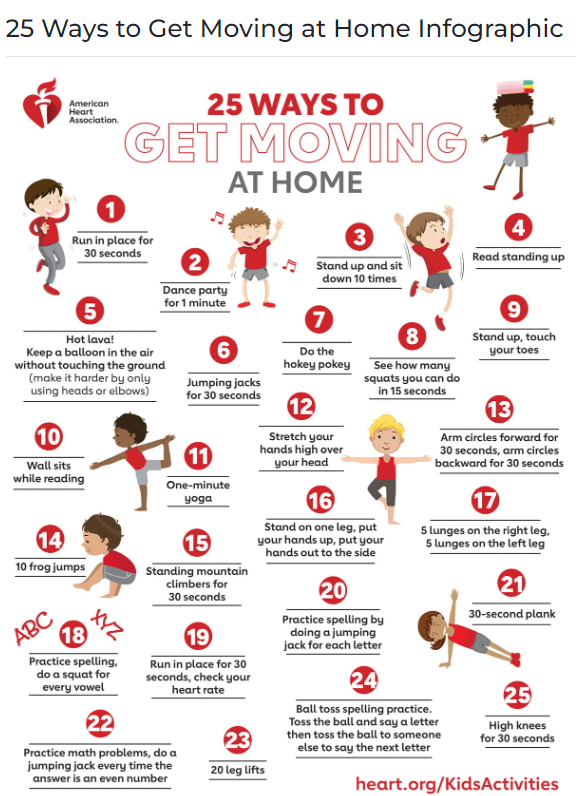 Watertown Cares Network
Visit the Watertown Cares Network WEBSITE to learn more about local efforts to address substance use disorder in the community.

All are welcome to attend our bimonthly Network Meetings. In 2023, our meetings will be held on the second Tuesday of January, March, May, July, September, and November, from 4:30 – 5:30pm at the Watertown Public Library or City Hall. Email HERE for more information or to be added to our mail list.