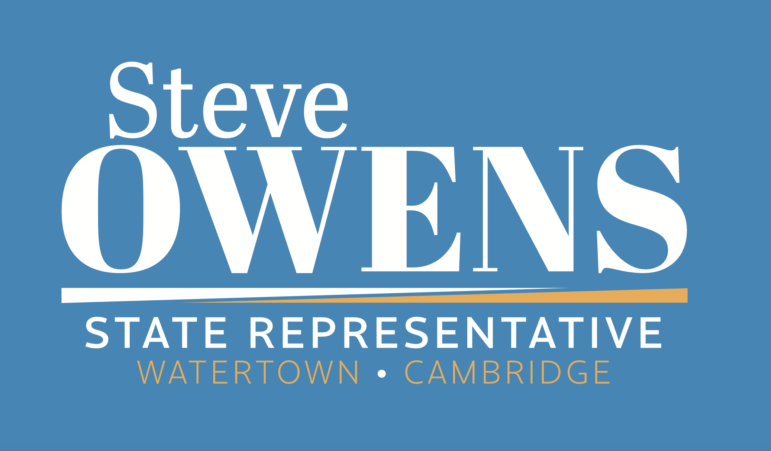 The following information was provided by State Rep. Owen's Office:
Rep. Owens serves the 29th Middlesex District, which consists of Watertown and North/West Cambridge. It includes some of the country's most significant cultural landmarks: Historic Brattle Street, the Perkins School for the Blind, Mount Auburn Cemetery, Fresh Pond Reservation, the Watertown Arsenal. It's also a source of technological innovation, a center for education, and home to some of the most engaged and accomplished residents of the Commonwealth.
Prior to his election to the legislature in 2020, Rep. Owens spent 20 years as a transportation consultant, where he developed freight and logistics data solutions for public and private sector clients. He has applied this expertise both to his work on the Watertown Transportation Task Force and now in the House, where he seeks solutions to improve access to public transportation while helping reduce the state's carbon footprint.
Rep. Owens has now begun his second term as State Representative and will serve as the House Chair of the Clean Energy Caucus. Some of the Representative's priorities are ensuring that Massachusetts meets its climate goals, improving our transportation system, and increasing access to affordable housing.
In the 192nd Session, Rep. Owens served on the following committees:
● Joint Committee on Telecommunications, Utilities and Energy
● Joint Committee on Financial Services
● Joint Committee on Global Warming and Climate Change
● Joint Committee on Steering, Policy and Scheduling
WHERE: Hybrid Mix of Remote and In-Person Work at the State House in Boston
WHAT: An intern will be part of Rep. Owens' team to both work on the legislative process and assist the constituents of the 29th Middlesex District. There are a wide variety of tasks assigned to a State Representative's office, especially with a new legislative session beginning in January 2023. This means there are a variety of project opportunities for an intern, each requiring different skills. During the internship, interns will be tasked with a long-term project. This project will be on a mutually agreed upon topic and is open to discussion.
In addition to a long-term project for the office, an intern can expect:
● To attend legislative hearings and briefings to take notes/summarize events, Progressive
Caucus meetings, and constituent office hours as they occur.
● Create graphics with COVID-19 information, updates from the governor, policy changes,
state program information, grant awards for the district, in addition to other updates and
pertinent information.
● Draft testimony for co-sponsored and sponsored bills and draft informational materials
for the Representative's sponsored legislation.
● Attend meetings with advocates and coalitions pertaining to the Representative's
sponsored legislation.
WHEN: Early to Mid-February 2023 until the End of April 2023
APPLICATION REQUIREMENTS: Please submit a resume and cover letter to Emerson Gagnon at emerson.gagnon@mahouse.gov. Our office is committed to creating an inclusive culture and providing opportunity to individuals of all backgrounds to experience and learn about working in the State House. All applicants will be considered regardless of prior experience or qualifications.