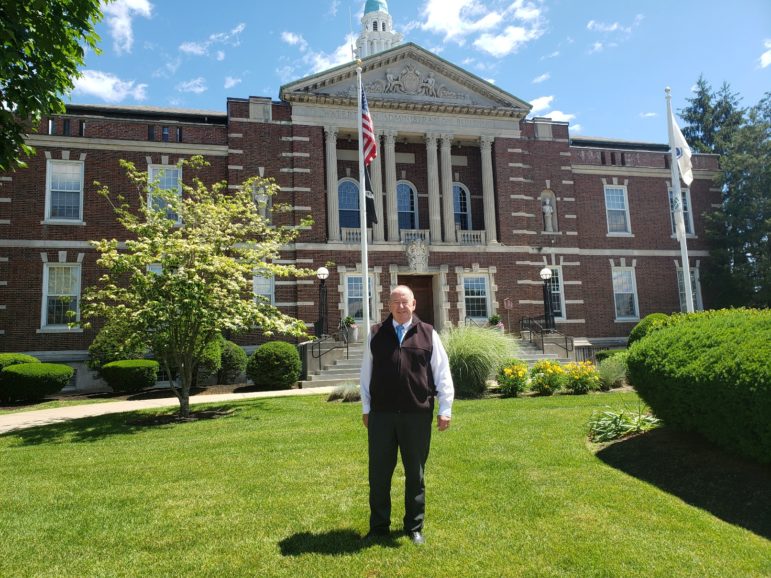 The man who led Watertown's municipal government for nearly three decades, former Town Manager Michael Driscoll, passed away on Saturday.
Driscoll worked for the Town, and now City, of Watertown for 45 years, beginning as the manager of the John A. Ryan Arena in 1977, became treasurer collector in 1985 before becoming Town Manager in 1994. He grew up in Woburn and lived in Watertown with his wife, Jane. He has three daughters and one step daughter: Amy, Allison, Aileen, and Sarah. 
The City of Watertown sent out a statement that read, in part: "We are saddened to share the news that former Watertown City Manager Michael Driscoll passed away early on February 11, 2023 after receiving treatment for cancer over the past year. … City staff shares heartfelt condolences with the Driscoll family, friends, and the residents of Watertown."
Details of services have not yet been announced.
Known to many as "Fiscal Driscoll," he delivered 29 town and city budgets to the Council, including some in recent years in which Watertown was able to pay for two new elementary schools and renovate and expand third, plus the City's portion of the new high school without having to raise taxes with a debt exclusion override.
This was made possible, largely, by the decision to pay down the City's retirement deficit, and other retirement benefits — a situation faced by all communities in Massachusetts after the Economic downturn of the first decade of the 2000s — many years earlier than required.
In 2013, the City earned a AAA bond rating from municipal bond rating services Standard & Poor's.
Driscoll announced his retirement in June 2021, and retired at the end of January 2022. During the meeting he talked about many of the highlights of his career. See his statement here.
In May 2022, hundreds gathered to pay tribute to Driscoll at a retirement party held at the Commander's Mansion. Driscoll addressed the gathering at the end of the night and he concluded his words by quoting from one of his favorite songs, is Forever Young by Rod Stewart. He said:
"Tonight, I think of a sentence in the song which is 'And when you finally fly away, I'll be hoping that I served you well!'"