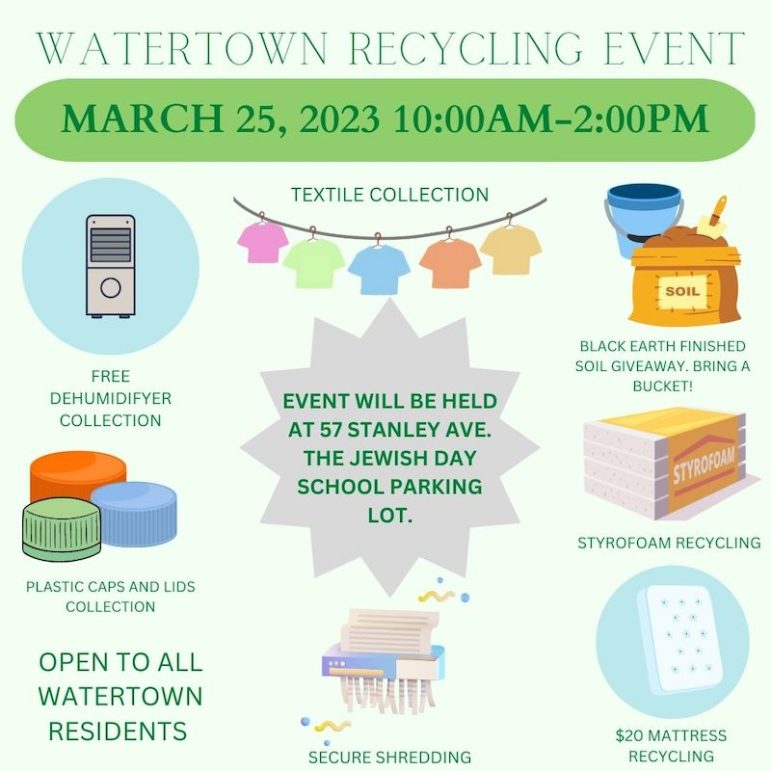 The City of Watertown will host a recycling event, along with paper shredding and a compost give away on March 25 in the parking lot of the Jewish Day School on Stanley Street.
The Watertown Department of Public Works provided the following announcement:
Watertown Recycling Event
March 25th , 2023 10:00 AM-2:00 PM
Event will be held at 57 Stanley St. in the parking lot of the Jewish Day School. Please bring a Watertown ID or proof of residency.
Mattress Recycling
HandUp, a mattress recycler, will be offering a discount on mattress and box spring recycling. Each unit will be $20. This is a first come, first serve option, until the truck is full. Residents may pay with cash or card at the event. Residents must bring units to the event. Limit of two units per household. To learn more, please visit: Curbside Pickup | HandUp Mattress Upcycling
Black Earth Soil Give Away
Watertown is offering free finished compost to residents. Black Earth's finished compost was created using food scraps from Watertown residents. We are closing the circle, and providing soil back to residents to use in backyards and gardens. This is open to all residents, even if they are not enrolled in the food scrap collection program. Please bring your own buckets and shovel to take soil away in. Available while supplies last at the event. Come early if you are very interested in getting soil!
Textiles
Watertown is partnering with Helpsy to recycle and repurpose old textiles and clothes. Clean out your closet before the spring and donate clothing and textiles. Helpsy also offers free curbside collection. To learn more visit: Textiles Recycling | Watertown, MA – Official Website (watertown-ma.gov)
Paper Shredding
Watertown is partnering with Shred-it, to securely shred confidential papers. All shredded paper will be recycled with Stericycle. Please only bring documents that are confidential — other paper materials should be placed in your curbside recycle bin. If materials are already pre-shredded, please place in a paper bag.
 Shred-it can accept papers with staples in them.
 Materials should be placed in paper bags or brought in boxes. The boxes will be returned.
 Materials will be shredded on site.
Styrofoam Recycling
Watertown is partnering with Save That Stuff to recycle Styrofoam. Please collect and save any Styrofoam you have for this event. Styrofoam CANNOT go into curbside recycling totes.
 They only accept rigid white Styrofoam
 If it SNAPS when you break it, it is the correct type
 NO packing peanuts or take out containers
Plastic Caps and Lids
Watertown has a recycling partnership with the organization Plastic Recycled. They locally shred plastic bottle caps and other plastic caps and lids and turn that recycled plastic into park benches and other items. The Recycle Center and DPW offices both have collection bins. Once Watertown has collected 500 pounds of plastic, we will receive a bench for the Library. We are roughly halfway to our goal. Help us reach it at this event!
 Examples of caps include
o Plastic drink bottle caps
o Milk carton caps
o The flat 6-pack plastic pack that hold cans together
o Container lids (yogurt, detergent, dishwashing liquid…etc.)
o Must be plastic—no metal/aluminum
o No plastic films
To learn more visit: Plastic Cap/Lid Collection | Watertown, MA – Official Website (watertown-ma.gov)
Dehumidifiers
Watertown is partnering with Mass Save to recycle old and energy inefficient dehumidifiers. Residents can bring dehumidifiers for FREE drop off and will receive a $30 rebate in the mail. Learn more at: Mass Save® Dehumidifier Recycling Incentives | Neeeco | MA For any additional questions, please email: recycle@watertown-ma.gov