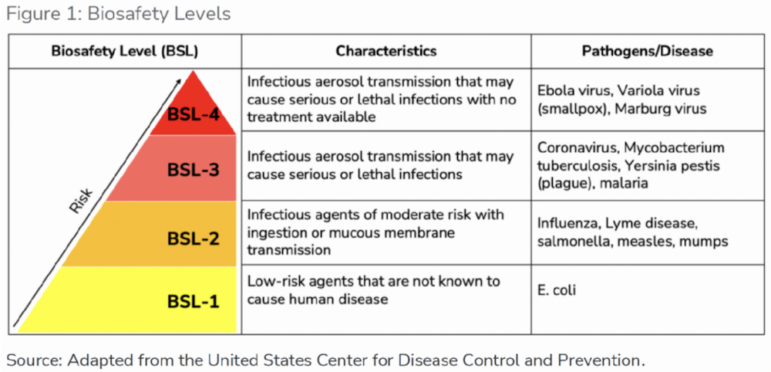 By Linda Scott
Watertown Resident
In my interview with Mr. Larry Ramdin, Watertown's Director of Public Health, I focused mainly on the nuts and bolts of permitting and keeping track of bio labs entering Watertown as a safety issue. After our telephone conversation, I followed up by sending this interview to Mr. Ramdin to review. I'd like to thank Mr. Ramdin for his input.
At my request, Mr. Ramdin sent me the most recent list of bio labs in Watertown. Although the list contained 63 separate entries, at least 14 had the same company name as another, which Mr. Ramdin explained in some cases indicated two divisions of the same company. So, depending upon how you count these, Watertown has between 56 and 63 bio labs. Since the list that he sent was labeled "Biotech 2023," I asked how often the list of Watertown bio labs is updated. He indicated to me that this list was updated monthly.
As of the Jan. 5th Watertown Biosafety Committee meeting, about five labs were delinquent in sending in their information for re-permitting by the City. Committee members were (helpfully) going into their own personal Linked In accounts to try to find current CEO's, since the current information was not available to them.
I asked Mr. Ramdin about this, and his response: We don't get involved if managers come and go. What is important to us is if the chair of the company's biosafety committee is changing. Then the lab has to come back to our Watertown Biosafety Committee for a new permit with the new name. Also, bio labs have to come back if they plan to use a new material or expand their use of a material.
They cannot do this unless they do an internal biosafety study and then bring it to the Watertown BioSafety Committee for approval. After the company internal review, if the risk level doesn't change and our Biosafety Committee agrees, then new permits are issued. Mr. Ramdin used as an example a company that was working with E. coli and wanted to switch to Listeria.
I noticed at the Nov. 9th City Council meeting, where the BioSafety Committee presented, it was confirmed that there have been no on-site Board of Health inspections of bio labs. Asked if, since that meeting in November, had the Health Department done any on-site inspections? Mr. Ramdin responded, "No." He mentioned that the fire department had started theirs. He also said that plans for training inspectors to do bio lab on-site inspections are expected within a couple of months.
I was interested in what specific qualifications these inspectors would need for the job. Will they require a life sciences degree? He replied, "Not necessarily. The plan is to go into labs to make sure that they are doing what they say they're doing."
I mentioned that recently I'd seen a bio lab maintenance facility truck driving through Coolidge Square. A question that came to my mind is how much bio waste moves through Watertown in a year? Mr. Ramdin replied that that area is regulated by a different authority (EPA and USDOT). Even moving material to a new place in a location is within a complex process which involves external hazmat transporters and a permitted plan. Even small containers are not exempt from special handling. He said that he had no idea of the amount of bio hazardous material that was transported through Watertown each year.
I expressed a concern that many in the community have about having BioLab Safety 3 labs in Watertown. Mr. Ramdin replied that he leaves bio lab safety level changes and regulations up to the Board of Health and the BioSafety Committee. He said that he's been told that even level 2 organisms sometimes require level 3 protocols, but he isn't an expert in this area. He leaves this to the Life Sciences people.
Thank you, Mr. Ramdin for your time and thoughts.
Must See Viewing:
Watertown BioSafety Committee Meeting on Feb. 2, 2023 (click here to view). This meeting summarizes it all … a look at how companies are permitted; the on-going and serious problem of getting labs to comply with biosafety regulations; policy and regulation decisions. See it in action.
Interviews with in-coming companies: 0:0:00 to 0:49:56
Regulations and policies and company compliance: 0:49:56 – end
Tomorrow, Part 4 Conclusions and final thoughts