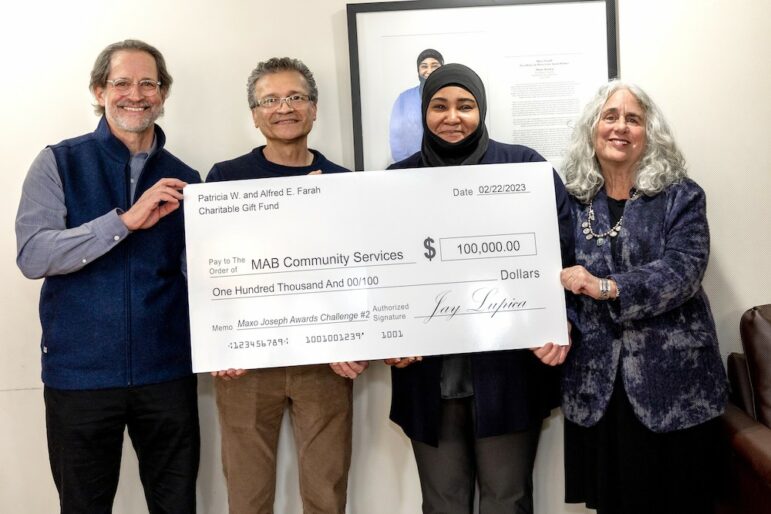 The following information was provided by MAB Community Services:
MAB Community Services, a leading social service agency supporting over 1,500 individuals with visual impairment, intellectual and developmental disabilities, and acquired brain injuries across Massachusetts, celebrated Wednesday matching a $100,000 challenge grant to fund the continuation of the Maxo Joseph Excellence in Direct Care Awards.
Established by Jay Lupica in his position as the trustee of the Patricia W. and Alfred E. Farah Charitable Trust, and in concert with MAB, the Maxo Joseph Excellence in Direct Care Awards recognize dedicated and skilled direct care workers at MAB's Adult Disability Services group homes. The awards themselves honor Maxo Joseph, a committed caregiver who served at MAB for more than 19 years before passing away from complications after contracting COVID-19.
Lupica pledged to match up to $100,000 in donations to the Maxo Joseph Awards to reach a total of $200,000 in funds. This marks the second time Lupica has organized such fundraising efforts, following a similar $100,000 challenge grant in 2021, which was also matched by MAB and secured funds for four original years of awards. Combined, the $400,000 will enable MAB to fund eight years of awards, providing monetary gifts to 88 direct care workers who have gone above and beyond in their work. The first cohort of eleven awardees was celebrated in 2022.
"I'd like to congratulate MAB for success on this fundraising effort and to thank them for the opportunity to honor the tireless work of outstanding direct care staffers," said Jay Lupica. "These awards carry on the legacy of Maxo Joseph, whose story inspired the program, and recognize individuals who are making a real impact in the lives of others."
MAB celebrated this achievement at its Edenfield group home in Watertown on February 22. In attendance were Lupica, MAB CEO Barbara Salisbury, Board President Stephanie Fidel, 2022 Maxo Joseph award honoree Marie Jocelyn, as well as several direct care staff and administrators.
"We're thrilled to be celebrating this important milestone at MAB to continue to recognize and reward the dedication of outstanding direct care staff," said Salisbury. "Almost 40 percent of our direct care staff have worked for MAB for over five years and this program helps to retain that talent. Continuity means the world to residents who consider staff to be like family. Maxo Joseph held a steadfast commitment to high-quality direct care, and with these awards, we get to honor his legacy with those who share this dedication."
In addition to rewarding outstanding service to MAB residents, the Maxo Joseph Awards are intended to help address staffing shortages experienced by MAB and the direct care sector more broadly. State contracts for direct care workers are set at $17 per hour, which can pose challenges in retaining talent and maintaining services.
Those who wish to donate to MAB can do so here.
ABOUT MAB COMMUNITY SERVICES
MAB Community Services has been creating opportunities for people with disabilities since 1903. Formerly known as the Massachusetts Association for the Blind, MAB is one of the oldest social service agencies in the nation assisting individuals with blindness or visual impairment. Over time, MAB has grown to serve people with a wider range of disabilities. MAB's three divisions are the Massachusetts Association for the Blind and Visually Impaired, which offers a variety of services statewide; the Ivy Street School, which serves a neurodiverse population of students, including those on the autism spectrum, with behavioral health challenges, and with brain injuries; and Adult Disability Services, which serves individuals with intellectual disabilities and brain injuries.
Founded in 1973, MAB's Adult Disability Services division offers 29 community-based group homes with 24/7 support. Through each division and program, MAB's goal is to provide the support needed for each person to actively participate in their community and life and to live a full and satisfying life.