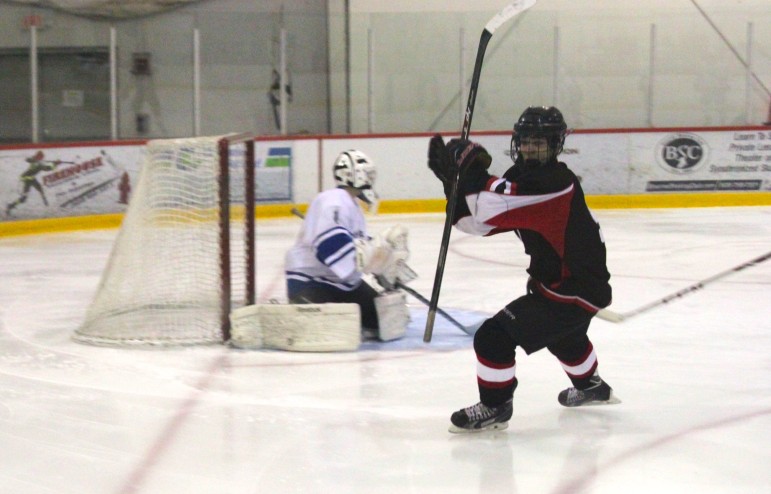 The Watertown High School boys hockey team will be back on the Cape Saturday night playing for a berth in the State Final. This is not the first time the the team has been in this position, and the Raiders hope that history repeats itself.
Saturday night at 7:40 p.m., the fifth-seeded Raiders (14-6-3) take on top-seeded Scituate (19-4-2) in the MIAA Div. 3 State Semifinal at Gallo Arena in Bourne. Follow Watertown News' Twitter for live updates (@WatertownMANews).
Cape History
The Watertown/Wayland team has already made one trip to the Cape this year, winning in dramatic fashion with a goal to beat Nauset Regional with 5 seconds left in the Elite Eight game. But the Raider's history playing big Tourney games on the Cape goes back farther than Wednesday night.
D3 BOYS 🏒 Quarterfinals
FINAL

No. 5 Watertown/Wayland — 3
No. 4 Nauset — 2

Junior Mauricio Souza netted the game-winner for W/W on a breakaway with 5 seconds left. The Raiders are on to the semifinals. Great game. @GlobeSchools @Nausetsports @WatertownSports @WaylanAthletics pic.twitter.com/eX1rdxTmQF

— Brad Joyal (@BradJoyal) March 9, 2023
Eight years ago to the day, the Raiders played a State Semifinal against a top seed from the South Shore at Gallo Arena. Watertown defeated Norwell that night, 3-0, on the way to the winning the school's first boys hockey State Championship.
The 2015 team was coached by Mike Hayes. Since that time the Raiders have had some tourney runs, including last year's State Final loss in double overtime to Sandwich. In between the two state finals, the team got a new head coach, John Vlachos, and there was a year when Watertown only put a junior varsity squad on the ice in 2017 due to insufficient numbers. The co-op agreement with Wayland that started this year is designed to avoid a similar situation as player numbers drop in the next few years.
For those looking to go to the game, tickets are available online, and Watertown Athletics Twitter account warns that wifi may be weak at Gallo. Click here for tickets. The game will be streamed online NFHSnetwork.com. Click here for the stream (subscription required). Donohue's Bar & Grill will also be showing the game on its screens.