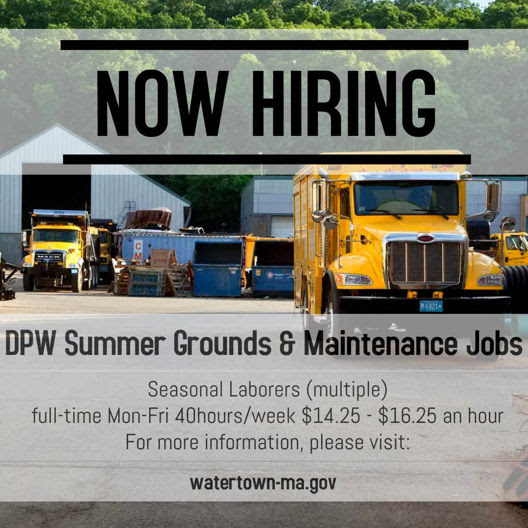 The following announcement came from the Watertown Department of Public Works:
The Watertown Department of Public Works (DPW) is now accepting applications for the following positions for the 2023 summer season. This includes immediate employment as a full-time seasonal (Mon.–Fri. 40 hours/week) member of the department. Applicants must be entering the 9th grade (Fall 2023) or older to be considered. Positions are available in the Parks, Cemetery and Water Divisions.
Positions Available: Seasonal Laborers (multiple)
Rate: $14.25 – $16.25 an hour
Duties Include but not limited to: general park maintenance, cemetery beautification, painting fire hydrants and watering trees/plants.
Please complete your application and an interview will be scheduled with the Director of Administration & Finance and Parks Superintendent as soon as your application is completed.
For all applicants, the following documentation must be completed and returned to the Watertown Personnel Office as soon as employment is desired on or before Friday, May 19, 2023.
Applications could be accepted after this date depending on need, but an interview cannot be guaranteed.
A Completed Watertown Application for Employment Form is required and can be accessed by clicking here.
All new candidates will be interviewed by the DPW Director of Administration & Finance and Parks Superintendent.
Driver's license preferred but not required.
Applicants may be required to complete a CORI Form and other documentation as needed.
Applications will not be considered until all documents are completely filled out.
Positions will be open until filled and candidates must be available to work on the days and times required of the position.
Most positions will be filled by Friday, May 26, 2023 or sooner.
Send all correspondence to:
Gayle Shattuck, Personnel Director
Watertown City Hall
149 Main Street
Watertown, MA 02472
Feel free to email the documents as a WORD, PDF or scanned document. This method is preferred. No Google Docs please. Fax 617-923-8195
For more information about the position, please contact Thomas Watkins at the Watertown Department of Public Works at 617-972-6420 or send him an email.
This information can be found as a PDF here.
AFFIRMATIVE ACTION/EQUAL OPPORTUNITY EMPLOYER