By Jim Briand of Trees for Watertown.
On March 11th, Watertown residents gathered at the Watertown Free Public Library and on Zoom to hear from tree care experts at "The Right Tree for Me", a free seminar sponsored by Trees for Watertown. The event featured four expert presenters speaking on different aspects of tree selection and care, followed by a lively panel discussion as the speakers proposed tree solutions for real world Watertown conditions. 
Following an introduction by TFW president Libby Shaw, Massachusetts Certified Arborist Greg Mosman of Barrett Tree Service East tackled the issue of tree affordability. He explained that the cost of planting a tree can vary depending on the size of the tree and how rare it is, but that small, bare-root trees can be purchased by mail order quite inexpensively and are easy to plant. An important caveat is that bare-root tree survival depends on the roots not drying out, so these should be planted right away after delivery.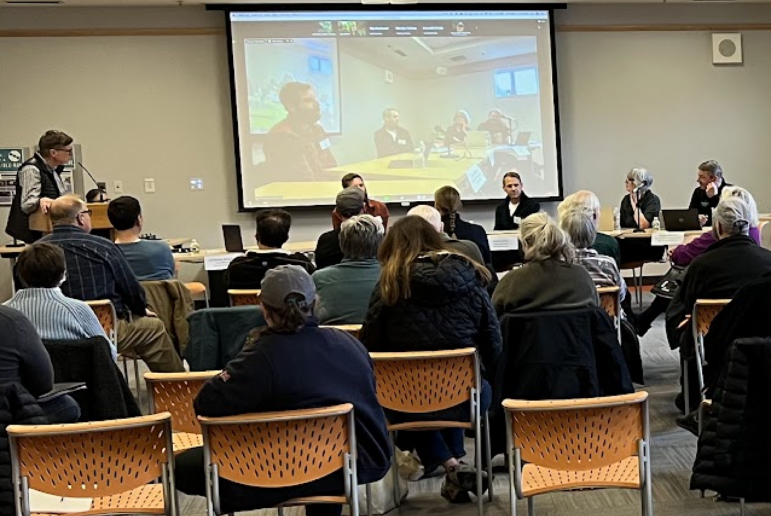 Large trees that come with their roots balled and burlapped are considerably more expensive. The root ball can weigh hundreds of pounds, so planting usually requires professional equipment and expertise, adding substantially to the cost. They are sturdy and impressive right after planting, but the total cost can reach the $4,500 range if a crane or a large crew is required. Trees in containers, available at garden centers, are midway between the other options in cost and can be planted by the homeowner. The homeowner, said Mosman, can choose the right approach based on needs and budget.
Massachusetts Certified Arborist Ben Anderson of Harrison McPhee Associates addressed a subject of importance to Watertown residents — how to pick a tree that will do well in the small, hemmed-in yard spaces typical of Watertown.  He addressed two critical considerations:  neighbors and utilities. Anderson noted, "It is important to consider the size of the tree at maturity to avoid possible complications with boundary lines and neighbors." He also emphasized the importance of using the free service DigSafe to identify the presence of electric, gas, water and sewer lines that may limit tree location options, and suggested consulting with a Massachusetts Certified Arborist to maximize the chances your planting will be a success in an urban setting.
ISA Master Arborist Jen Kettell of Radiant Leaf Consulting presented key best practices that will help a new tree reach maturity and thrive. A common mistake, she noted, is for people to plant trees too deeply — the hole should be a wide saucer shape and never deeper than the height of the root ball. This is because tree roots need oxygen. At the correct planting depth the flaring start of the root system will be visible above ground. Her charge to the attendees was, "You've got to have flare!" Finally, she stressed that proper watering is "the single most important factor in planting and aftercare." The new tree must be watered well immediately after planting, and during its first 2 to 3 growing seasons the soil it's planted in should be kept moist but not soggy. 
Wrapping up the presentations, Anthony Fox, Senior Associate with landscaping architectural firm Reed Hilderbrand, demonstrated to attendees that it is possible to not merely have a tree, but to have it be the centerpiece of a well-designed yard. Fox used examples from around the world and in Watertown to illustrate several key concepts. He showed how trees can be used strategically to create a spatial environment — that is, to define the space with trees as borders and defining elements. He showed how small yard owners can succeed by celebrating a single outstanding tree, and how by working with the yard they have, residents can use light, shadow, and texture to make that small backyard an urban oasis.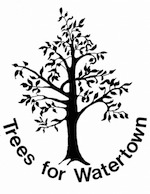 Following the individual presentations, the four speakers joined Libby Shaw in a panel discussion moderated by TFW Board Member James Briand. They were presented with a variety of real world challenges experienced by Watertown residents, such as low light, neighbor objections, and questions about whether residents should favor native or imported species. In a lively debate, participants offered a range of solutions. These included tulip trees for those seeking a large tree presence, and American sycamores as a robust, long-lived option. On the subject of native versus imported trees, TFW's Libby Shaw built a strong case that because native trees emerged as an integral part of the local ecology, not only do they deliver all the tree benefits humans enjoy, but they are best positioned to support local bird, insect, and animal life that is vital to a healthy local ecosystem. 
The event wrapped up with an offer from Trees for Watertown to provide ongoing planting and tree care advice for free to anyone in Watertown who would like to plant a tree in their yard. A special email address has been set up for that purpose at TFWtreeconsult@gmail.com.