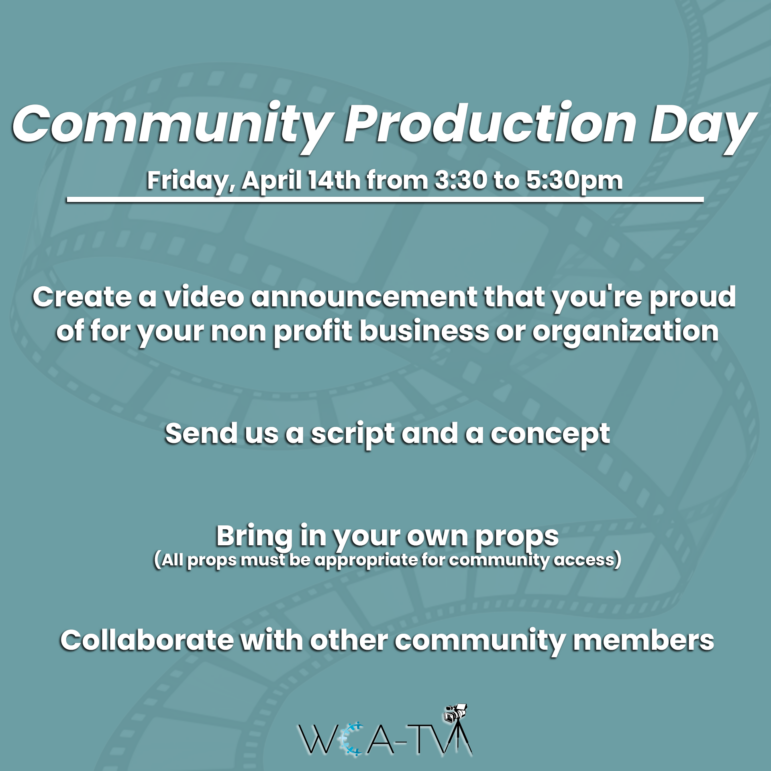 The following information was provided by Watertown Cable:
WCA-TV is hosting another Community Production Day on Friday, April 14th from 3:30 p.m. – 5:30 p.m. for all non-profit organizations in Watertown!
As always, the staff here at WCA-TV will work with you to produce a video announcement free of charge but this time you will also get the chance to collaborate with other community members in the studio! All videos can be up to 90 seconds in length and will be shown across all WCA-TV channels. All we ask is that you come in prepared, and ready with an idea!
Content produced on Community Production Day will also be uploaded to our video on demand service so you can share it on your organization's social media, website, and online outreach efforts!
You can see examples of past PSA's and Video Announcements on our website: http://vodwcatv.org/CablecastPublicSite/gallery/166?channel=1
If you are interested in participating, please sign up for a time slot here →
https://forms.gle/GA5ZrAZZ5dc4DhbQ8
If you can't make it out to WCA-TV this time around, don't worry! We will be hosting many more Community Production days in the future. Keep an eye out for announcements on our Facebook and Instagram pages or sign up for our Newsletter (https://wcatv.org/join/) to find out when the next ones will be!
We hope to see you there!