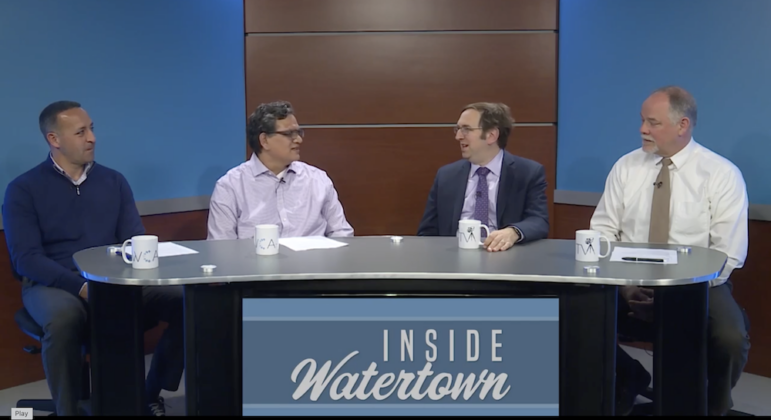 Watertown City Manager George Proakis talked about the ongoing Comprehensive Plan update, how residents can get involved when projects go before the City, and what's going on with the Watertown High School project in the latest episode of Watertown Cable's Inside Watertown.
Along with Proakis, co-hosts Charlie Breitrose and Bob Airasian were joined by Steve Magoon, Watertown's Assistant City Manager and the Director of Community Development and Planning.
The City recently held a public forum on the Comprehensive Plan, which is being updated for the first time since it was adopted in 2015. Some changes in the draft plan include focusing on the commercial business areas such as Watertown Square and Coolidge Square, and how to make them friendly to small businesses.
Proakis and Magoon were also asked about how residents, who have been frustrated by recent developments approved in town, can make their voice heard in the process.
The episode was the first for the Watertown Cable show since early 2021, and Airasian and Breitrose were back in the Watertown Cable Access studio for the first time since late 2019. The location was fitting for the final segment of the show, being located in the basement of Watertown High School.
The WHS project has run into construction cost inflation, and Proakis discussed how he will ensure that the new school is constructed and without impacting the education program planned in the new facility — even if the costs grow even higher. Also, he committed to keeping the school a net-zero energy building.
View the latest episode of Inside Watertown here: http://vodwcatv.org/CablecastPublicSite/show/2408?channel=1