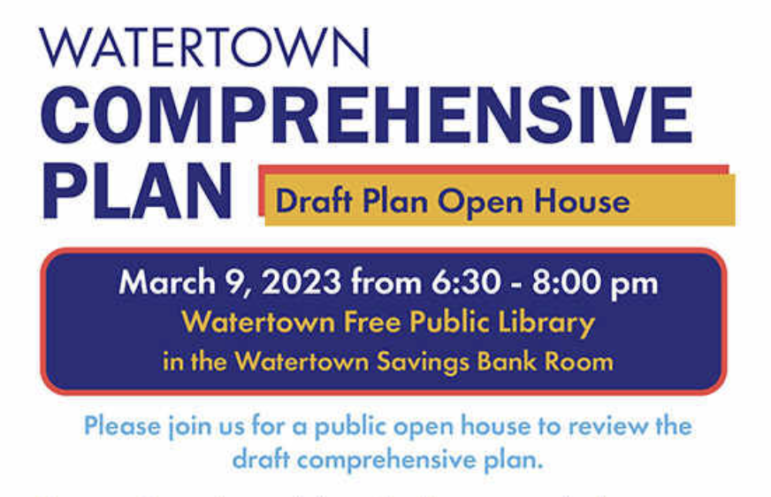 Thursday night, residents, business owners, and others have the chance to let City officials know what they would like Watertown look like in the future. The new draft of the Comprehensive Plan, along with plans for the City'a open space and recreation assets, will be discussed at an open house where people can leave their input.
The open house will be held on Thursday, March 9 from 6:30-8 p.m. in the Watertown Savings Bank in the Watertown Library, 123 Main St. To RSVP click here.
See the plans and more information about the Comprehensive Plan and Open Space & Recreation Plan at the website: https://engagestantec.mysocialpinpoint.com/watertown-plan
Comprehensive Plan
The Comprehensive Plan was adopted by the City Council in 2015. A major focus of that document was the "repositioning former industrial or commercial properties into life science labs or mixed-use development," according to the draft of the Comprehensive Plan released in February.
This redevelopment has largely been see along the Arsenal and Pleasant Street corridors in particular with some lower-scale single use and larger-scale mixed use. The updated Comprehensive Plan has some new focuses, including looking at how to making Watertown a place where small and local businesses can thrive, and to overhaul Watertown Square and make it a place where people want to be.
The intro to the new draft includes the following passage:
"While life sciences is a strong growth sector in the Boston area, recent market pressures may slow how quickly space is occupied and create new opportunities for other types of tenants. At the same time, the COVID-19 pandemic significantly impacted local small businesses in the traditional commercial areas like Watertown and Coolidge Squares.
"The strength and vitality of these squares is important to the Watertown community, but a number of factors have limited the ability of some businesses to adapt to trends like increased online shopping, a changing customer base, or competition from new businesses. Physical constraints like limited space for outdoor dining or sidewalk displays, parking proximity, or building age/condition also affect business performance."
Future Land Use
Included in the draft is a Future Land Use section (Page 74 of the draft Comprehensive Plan). Some parts of the City are areas to "Transform," others are labeled "Enhance," and the majority of Watertown is labeled as "Preserve."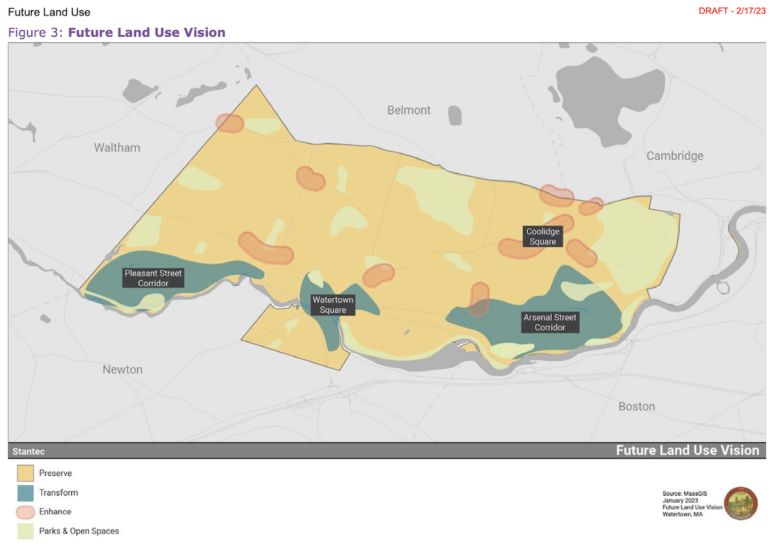 Part of the Future Land Use summarizes the different areas:
Preserve
"Most of the city—including its low- and medium-density residential neighborhoods—are areas to preserve."
Enhance
"Other areas are intended to be enhanced or transformed over time. The small retail clusters that animate neighborhoods and streets like Mt Auburn and Main should be enhanced with incremental improvements that support businesses and customers."
Transform
"A larger retail center, Watertown Square, is one area to transform by revitalizing it as the lively mixed-use core of the city. Adaptive reuse of existing buildings and development of vacant or underutilized parcels are the primary strategies that should be pursued here."
"The eastern portion of Arsenal Street is another area to transform, but this area is intended for regional-scale mixed-use much different than Watertown Square. The primary strategy here is new construction that replaces outdated single use retail and commercial development with higher density mixed uses set in a walkable street network."
"Pleasant Street west of Howard Street is the third area to transform– from primarily light industrial to more commercial and industrial mixed-use with some housing in limited areas."
"A desired outcome of these transformative efforts is to better integrate new development along both Arsenal and Pleasant Streets into the fabric of the community. The older existing uses, especially light industrial properties, tend to be isolated from their surroundings. Redevelopment provides an opportunity to better connect new uses to nearby streets, sidewalks, and open spaces and to provide amenities for neighbors and others."
Action Plan
The plan also looks at transportation, affordability of housing, open space, the City's commitment become more energy efficient and more resilient to climate change, and how to address these challenges. The goals are summarized in the action plan (which starts on Page 25 of the Draft Comprehensive Plan). Each Action Item has a detailed lists of steps to achieve the item.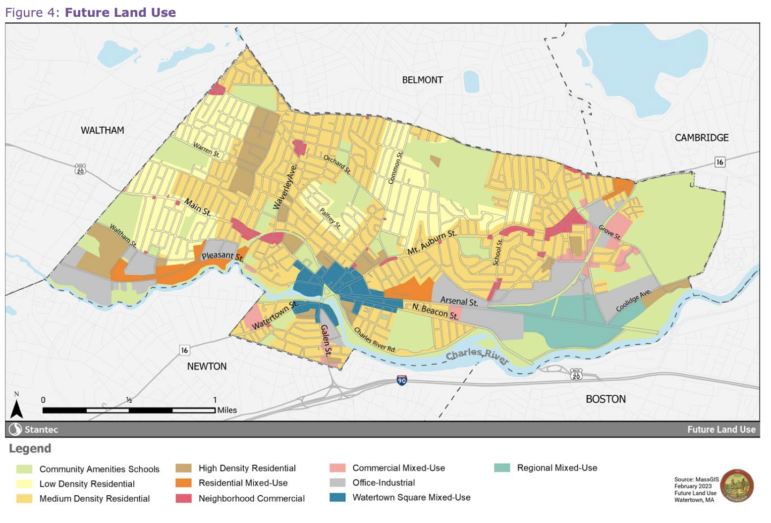 Action Items
1. Be a leader on municipal sustainability and managing climate change impacts.
2. Enhance the character and quality of life in Watertown's neighborhoods, squares, and along the corridors that connect them to help build community.
3. Cultivate a mix of diverse businesses that strengthens our community by providing jobs, services, and support for city infrastructure.
4. Promote safe, efficient multimodal transportation options that provide access to homes, jobs, amenities, and services.
5. Facilitate a range of housing types and affordability.
6. Ensure high-quality parks, recreation, and open spaces that meet the needs of residents and the environment, and encourage active and passive use.
7. Support community wellness through inclusive programs and events, diverse arts and culture, enhanced natural and historic resources, and livelier public and private spaces.
8. Proactively maintain and improve infrastructure and services.
Open Space & Recreation
Also to be discussed at the Open House will be the draft of the Open Space and Recreation Plan. Along with an inventory of existing amenities, the plan includes a section on Community Vision, and on Analysis of Needs.
The draft plan includes a list of goals and objectives to accomplish in order to meet the goals, as well as a seven year action
Goal 1. Create a network of high-quality parks, recreation, and open spaces that is accessible to all Watertown residents. plan.
Goal 2. Maintain and enhance existing recreation facilities and programs and create new opportunities to meet evolving community interests and needs.
Goal 3. Protect and enhance natural resources to retain their important functions and values and help Watertown adapt to the impacts of natural hazards and climate change.
Goal 4. Maintain partnerships and public awareness in support Watertown's open space and recreational resources.