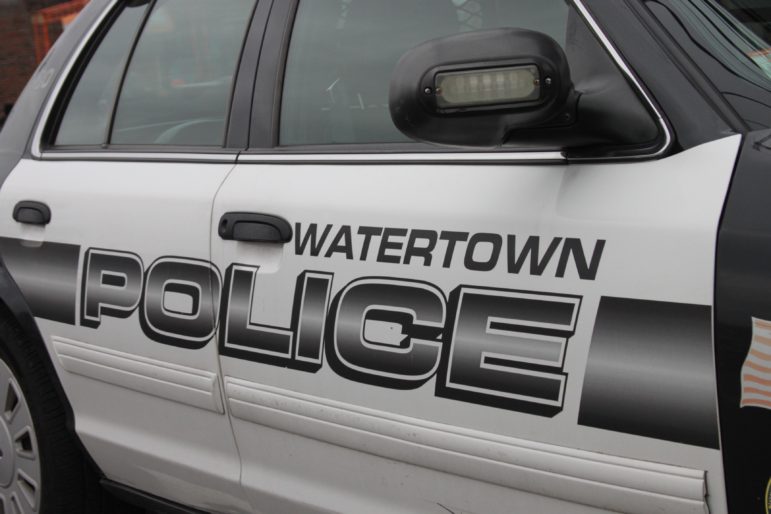 The following information was provided by the Watertown Police Department.
Arrests
None
Incidents
March 21, 10:49 a.m.: A laptop computer went missing from a home on Otis Street. The homeowner last used it a month prior, and is not certain what happened to it. However, they had had a painting company come in to do some work recently. The Apple laptop is valued at $3,000, and the resident is also concerned that financial and personal information was kept on the computer.
March 22, 12:49 p.m.: The staff at the Nike Store called police after a man came into the store, grabbed clothing off the racks and walked out without paying. The clothing was valued at about $1,000. The man then got into the passenger side of a white SUV with California license plates. Police looked at surveillance video and the suspect is a middle-aged Black male wearing a blue surgical mask, pink glasses, a black zip-up hoodie, a dark blue T-shirt, and black pants. The driver also appeared to be a Black male, wearing a grey sweatshirt and a surgical mask.
March 22, 2:37 p.m.: A man was shopping at Target for about an hour and left his cell phone in a shopping cart. When he went to look a few moments later he noticed it was gone. The iPhone 13 Max is valued at $800.
March 22, 9:30 p.m.: A brush fire was reported at Locke and Common Street. When officers arrived six to eight evergreen bushes were fully engulfed in flames. The Fire Department arrived and extinguished the blaze. There was no damage done to the home. It appears that the fire was started when a lit cigarette was disposed of in the bushes.
March 23, 5:34 p.m.: Store security at Best Buy discovered an employee had been stealing merchandise over the past few months. An internal investigation found that on Feb. 25, $2,449 in merchandise was taken. On Feb. 26, the employee took $1,200 worth of merchandise. The employee admitted to taking about $7,460 in items from the store over a five month period. Police summoned the 19-year-old man from Acton to Waltham District Court on one count of larceny over $1,200 and one count of larceny under $1,200.
March 24, 3:26 p.m.: A Waverley Avenue resident parked a 2001 Acura 2001 on Bemis Street on March 22 at about 4 p.m., and when the resident returned on March 24 at about 3:20 p.m. the person noticed a strange noise and found the catalytic converter was stolen.
March 24, 3:50 p.m.: A Mt. Auburn Street resident went to check for a package on the front steps and found a dead squid on the front porch. The home has surveillance cameras, which show two white males, around 14 years old, walk up to the entrance, take a package containing the squid and empty it on the front doorstep. Then they ran away.
March 24, 4:15 p.m.: A catalytic converter was taken from a 2007 Honda SUV parked on Grant Avenue. The vehicle was parked here on March 23 at 7 p.m., then went out on March 24 at about 4 p.m. and discovered the catalytic converter was missing.
March 25, 11:10 a.m.: An officer was flagged down on Sparkhill Street. The resident reported that the catalytic converter had been taken from a 2002 Honda minivan. He had parked in front of his house and when he came out the next day the part was gone.
March 25, 4:40 p.m.: Target security noticed a person who had come in multiple times since December 2022 and took items without paying. The woman had been in the store seven times, and was seen back in the store on March 25. She would go through the self-checkout and pass the items over the scanner, but not scan them. In total, she took $1,223 in merchandise from eight incidents. Police summoned the 40-year-old Boston woman to Waltham District Court for one count of larceny over $1,200 by single scheme.
March 25, 7:40 p.m.: A shoplifting in progress was reported to police at Target. They received a description and found the person waiting for a bus on Arsenal Street. The man had taken $340 in merchandise. Police summoned the 62-year-old male from Boston to Waltham District Court for shoplifting by asportation.
March 26, 2:46 p.m.: Police responded to Madison Avenue for a stolen catalytic converter. The vehicle owner said he had been out of town for about a week, and when he returned he discovered the catalytic converter was taken from his 2000 Honda minivan. It is not clear when the theft occurred. Police received reports of multiple catalytic converter thefts overnight from March 23 to March 24.
The Watertown Police has partnered with Toyota of Watertown to make catalytic converters more difficult to steal. Cars of any make can participate. Owners must be residents of Watertown. The program will take place on April 13, and those interested should email Sgt. Ken Swift at kswift@police.watertown-ma.gov by Friday, April 7, 2023 to reserve your spot.
Find out more about the program below: