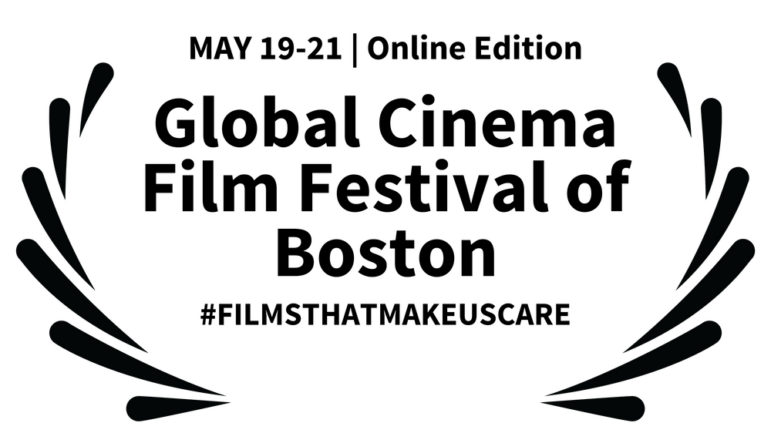 The following information was provided by the Global Cinema Festival:
Global Cinema Film Festival of Boston (GCFF) is proud to announce that its 8th annual event will run online from May 19-21, 2023. This year we are excited to partner with our Industry Sponsor Filmocracy to bring you the online edition of the festival.
The festival kicks off on Friday, May 19, 2023 with VOD film screenings available online until Sunday, May 21, 2023 at 11:55 PM EST. For a complete list of our 2023 Official Selections, program schedule and ticketing information, please visit our website! 
For many years, World in Watertown was a sponsor of the Global Cinema Festival. This year's festival features 12 films.
SCROLL DOWN TO DISCOVER THE FILMS! 
Buy Tickets
IRON BUTTERFLIES
2023 | Ukraine | 84 MIN |
DIRECTOR: Roman Liubyi
CATEGORY: DOCUMENTARY FEATURE FILM
Online Screening w/English Subtitles | May 19-21
On July 17, 2014, Malaysia Airlines Flight 17 from Amsterdam to Kuala Lumpur was shot down by Russian forces over eastern Ukraine, killing all 298 people on board. The reality of this attack, and its possible ramifications for the then-ongoing war in Donbas and the West's relationship with Russia, was immediately questioned by the Russian government and media. As voluminous evidence — including physical artifacts like the butterfly-shaped shrapnel found in the bodies of the pilots — piled up, the lies denying reality only became more outlandish and incredible. In a world where violence can only be defended by lies, and lies only maintained by violence, Iron Butterflies presents the truth of what happened to MH17, but also what was at stake by not confronting it.
Buy Tickets
DOGWATCH
2022 | Greece | 78 MIN |
DIRECTOR: Gregoris Rentis

CATEGORY: DOCUMENTARY FEATURE FILM
Online Screening w/English Subtitles | May 19-21
Mercenaries set sail for a life of action against Somali pirates. Yet, the sea is full of surprises. Or lack thereof. For a long time, cargo ships crossing the High Risk Area of the Somali coastline would hire private mercenaries in order to protect themselves from pirates. Faced with a decline in attacks, the mercenaries now have to deal with an unforeseen problem: the lack of action. In his first feature film, Greek director Gregoris Rentis (who boasts remarkable previous experience, having worked for example as an editor for the renowned American filmmaker Monte Hellman) depicts the daily life on the ship for these tough yet lonely men, who train and prepare themselves for combat that will never happen. The enemy is nothing more than tales from the past, while the ship continues its course through calm waters, with its cargo uselessly guarded. Perhaps, for some of them, the time has come to think about a desk job, a family or a less unusual life. With an impressive level of access, Rentis' sharp and profound gaze succeeds in capturing the somewhat absurd universe of these men of war, who end up not only wondering how to occupy these long uneventful stretches of time, but also questioning their jobs and their life paths.
Buy Tickets
HIDE & SEEK
2022 | United Kingdom | 88 MIN |
DIRECTOR: Victoria Fiore
CATEGORY: DOCUMENTARY FEATURE FILM
Online Screening w/English Subtitles | May 19-21
Nascondino (HIDE AND SEEK) follows four years in the life of "scugnizzo" streetkid Entoni as he fights for freedom during a state crackdown on children at risk of entering organised crime. Meanwhile his grandmother Dora, the family matriarch, watches him roam the narrow city streets whilst confronting her own past horrors. in the city of Naples, a world where nothing is as it seems, dreams and half truths may be their only chance for survival.

Buy Tickets
LAS ABOGADAS: ATTORNEYS ON THE FRONT LINES OF THE MIGRANT CRISIS
2022 | USA, MEXICO | 93 MIN |
DIRECTOR: Victoria Bruce
CATEGORY: DOCUMENTARY FEATURE FILM
Online Screening w/English Subtitles | May 19-21
LAS ABOGADAS centers around brave women attorneys standing up to insurmountable odds. Beginning in 2018, Rebecca Eichler, Mulu Alemayehu, Charlene D'Cruz and Jodi Goodwin find their usual legal tools being systematically twisted, thwarted, and pulled out from under their critical work by the United States Government's chaotic, anti-immigrant policy changes. The narrative of LAS ABOGADAS centers around these diverse women and their clients, as heartbreaking and heartwarming refugee stories unfold.
Buy Tickets
AFRICAN MOOT
2022 | South Africa | 85 MIN |
DIRECTOR: Shameela Seedat
CATEGORY: DOCUMENTARY FEATURE FILM
Online Screening | May 19-21
Every year, over a hundred of the most talented law students from across the African continent gather in a different capital city to compete at the prestigious African Human Rights Moot Competition, the largest mock court competition in Africa. At the competition, these young aspirant lawyers act as both prosecution and defense in a cutting-edge human rights fictional court case, each hoping to win the case and bring back the trophy to their home country. AFRICAN MOOT takes a journey with 4 passionate law student teams – from Cape Town, Cairo, Kampala and Nairobi, as they spend months preparing in their home countries for a case dealing with refugee rights, and then travel to Botswana to converge for one intense week of legal oratory, debate, adventure, bonding and high emotion.
Buy Tickets
FOREST BROTHERS
2022 | Norway | 54 MIN | Online Screening
DIRECTOR: Øyvind Elvsborg
CATEGORY: DOCUMENTARY FEATURE FILM
Online Screening w/English Subtitles | May 19-21
Forest Brothers» tells the story of a way of life that is almost gone, of the sorrow of staying behind and of refinding joy in life. In order to document rural life that is about to disappear, Øyvind Elvsborg started taking pictures of the twins that resulted in a photo exhibition at Kistefos Museum, a modern museum in Norway. He then started filming the brothers and continued filming Olaf after Sven had passed away. Øyvind followed Olaf with a camera for more than a decade. The film is a tribute to the simple, thrifty life and the forgotten knowledge.
Buy Tickets
SEABIRD – THE CIVIL EYE
2022| Germany, Italy | 20 MIN
DIRECTOR: Simon Straetker, David Lohmüller
CATEGORY: DOCUMENTARY SHORT FILM
Online Screening w/English Subtitles | May 19-21
"Seabird" takes us to the deadliest border in the world. With a small propeller plane, a crew of dedicated civilians flies over the central Mediterranean. There they document the human rights violations and illegal return by the Libyan coast guard.
Buy Tickets
BEIRUT '22
2022 | Lebanon | 33 MIN |
DIRECTOR: Patrick H. Kohl
CATEGORY: DOCUMENTARY SHORT FILM
Online Screening w/English Subtitles | May 19-21
On the 4th of August 2020, a large amount of unstable
stored ammonium nitrate exploded in the port of Beirut. More than 200 people died. 6,000 were injured and 300,000 left displaced. Among them, many refugees residing in Beirut.
Two years after our critically acclaimed documentary "4/8 Beirut", which documented the devastating dimensions and damages of the Beirut blast, we return to our protagonists. Beirut '22 sheds light on the lives of Syrian and Iraqi refugees affected by the explosion. At a time when Lebanon is struggling with a deepening political, economic and humanitarian crisis, the documentary traces the hopes and perspectives of a community in transition, telling their own, intimate stories of adversity, trauma, hope and despair.
Buy Tickets
DREAMERS @WORK
2023 | USA | 11 MIN |
DIRECTOR: Amna Ali
CATEGORY: DOCUMENTARY SHORT FILM
Online Screening w/English Subtitles | May 19-21
Many kids with an ethnic background face tremendous pressure from not only their families but their communities when it comes to following a certain path provided for them. Many of those kids aren't always given the support to pursue their dreams in art. I can argue that art is not only what shapes a young kid's mind but it's what shapes the world. Rather that kid wishes to pursue painting, acting, music, fashion, instruments, dancing, or filmmaking. That child should be allowed to flourish into themselves through art. Art is all around us and the reality is that it's what heals us. Dreamers @work is a short documentary film that highlights kids who come from different backgrounds. It showcases the unique gifts each kid possesses in art and how art brings us together as a society.
Buy Tickets
MUSK VS BEZOS : THE NEW STAR WARS
2022 | France | 59 MIN |
DIRECTOR: Agnès Hubschman
CATEGORY: DOCUMENTARY FEATURE FILM
Online Screening | May 19-21
The two richest men in the world are engaged in a vicious space race that has implications for us all. For years, Jeff Bezos and Elon Musk have squabbled in the media over everything from who is the wealthiest to who did what first. But their rival space programs, satellite launches and plans to colonize the planets have launched a new Space Age. With his company, Blue Origin, Jeff Bezos has thrown himself into space tourism and, in doing so, has revolutionised access to Space. He sees himself as the leader in this burgeoning 'New Space' market. But he faces a determined opponent: Elon Musk, the eccentric head of SpaceX. Musk's company has already disrupted the traditional aerospace launch industry and now he's aiming for Mars.
Buy Tickets
CRYPTOQUEEN – THE ONECOIN SCAM
2022| Germany, Bulgaria | 90 MIN |
DIRECTOR: Johan Von Mirbach
CATEGORY: DOCUMENTARY FEATURE FILM
Online Screening | May 19-21
"Cryptoqueen" tells the story of OneCoin – a digital currency that Ruja Ignatova invented to become filthy rich. With her pseudo-cryptocurrency, she defrauded over 3 million investors worldwide and captured several billion euros. The film uncovers her fraud scheme and analyses the success story of the charismatic German-Bulgarian who hoodwinked so many and then disappeared. A unique financial thriller from the digital economy in which Bulgarian mafiosi, Arab sheiks, ex-spies and dubious bankers actively participated.
Buy Tickets
POWERING PUERTO RICO
2022 | USA | 41 MIN |
DIRECTOR: Adam Fischer
CATEGORY: DOCUMENTARY SHORT FILM
Online Screening w/English Subtitles | May 19-21
Puerto Rico, 2017: It all started with a storm and a car battery. Eugene Smotkin, a Northeastern University professor, was home in San Juan for the summer when two disasters struck: His wife had a stroke and Hurricane Maria slammed into Puerto Rico, leaving more than 3 million people without electricity.
After days of powering a cell phone and a small fan with a car battery, Eugene and his wife were finally able to make it to Boston for the medical treatment she desperately needed. Back on campus, he has an idea: In conjunction with just a few solar panels, Eugene believes he can make a fully functional, affordable, renewable nanogrid system powered by reconditioned hybrid car batteries. And he wants to do so all over Puerto Rico, giving back electricity to a neglected energy populace at a fraction of the current cost.
ABOUT THE FESTIVAL
Global Cinema Film Festival of Boston (GCFF) in partnership with WCF studios/films LLC is committed to spotlighting films that make us care. GCFF 2023 will continue its mission to showcase unconventional styles that speak to the evolution of the narrative and documentary form. Through the visual language of film, we will explore sensitive stories captured by unflinching lenses held by filmmakers with the audacity to inform, inspire and visually transport audiences to that sacred place called the cinema.
Our 8th annual online edition includes award-winning independent films from around the globe, with MA, New England, U.S., North American, World Premieres, and critically acclaimed official selections that have featured in major international award competitions. We invite and welcome our international community to come and discover extraordinary films that make us care!