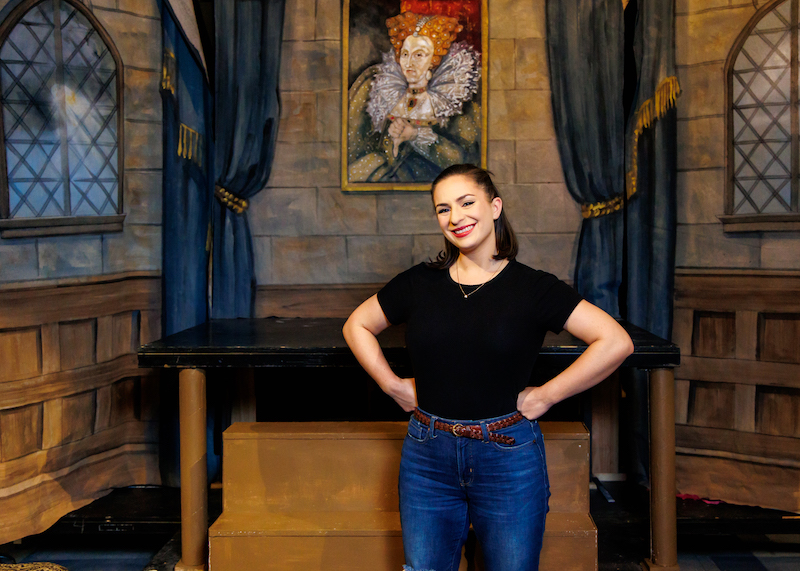 The following announcement was provided by The Walpole Footlighters:
Renaissance playwrights Nick and Nigel Bottom are having trouble drawing audiences to their shows because some other guy named William Shakespeare is suddenly the toast of the London theater community. Their friend Nostradamus tells them that the future of the theater is something called "a musical." Despite thinking the idea is preposterous, the desperate brothers agree to try it. The Walpole Footlighters close their 99th season with Something Rotten!, the musical that tells the story of the creation of the first musical comedy.
Watertown actress Jill Craig is making her Footlighters debut in the role of Bea. Having played Snoopy in You're a Good Man, Charlie Brown and LeFou in Beauty and the Beast with other theaters, Jill gets the chance to paly a female character for a change. Jill says the main thing about Something Rotten! is, "the jokes! This show is silly, funny, and outright ridiculous sometimes. People are going to be laughing the whole performance!"
Performances of Something Rotten! are at the Walpole Footlighters Playhouse at 2 Scout Road in East Walpole. Evening performances will be on May 5, 6, 12, 13, and 20 at 8:00 PM. There will also be matinee performances on May 7 and 21 at 2:00 PM. Patrons are not required to wear masks. Concessions will be available. Discounts are available for groups of 10 or more. To purchase tickets, call the Box Office at 508-668-8446 or purchase online at www.footlighters.com.
This production is sponsored in part by the Walpole Cultural Council, a local agency, which is supported by the Massachusetts Cultural Council, a state agency.