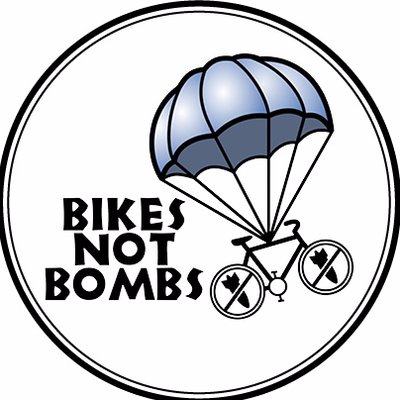 The following information was provided by the organizers of the local Bike Not Bombs event:
A bicycle collection for Bikes Not Bombs will take place on Saturday, May 6, from 10:00 AM to 2:00 PM at the First Parish of Watertown, 35 Church St., Watertown, rain or shine. All types and sizes of bikes will be accepted, as well as bike parts, accessories, tools, and cycling clothing. A voluntary donation of $20.00 per bike will be requested to help defray the cost of finding a new home for your bike.
Bikes Not Bombs is a local non-profit organization that uses the bicycle as a vehicle for social change. Reclaiming thousands of used bicycles each year, Bikes Not Bombs creates local and global programs that provide skill development, jobs, and sustainable transportation for youth and adults.
In Boston, Bikes Not Bombs staff and volunteers work with youth to provide support, build self- esteem, learn useful skills, and develop healthy lifestyles through innovative bicycle-based programs. Their full-service bike shop trains youth to become bicycle mechanics, learn good business skills, and become effective community leaders and stewards of the environment. They are currently expanding their services and programs to neighborhoods in Roxbury, Dorchester, and Mattapan where the lack of biking resources is great.
In addition, Bikes Not Bombs ships hundreds of bikes each year to community projects in regions throughout the developing world, including various African and Central American nations. They support micro-enterprise bike businesses, sustainable technology projects, and youth training programs, while providing access to school and to jobs for the working poor in developing countries.
Help Bikes Not Bombs promote peace, social justice, and a sustainable environment by donating your unwanted bikes on May 6! This drive is sponsored by the Social Action Committee of the First Parish of Watertown, and the Watertown Bicycle and Pedestrian Committee. Information about Bikes Not Bombs can be found at www.bikesnotbombs.org. For more information about the Watertown bike collection, or to volunteer, call 617 926-8130.