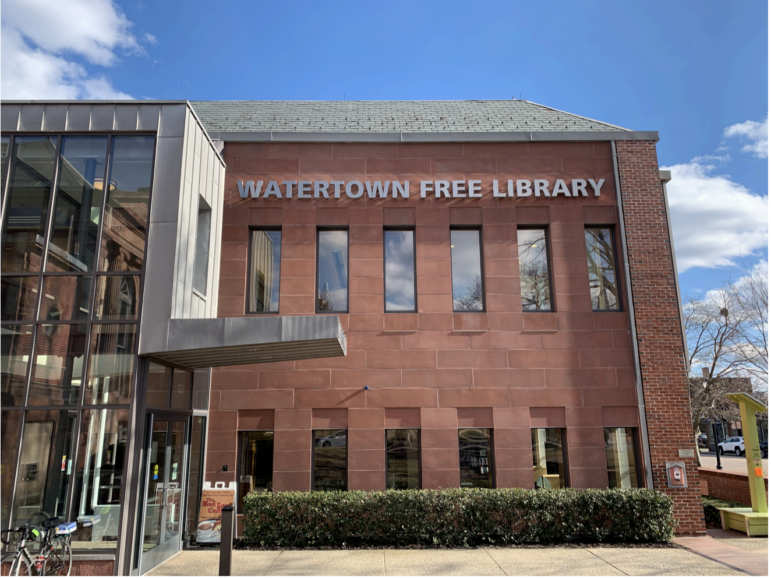 The Watertown Free Public Library has plenty going on in May. Here are some of the upcoming events provided by the Library.
Multicultural Fest — Call for Performers and Artists!
The Watertown Free Public Library and the New Rep Theatre are teaming up to host a brand-new event this summer — Multicultural Fest at Noche de Dominó! On Thursday evening, 8/3, we'll meet outside under the lights of Saltonstall Park for dominoes, music, dancing, food, and more! Interested in being a performer, vendor, or displaying art at Multicultural Fest? Fill out an interest form.
PRIDE 2023
2nd Annual Watertown Pride Extravaganza
Saturday, 6/3 | 11 AM – 4 PM | Saltonstall Park| Jointly hosted by WFPL and the Watertown Public Arts and Culture Committee, the Watertown Pride Extravaganza is a free, all-ages event that celebrates and advocates for our LGBTQIA+ communities. Join us for a mini parade followed by music, dancing, acrobatics, crafts, food trucks, and more. Be yourself, change the world!
Design Your Own Pride Gear
Thursday, 5/25 | 5 – 8 PM | at WFPL | Decorate a t-shirt, bedazzle a hat, make a mask, or color a flag. All ages welcome, supplies provided! 
FOR CHILDREN
Read to a Dog!
Wednesday, 5/17 | 6:30 PM | Made possible by the Pets & People Foundation. Registration is required and may be done in person or over the phone. For children who are reading independently.
Therapy Dog Drop-In
Wednesday, 5/31 | 2 – 4 PM | Would you like to pet a dog? All are welcome to visit with Duffy the therapy dog in the Watertown Savings Bank Room. All ages.
Rainbow Book Club
Monday, 5/22 | 6 – 7 PM | This month we're reading The Stonewall Riots: Making a Stand for LGBTQ Rights by Archie Gonviovanni and A. Andrews. Copies of the book can be picked up in the Children's Room or requested through the catalog. For children in grades 3 – 5.Little Beats: Music and Movement
Wednesday, 5/24 | 11 AM | Join a teacher from Little Beats for 30 minutes of music, movement, and fun! For ages 5 and under.
FOR ADULTS
What's Your Story, Watertown?
Wednesdays, 5/17 & 5/24 | 7 PM | What are the events that shaped you? In this interactive two-part workshop, learn how to turn meaningful personal anecdotes into engaging stories! (In the style of The Moth radio show and podcast.) Host Chandreyee Lahiri created and produces We Are Waltham and is a finalist for the Moth's Boston GrandSLAM 2023. This program is brought to you with federal funds provided by the Institute of Museum and Library Services and administered by the Massachusetts Board of Library Commissioners. Registration required.
Conversations: Solo Piano w/ Matt Hanna
Wednesday, 5/17 | 10:30 AM | Join Watertown pianist Matt Hanna for original classical and pop music.
Watertown Lit Squad Showcase
Saturday, 5/20 | 2:30 PM | Local writers will read original works and share opportunities to contribute to a future publication of Watertown poets and writers. Registration encouraged.
In-Person Wellness Programs  
Three Body Qigong
Tuesdays, 5/2 – 5/23 | 12 PM | This class will leave you calm, peaceful, and feeling vibrant. Sponsored by Live Well Watertown, a Watertown Health Department program. Registration required.
Eat Well Watertown: Seasonal Greens & Beans
Wednesday, 5/10 | 6:30 – 8 PM | Learn new recipes and nutritional facts about seasonal produce! Sponsored by Live Well Watertown, a Watertown Health Department program. Registration required.
Yoga for Stress Relief
Wednesdays, 5/24 – 6/28 | 11 AM | Registration required.
Virtual Programs  
Conquering the Job Search Journey
Monday, 5/15 | 3 PM | via Zoom | Elizabeth Gross of Job Search Divas will offer a realistic plan for managing a job search, networking, and building momentum. Registration required.
Face Surveillance in Massachusetts
Tuesday, 5/16 | 7 PM | via Zoom | Hear from the ACLU of Massachusetts' Director of Technology for Liberty, Kade Crockford. Registration required.

Chatting with ChatGPT
Tuesday, 5/23| 7 PM | via Zoom | Learn more about text-based AI, how it works, how it's affecting employment, and how it can be used. We'll also do a collaborative creative writing demonstration! Registration required.

Organic Landscaping Series
Thursday, 5/18 | 7 PM | via Zoom | (3rd Thursdays, March – June) | In May, learn how pesticides impact health! This series is hosted by Debbie Smith, attorney, Justice of the Peace, and longtime Watertown resident. Registration required.

50+ Job Seekers Networking Group
First & Third Wednesdays| 9:30 – 11:30 AM | via Zoom |Registration required.
HATCH MAKERSPACE
The Craft Night
Monday, 5/1 | 5:30 PM | at Hatch | Join us for a night of personal ritual-building and witchy Craft at Hatch. Make a portable altar, a precious object pouch, and various spells using earth-friendly, found, and biodegradable materials. Registration required. Ages 12+
Lego Mindstorms
Monday, 5/22 |  5 – 7 pm | at Hatch | The Lego Mindstorms is a great introduction to robotics, programming, and engineering! Get an overview of parts, software, and basic builds. Registration required. Ages 17+ or 11+ with permission form // 8+ with adult.
Vinyl Cutting, 3D Design, and Inkscape Drop-Ins
Fridays | 1 – 4 PM | at Hatch | Get help with our vinyl cutter, Inkscape vector image software, and the 3D design programs.
See all the events at the Watertown Library on the Events Calendar.